The Independent's journalism is supported by our readers. When you purchase through links on our site, we may earn commission.
Horrified travellers trapped on grounded Frontier plane for hours as wildfires cause flight chaos
TikTok user posted video from inside plane as it sat on the ground at New York airport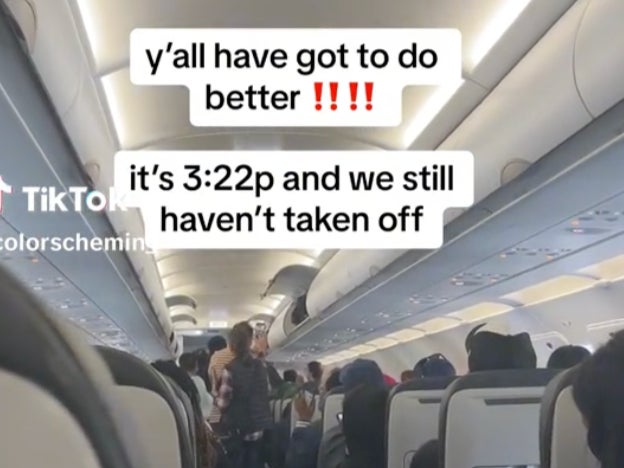 Passengers on a Frontier flight were horrified as they were left stranded on their plane at New York's LaGuardia airport for hours.
Frontier 1511 was scheduled to leave New York for Atlanta on 6 June at 10.48am, but a passenger posted a video from onboard the flight which was still on the ground at 3.22pm.
In the video, the flight crew told passengers that they could get off the flight but warned them it could take days to be rebooked, and that they could only get refunds through the airline's app.
"Currently still in nyc, almost 5 hours delayed with no explanation, and your staff is super condescending!! full story coming soon IF and WHEN we land. Even Spirit woulda been more professional @Frontier Airlines," wrote a passenger called Clarissa, who filmed the experience and posted it on TikTok.
Clarissa posted that after an initial delay, she boarded the flight at around 11.55am and said that staff gave no reason for the delays that followed.
She then said that when the plane finally did pull away from the gate it soon returned because the flight crew was angry at a woman who had got out of her seat to use the toilet as they taxied.
The "frustrated" passengers were then told they had to deplane so that the plane could be refuelled before it could take off at 4.05pm, arriving at the gate in Atlanta at 6.24pm.
FAA rules state that airlines have to let passengers off a flight after it has been delayed for three hours.
East Coast airports have been hit by flight delays this week caused by the smoke from Canadian wildfires that have choked the region.
More than 16,200 flights have been delayed and 79 flights were cancelled by 1pm on Wednesday, according to FlightAware.
Clarissa posted a second video in which she explained all of the delays and the issues the flight suffered.
The Independent has reached out to Frontier and Clarissa for comment.
Join our commenting forum
Join thought-provoking conversations, follow other Independent readers and see their replies