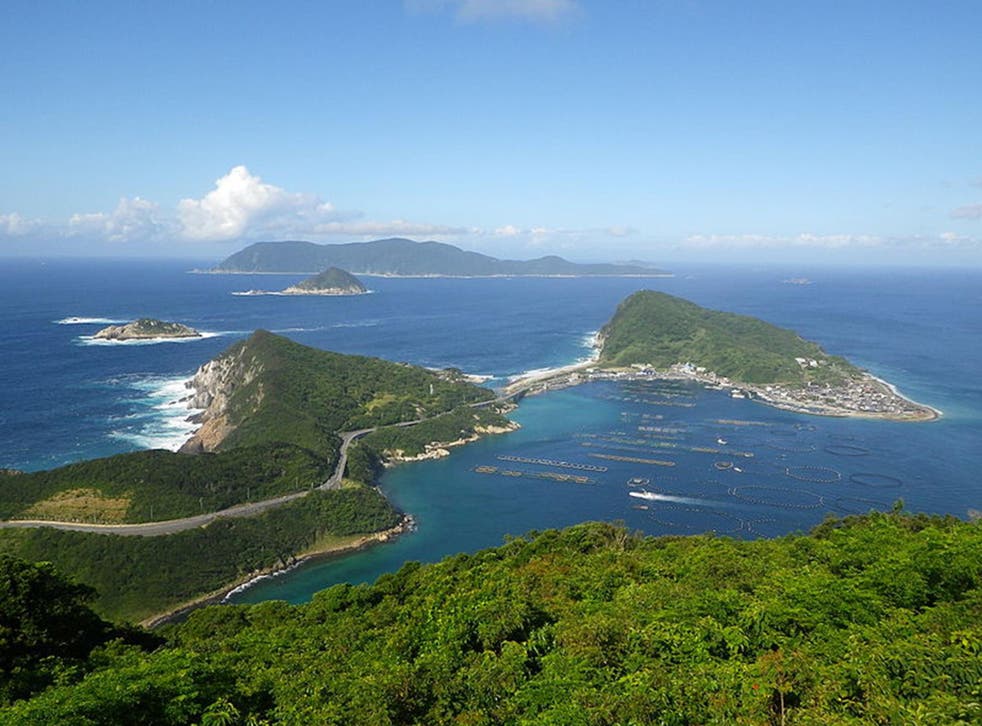 Okinoshima: The sacred Japanese island that women are banned from visiting
Men visiting the shrine must strip naked and perform a cleansing ritual beforehand 
Kashmira Gander Comments
The tiny, remote Japanese island of Okinoshima is a treasure trove of 80,000 offerings to Shinto sea gods, from beads to swords. But only men can see these artefacts, as women are banned from visiting.
The UN's Unesco agency is currently considering whether the 0.3square mile island should become a World Heritage site. The decision will be announced in July in Krakow, Poland.
Okinoshima, which sits off the coast of Japan's southern-most island of Kyushu, is the location of three small sacred Shinto shrines which constitute the Munakata Grand Shrine.
Shinto traditions state that women aren't permitted to visit the island. Its male visitors must follow strict rules to strip naked and perform a cleansing ritual before they set foot on the land. When they leave, they can't take anything with them, and must never speak of the trip. Currently, men can only travel to the island once a year on 27 May, to remember the Japanese and Russian service personnel who died in battle in the Sea of Japan in 1905, according to News.com.au.
The waters surrounding the island were an important trade route for Japan to China and the Korean Peninsula between the fourth and ninth centuries. During this time, it was used for exchanges between the people of the Korean Peninsula and China, according to Japan Times. And the shrines were used to pray to the Shinto gods to guard the ships, meaning the island is now a treasure trove of tens of thousands of offerings from overseas - from swords, to beads and mirrors. It's these artefacts that might earn the island World Heritage status.
While the reason that women are banned is unclear, some believe that it is because menstruation would defile the site. Others say that women were banned from travelling because the journey by sea was considered dangerous, and men wanted to protect child-bearers.
If the island is named a World Heritage site, it will become the 17th set of Japanese cultural assets with this status, according to Japan Times.
Register for free to continue reading
Registration is a free and easy way to support our truly independent journalism
By registering, you will also enjoy limited access to Premium articles, exclusive newsletters, commenting, and virtual events with our leading journalists
Already have an account? sign in
Register for free to continue reading
Registration is a free and easy way to support our truly independent journalism
By registering, you will also enjoy limited access to Premium articles, exclusive newsletters, commenting, and virtual events with our leading journalists
Already have an account? sign in
Join our new commenting forum
Join thought-provoking conversations, follow other Independent readers and see their replies