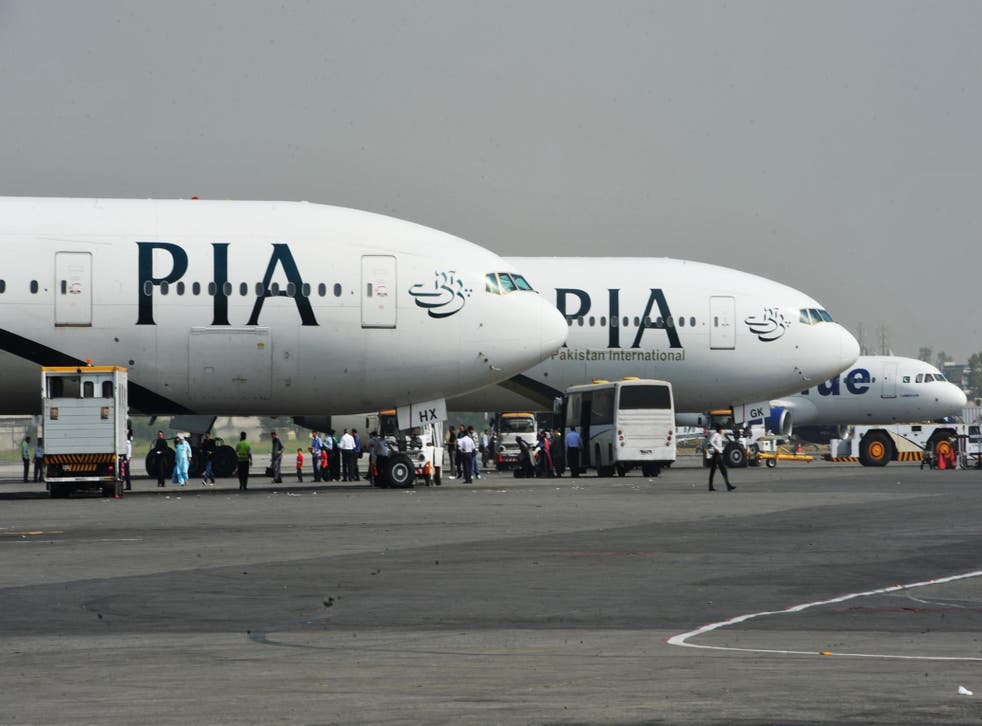 Britons stranded in Pakistan 'outraged' after being forced to spend thousands on cancelled flights
Campaign #BritsStrandedinPakistan demands subsidised rescue flights
Helen Coffey
Friday 03 April 2020 08:43 Comments
British nationals stranded in Pakistan have criticised the UK government's "appalling" behaviour after it failed to organise rescue flights to bring them home.
A campaign has been launched demanding the Foreign Office (FCO) take urgent action, such as chartering subsidised flights.
#BritsStrandedinPakistan said in a statement: "We're outraged our government is not getting us home on subsidised flights. Many travelled before the wide spread of Covid-19, before the UK asked us to return.
"Pakistan is expected to be among the hardest hit of the developing nations, according to the UN."
The campaign claims the FCO waited for commercial flights run by state-owned Pakistan International Airlines (PIA) to materialise, when it should have put on a charter flight for at-risk travellers.
It adds: "As British citizens, we ask: has any of the £75m been spent on getting us home like those in Peru? Many wonder if we're being treated as second-class citizens."
Those with relatives stuck in Pakistan say that airlines are making money from the crisis, charging above the odds for a flight that then gets cancelled.
"My mother (a British national on bereavement leave there from her frontline health and social care job in the UK), has two rare blood and immunity conditions," TV presenter Waseem Mirza told The Independent.
"We've been trying to fly her back since 15 March, but airlines take our money and cancel the flights within hours, leaving us out of pocket.
Coronavirus culture from rooftops, windows and balconies

Show all 15
"Refunds are not expected – if at all – until the end of April/May. Our travel insurance has also been a waste of money and time as they have yet to make any decision to reimburse us due to backlogs.
"So now, after five flight bookings (many more than £2,000 one-way), we've run out of cash and need urgent repatriation like Peru."
Airlines including British Airways have changed their systems during the coronavirus pandemic, requiring customers to ring up to claim a refund rather than being able to fill in a claim online. Many are heavily encouraging passengers to rebook or accept a credit voucher instead of their money back, with wait times for a refund expected to far exceed the one-week stipulation in EU regulations.
According to an email sent from the British High Commission in Islamabad to stranded British nationals, there are no plans for a government-subsidised repatriation flight; the only option is to try to book on to a PIA flight.
"The government of Pakistan has announced there will be a number of international PIA flights. We understand that some of the flights will go to the UK. If you are interested in booking a flight, please regularly check the PIA website," reads the message.
Although PIA has said it will resume limited operations between Islamabad and the UK from 4 April, The Independent could find no available flights from 4-11 April when checking on the airline's website.
Meanwhile, #BritsStrandedinPakistan says other nations, including Germany, have already bypassed restrictions imposed by Pakistani authorities to send repatriation services for their citizens.
"It's an appalling and shocking way to treat us British nationals stranded in Pakistan, and we demand URGENT action to ensure the most vulnerable are not left to market forces, which have only sought to capitalise on a crisis by outrageously raising prices," concludes the campaign's statement.
The FCO told The Independent that High Commissions are able to offer financial assistance to British nationals, including emergency loans, if they are struggling financially and have no other options. The High Commissioner to Pakistan has tweeted that those needing assistance should email returnfrompakistan@fco.gov.uk.
"We recognise British tourists abroad are finding it difficult to return to the UK because of the unprecedented international travel and domestic restrictions that are being introduced around the world – often with very little or no notice," said an FCO spokesperson.
"The government has partnered with a number of airlines who have committed to work together to get Brits back to the UK and up to £75 million has been made available for charter flights were commercial options are no longer available.
"We'll continue working around the clock to bring people home."
Register for free to continue reading
Registration is a free and easy way to support our truly independent journalism
By registering, you will also enjoy limited access to Premium articles, exclusive newsletters, commenting, and virtual events with our leading journalists
Already have an account? sign in
Join our new commenting forum
Join thought-provoking conversations, follow other Independent readers and see their replies