The Independent's journalism is supported by our readers. When you purchase through links on our site, we may earn commission.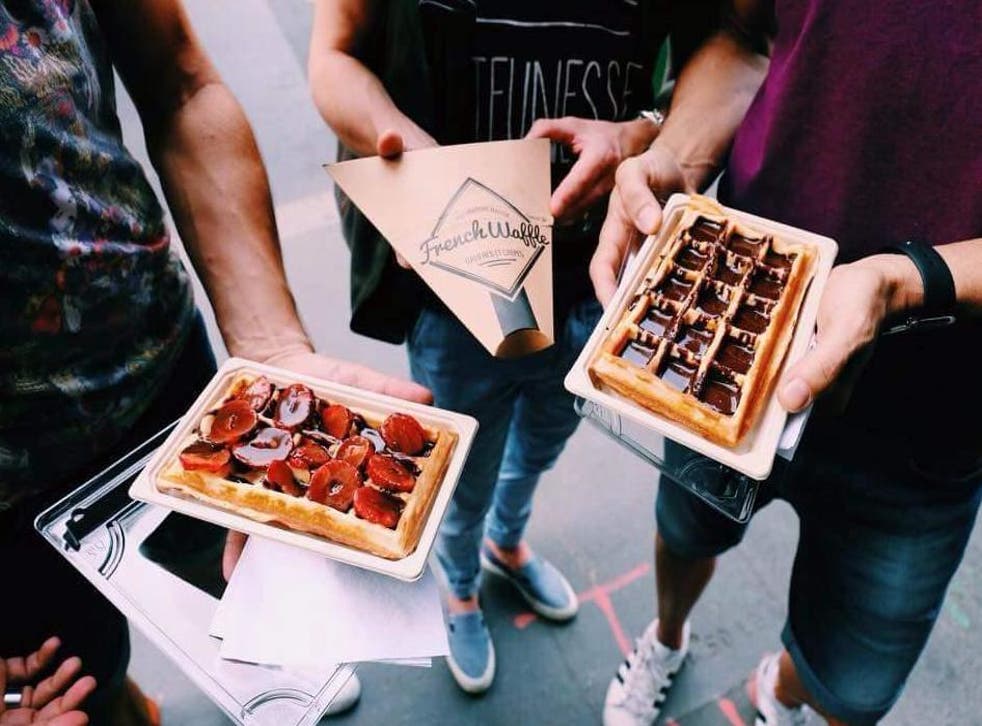 10 cheap Paris restaurants where meals cost less than a tenner
You don't have to spend a bomb to eat well in Paris – at least, not with this list 
Eileen W. Cho
Saturday 21 April 2018 15:56 Comments
Think eating in Paris is expensive? You might be doing it all wrong. Although restaurants can charge sky-high prices and even cafés can be obscenely expensive, there's no need to risk a €20 croque monsieur. Here are 10 of the best places in town that will feed you for under €10.
The Hood Paris is a young, hip café that does food and coffee really well. Its motto is "The Hood is yours", meaning that it's a place where you can freely come as you are. The food menu was created by Khanh-Ly Huynh, a talented French-Vietnamese chef who won MasterChef France in 2015, and – I stress again – the coffee is excellent.
The baristas are genuinely friendly, the playlists are on point, the iced lattes (yes, they do iced lattes) are the best in Paris, and there is a killer food menu with Vietnamese banh mi sandwiches (with egg, pork, chicken, or tofu) for only €7. Vegetables are pickled in-house and the homemade sriracha sauce is something else.
Good Asian food can be hard to come by in Paris, but Jixiao's Buns is one of the best. Its standout dish is its crispy pan fried "buns" filled with meat and broth. Four buns cost just €6 (try the pork and corn); you even get a tiny straw to slurp up the broth.
Also on the menu are noodle dishes starting at €7. This is a takeaway window joint, but there are a few seats outside where you can enjoy your buns hot and fresh from the pan.
Ask Parisians where to get pizza, and they'll most likely point to a Big Mamma Group location. With six locations in the city, Big Mamma is probably the most popular pizza chain in town – though the fact that each location has a different menu and ambience makes it feel less like a chain.
Pizza Popolare is extra special thanks to the marinara pizza that costs just €4 and is delicious. All of the locations are very popular so expect a wait if you don't want to line up before opening.
Chef Eyal Shani's original Miznon restaurant is in Tel Aviv, but for his second outpost he chose Paris. Again, it's hard to get in but the food is worth the wait.
The steak and egg pita is only €9.50 and the famous roasted cauliflower head just €6.50. Everything is fresh and there is also free tea if you eat in.
Filakia does souvlaki really well. This Greek restaurant describes itself as serving up "gourmet street food" – which is not far wrong. The filling souvlakis cost €8 and come packed with meat and vegetables. For regulars, there's a souvlaki of the month as well as a vegetarian option.
If you're looking for something sweet, they do a great take on loukoumades, a Greek doughnut, for €4.
There's no shortage of crepe places in Paris (good and bad, let's be honest) but French Waffle is a good bet for two reasons: it's really good, really fast, and everything on the menu is under €10.
The galettes (savoury crepes) start at €7, with sweet ones at €2.50. As the name suggests, it does waffles too – from €4.
Spicy food in Paris is a rarity, though there's always Sichuan cuisine. But no worries if you don't like spice – Trois Fois plus de Piment also offers everything on its menu with a no spice option (just ask for "0 star"). The most popular dish is the "noodles with pork without soup", which costs €10.80.
For something a little lighter, there are dumplings (what the French call "ravioli") – with five pieces for €5.20. You'll often find a huge line outside the restaurant but it moves fast.
One of the most eaten foods in France is the "jambon beurre" – a baguette with butter and ham. CheZaline, in the bustling 11th arrondissement, is the best place to get your fix.
Its baguettes are sourced from the chichi Maison Landemaine and the ham used is the preservative-free "Prince de Paris". Sandwiches range from €5 to €8.50. Note that they're closed on weekends though.
Don't roll your eyes – Burger & Fries is hands down the best burger in Paris and a whole meal here costs less than €10. Substitute regular chips for "ultimate fries", which comes with melted cheese, grilled onions, and a side of the famous house sauce.
Everything is made in-house, and with a location in Saint Denis and a second in Saint-Germain-des-Prés, its never too far away.
Ippudo is best known its ramen but has plenty of delicious food for under €10. All three Parisian locations offer rice bowls for €8. There are also "hirata buns" – soft steamed buns filled with a meat of your choice for €4.
Try the "Rajin Wings", found only at their Saint-Germain location – delicious wings in a sweet yet savoury soy sauce glaze for €7.
Register for free to continue reading
Registration is a free and easy way to support our truly independent journalism
By registering, you will also enjoy limited access to Premium articles, exclusive newsletters, commenting, and virtual events with our leading journalists
Already have an account? sign in
Join our new commenting forum
Join thought-provoking conversations, follow other Independent readers and see their replies