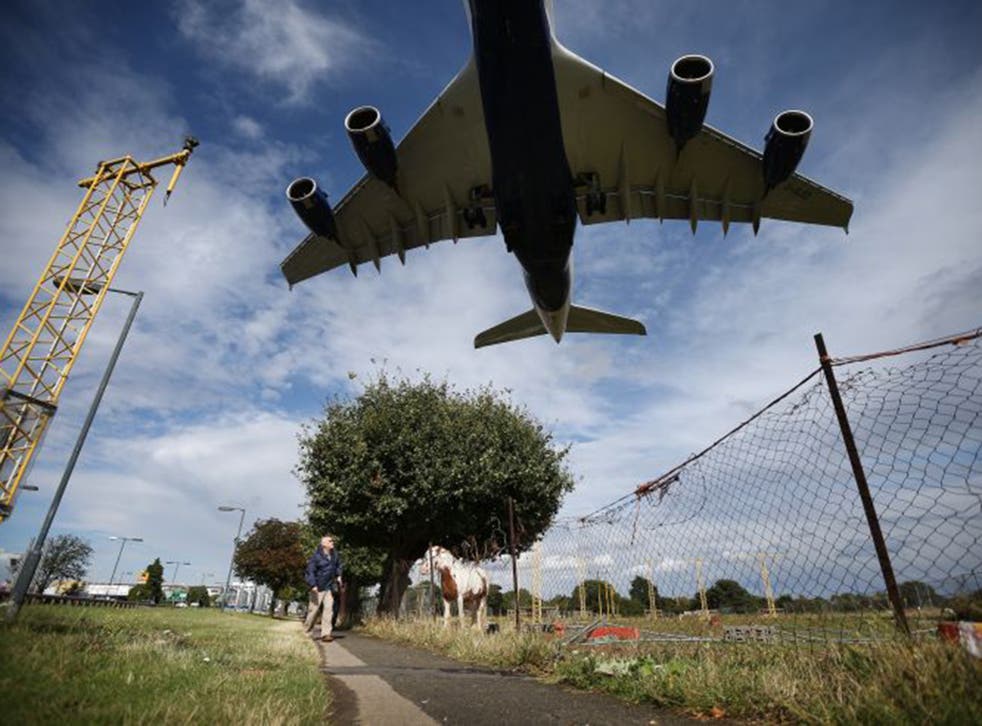 Passengers avoid connections at busy London airports in favour of continental rivals
Heathrow and Gatwick bid to expand, but their travellers have flown
Paul Gallagher
Sunday 21 December 2014 01:00 Comments
Heathrow airport's world-class reputation may be damaged in the future because of a lack of new route developments and growing competition from abroad, according to a new study
British passengers who live outside south-east England and beyond easy reach of Heathrow, Gatwick and Stansted are now more likely to transfer in Amsterdam or Dubai, to avoid the UK's busiest airports, researchers found.
Air transport experts at Cranfield and Edinburgh Universities say that, while Heathrow remains the main gateway for UK regions to North America and the Middle East, it faces "substantial competition" from continental rivals in the long-haul markets.
The study comes at a critical time for British aviation, with the Government's Airports Commission assessing shortlisted proposals from Heathrow and Gatwick for additional runway capacity as both airports spend huge sums of money on marketing and lobbying.
More than 25 per cent of passengers from outside the South-east transfer in Amsterdam when travelling to Latin America or the Caribbean, compared with almost 20 per cent using Paris Charles de Gaulle and 16 per cent Heathrow. Almost 40 per cent transfer in Dubai when coming from UK regions to Asia-Pacific, compared with 14.5 per cent at Amsterdam and 14.5 per cent at Heathrow. Dubai is also chosen by regional travellers to the Brics – Brazil, Russia, India and China. Heathrow remains the most popular hub for regional travellers only when flying to North America.
The research raises questions as to how necessary the expansion in London is, when a growing number of passengers choose to avoid the South-east and connect elsewhere.
A consultation on the respective proposals by Heathrow and Gatwick ends in February. Sir Howard Davies, chairman of the Airports Commission, last week suggested a "win-win" deal for passengers if either airport was recommended for expansion.
He said: "There will be greater opportunity for competition between airlines and ticket prices may fall, offsetting the higher landing charges new capacity would entail. If this analysis is correct, removing the capacity constraint should benefit passengers, increasing the choice of routes and carriers, potentially at lower cost."
Consultation papers published last month suggest a new runway with related infrastructure would cost up to £19bn at Heathrow and about £9bn at Gatwick.
The Cranfield study, which is expected to be included in the final report of the Airports Commission due to be published in the next issue of the Journal of Transport Geography, used data from worldwide passenger itineraries served by the European airport network in May last year.
Heathrow still accounts for almost one in three of all passenger traffic in the UK and remains the third busiest airport in the world in terms of passenger numbers, behind Atlanta International and Beijing International airports.
Dubai and Amsterdam are the 7th and 14th busiest, but are growing fast; both have surpassed Heathrow when it comes to passenger connections to other destinations.
The report's co-author Dr Pere Suau-Sanchez, a lecturer in air transport management at Cranfield University, said: "Despite those rankings, the figures should be treated with caution because Heathrow's massive traffic generation in these markets means that it is still the most central gateway for the overall UK air transport market."
He added: "The strong hub competition in Europe, coupled with the lack of new route developments at Heathrow, may damage the latter's ranking among world-class connecting gateways in upcoming years."
The Airports Commission's final report is scheduled for publication in summer 2015.
Register for free to continue reading
Registration is a free and easy way to support our truly independent journalism
By registering, you will also enjoy limited access to Premium articles, exclusive newsletters, commenting, and virtual events with our leading journalists
Already have an account? sign in
Join our new commenting forum
Join thought-provoking conversations, follow other Independent readers and see their replies