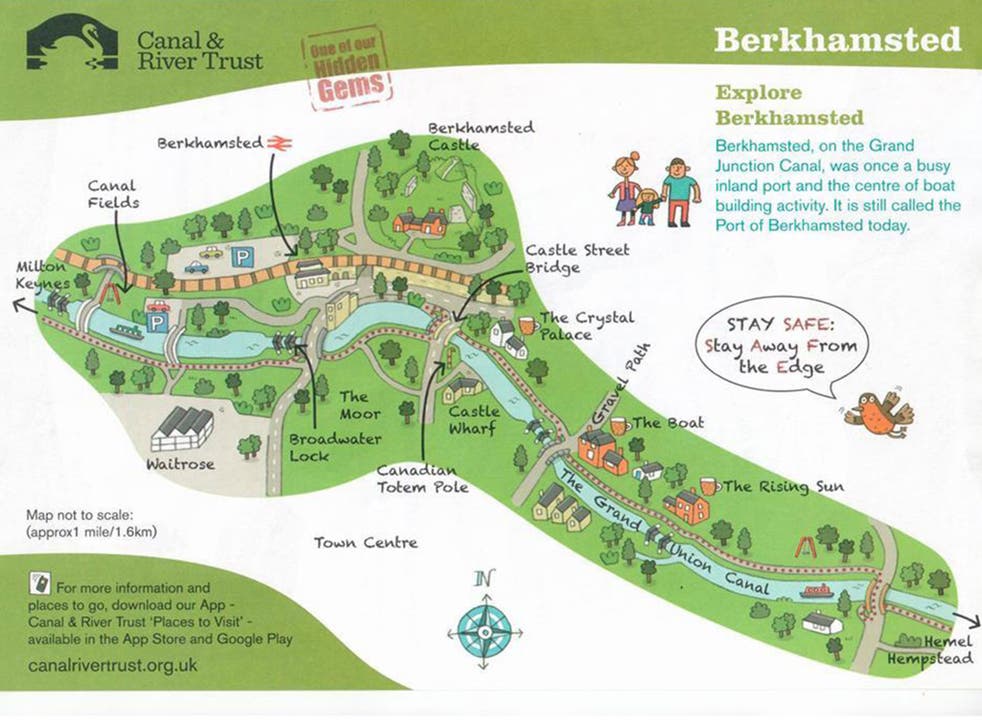 Penis-shaped map of Berkhamsted goes viral and accidentally boosts family-friendly Canal and River Trust's campaign
"Obviously we're not going to be setting out to make any maps we produce in future to look phallic," the charity behind the map said
Kashmira Gander
Thursday 14 August 2014 18:07 Comments
What should have been a perfectly innocent map of an historic town in Hertfordshire has caused a fair few giggles across social media, after a Facebook user pointed out the diagram resembled an enormous phallus.
The friendly-looking cartoon style map was commissioned as part of the '100 Places to Visit' campaign by the Canal and River Trust, which looks after the waterways of England and Wales.
Depicting the area of the town which runs alongside The Grand Union Canal, the map features Berkahmsted Castle, a Canadian Totem Pole and a number of waterfront pubs.
But the town's arrangement meant the map was drawn in the shape of male genitalia - as pointed out by Facebook fans of the Haresfoot Brewery which features on the diagram.
While the owners of the Brewery praised the map as a "great graphic", a Facebook user quipped: "It looks like a willy tee hee!!"
Responding to the unexpectedly successful map campaign, a spokesman from the Canal River Trust told The Independent: "It's been overwhelming positive, everyone has seen it as a bit of fun. If people see the map and want to find out a bit more canals and Berkhamsted, or pay them a visit then that's great."
Explaining why the map resembled a penis, the spokesman added: "It's a bit in the nature of canals, they are long, straight things, and when you draw a map it tends to be that sort of shape.
"The reaction has been a bit of fun, but obviously we're not going to be setting out to make any maps we produce in future to look phallic," he added.
Register for free to continue reading
Registration is a free and easy way to support our truly independent journalism
By registering, you will also enjoy limited access to Premium articles, exclusive newsletters, commenting, and virtual events with our leading journalists
Already have an account? sign in
Join our new commenting forum
Join thought-provoking conversations, follow other Independent readers and see their replies