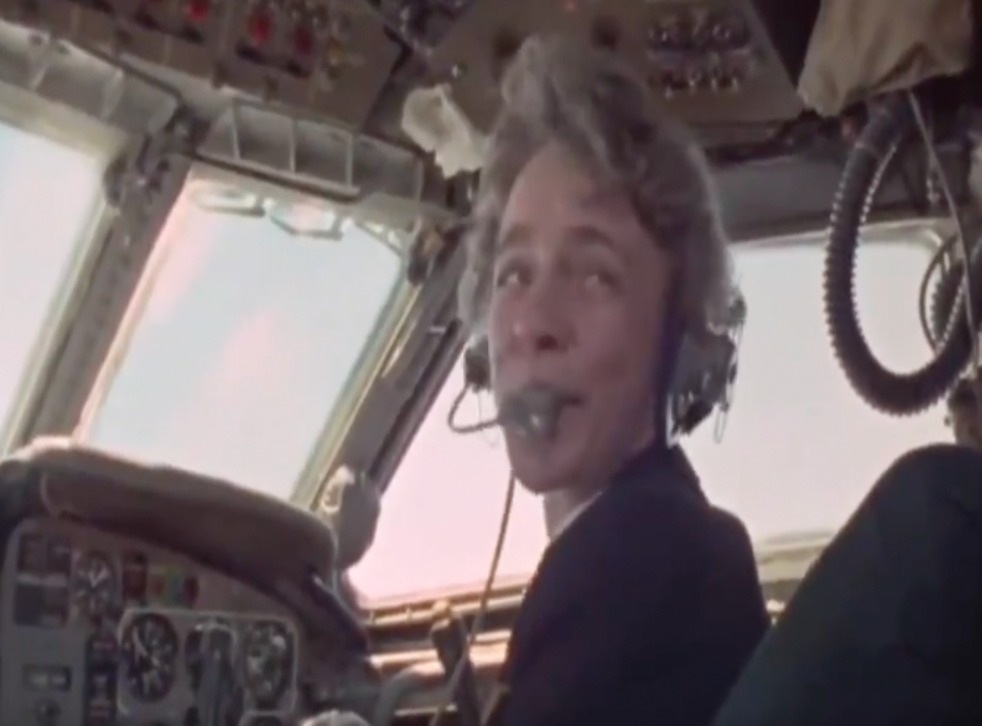 Yvonne Sintes: Celebrating the female pilot who broke the male-only mould
Plane Talk: British European Airways, now part of BA, said they would not accept a woman on the flight deck
Fifty summers ago, viewers of the BBC's Nationwide programme watched a De Havilland Comet take off from Gatwick airport and climb gracefully into the Sussex skies, en route to Tenerife.
The soundtrack begins from the flight deck.
"Gear up," the captain says.
A little later: "Good morning ladies and gentlemen. This is first officer Sintes speaking. We are now cruising at 33,000ft and flying at 500mph."
The reporter then starts talking.
"Well, you've guessed it. Forty-one-year-old Yvonne Sintes is a lady jet pilot."
However much the report makes you cringe, that the BBC made a film based solely on the premise that a woman could fly a passenger plane reveals the strange prevailing attitude to gender and work. As does Ms Sintes's battle to become a pilot.
She grew up near Croydon aerodrome in south London, which is what enticed her to learn to fly. But even though she qualified as a private pilot in 1953, it took many years before she was finally accepted. She became an air stewardess, then a flying instructor, and was the UK's first female air traffic controller along the way.
Ms Sintes applied to British European Airways, now part of BA, but was told they would not accept a female pilot.
Dan-Air, a commercial company that was refreshingly focused on hiring the best people regardless of gender, took her on and trained her on the Comet – at the time a standard conveyance for British holidaymakers to the Mediterranean and the Canary Islands.
"What's rather nice is that I'm flying the very aeroplane that they said they couldn't possibly train me on," she said.
In the programme, the reporter heads into the cabin to talk to passengers. "What do you think about being flown by a lady pilot?" they're asked.
The first response (from a woman, incidentally) is startling: "Well, I'm very surprised. In a lot of ways I would prefer it was a man, but I think she's doing a good job."
The following year the "lady jet pilot" was promoted to captain, flying BAC One-Eleven aircraft.
Captain Sintes outlived the BBC's prime early-evening TV programme by several decades. She died this week, having reached her nineties.
Jonathan Hinkles, chief executive of Loganair, points out: "With first officer Marilyn Marsh-Booth, she also led the first ever UK all-female air crew. We've thankfully come a long way as an industry since then, with role models like Yvonne to help, yet still have a long way to go."
Loganair is the UK airline with, according to the most recent reports, the highest percentage of female pilots – with both pilots being women a frequent occurrence. Yet still only 13 per cent of the pilots are female.
At most airlines, male pilots outnumber female flight crew even more dramatically. When easyJet announced its "Amy Johnson Female Pilot Initiative" in 2015, the carrier – and BA – had just 6 per cent female flight crew.
The recruitment drive doubled female pilots at easyJet to 12 per cent in a year. But while a ratio of 1:8 is less awful than 1:16 (still the general rule at British Airways and many other carriers), such a discrepancy makes aviation an extreme outlier among industries.
The fact that many pilots are recruited from the military, and that the RAF is predominantly male, is one factor; the challenging working hours, particularly for women with young children, may be another.
But perhaps celebrating the life of Yvonne Sintes – and the battles she fought to gain acceptance – will move the dial a little closer to parity. As will gasping in horror at the views in the 50-year-old BBC report.
Join our new commenting forum
Join thought-provoking conversations, follow other Independent readers and see their replies