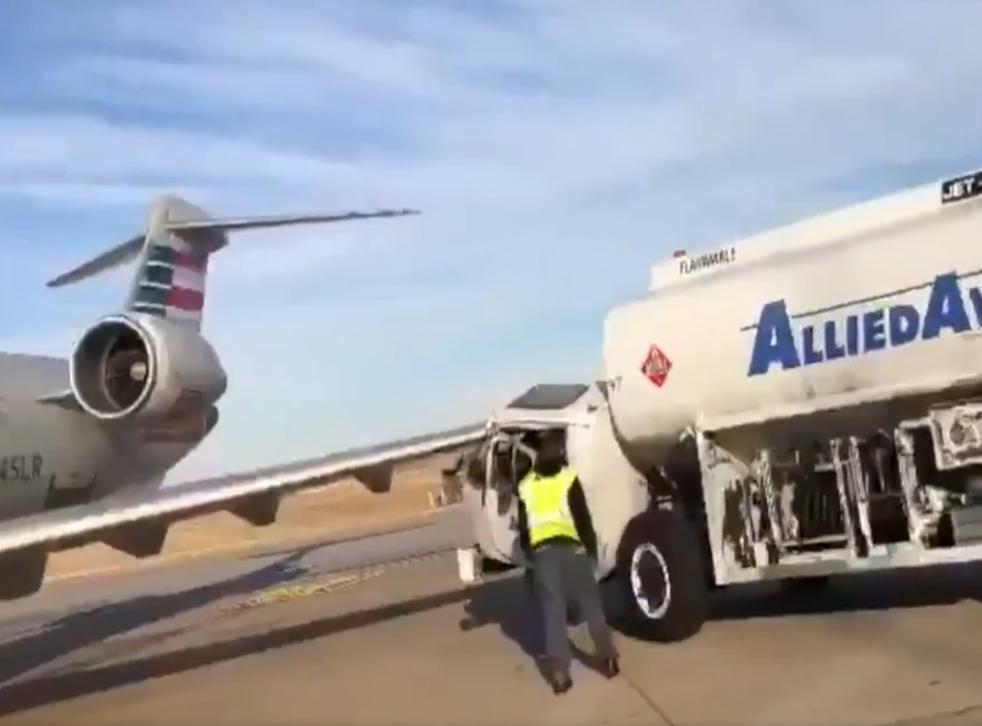 Fuel truck crashes into two jets on tarmac, cancelling flights
Vehicle drives straight into aircraft wing
A fuel truck crashed into two planes preparing for departure at Dallas Fort-Worth airport on Monday.
Both jets were Bombardier CRJ-900 aircraft owned by American Eagle, operating Mesa Airlines flights that subsequently had to be cancelled.
The truck, which belongs to Allied Aviation, managed to damage part of the wing and destroy a winglet – the wing tip that tilts upwards – on one aircraft, before driving straight into the wing of the second aircraft.
Both planes were preparing for departure on domestic flights, one bound for Lubbock, Texas, and the other due to fly to Shreveport, Louisiana.
Video shared by reporter Jason Whitely on social media shows the aftermath of the incident.
The winglet of the first jet can be seen with a chunk taken out of it, while the wing of the other aircraft is visible going straight through the truck's windscreen, with the truck cabin crumpled around it.
Whitely tweeted: "Fuel truck at @DFWAirport crashes into two parked American Eagle jets preparing for departure from Terminal B today.
Lonely Planet's best destinations 2020

Show all 40
"Paramedics evaluated one flight attendant. No one seriously injured.
"Wing of second CRJ-900 penetrated windshield of fuel truck."
The video has been watched more than 11,000 times.
An American Airlines spokesperson told The Independent: "On Monday morning at Dallas/Fort Worth International Airport (DFW), a vendor's fuelling truck impacted two parked Bombardier CRJ-900 aircraft.
"No passengers or crew members were seriously injured. American is reviewing the incident in coordination with the vendor."
Customers on both flights were rebooked onto alternative services the same day.
It's not the first time a crash has occurred on the tarmac.
A runaway catering cart came close to injuring staff and smashing into an aircraft as it span out of control at Chicago O'Hare International Airport in October.
Video shot by an onlooker shows the unmanned cart doing increasingly large and unstable doughnuts while employees struggle to scramble out of its path. Trays and food items can be seen strewn all over the tarmac.
A bystander is heard saying, "It's going to hit the aeroplane, there it goes" just before the cart is disabled by an airport worker driving what looks like a fork-lift truck, to applause and shouts of approval from passengers.
Join our new commenting forum
Join thought-provoking conversations, follow other Independent readers and see their replies