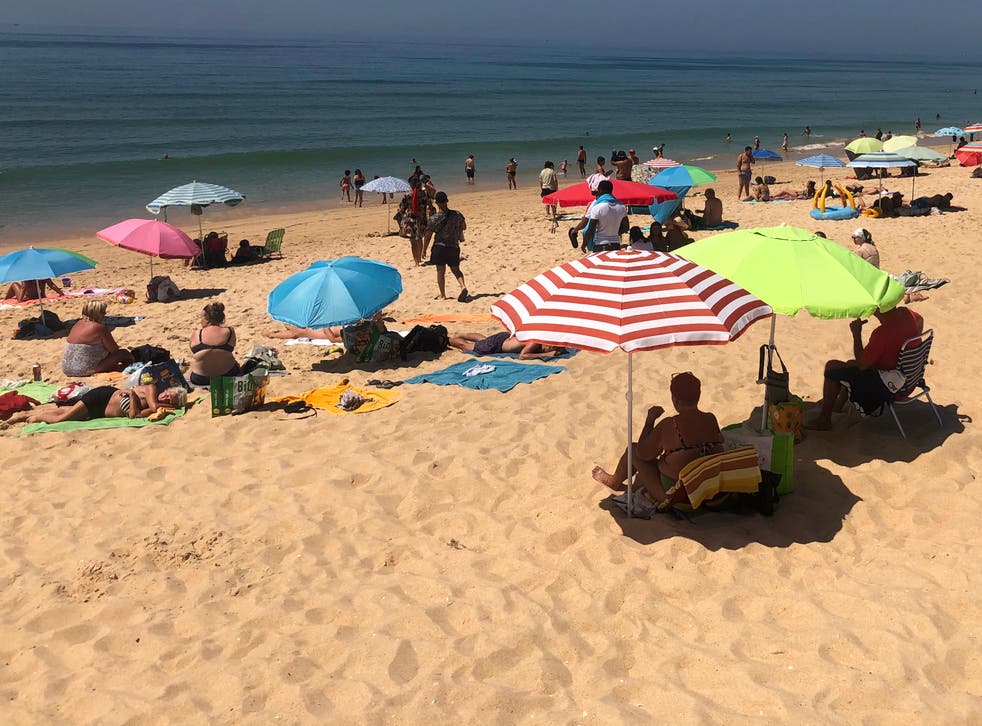 When can I travel to Portugal and what are the restrictions?
The removal of Portugal from the UK's 'red list' could open up summer holidays
Helen Coffey
Thursday 18 March 2021 10:19 Comments
Portugal has announced it will open its borders to British tourists from 17 May.
It has also been removed from the government's "red list" of nations from which travel is severely restricted.
Portugal's removal from the list comes a month after mandatory hotel quarantine was imposed on any arrivals from the southern European country to the UK.
Those travelling from Portugal are still currently required to self-isolate, but can do so at home rather than having to cough up £1,750 for a hotel package.
Portugal is one of the five most popular summer sun destinations for British travellers, along with Spain, France, Italy and Greece.
But when might we be able to return on holiday and what are the rules? Here's what we know so far.
When might British tourists be able to return to Portugal?
All leisure travel abroad is illegal from the UK until at least 17 May – the date from which the ban might be lifted in England, according to the government's road map.
Read more: 
Portugal's borders are closed to most British travellers right now regardless, but the Portuguese government has indicated that it expects to open up to tourists on 17 May.
Rita Marques, secretary of state for tourism, told the BBC: "I do believe that Portugal will soon allow restriction-free travel, not only for vaccinated people, but those who are immune or who test negative. We hope to welcome British tourists from 17 May.
"Everything will be ready by mid-May."
What are the current entry requirements?
Travel to Portugal, including Madeira, Porto Santo and the Azores, is limited to: EU/EEA nationals and their family members; UK and other non-EU/EEA nationals who are officially resident in Portugal or another EU member state; and UK and other third country nationals who are travelling for essential purposes, such as to live with immediate family members, or for professional, educational, health or humanitarian reasons.
If you are travelling to Portugal as a resident, be prepared to show evidence of your residence status, such as your residence card or certificate, to your airline and to the immigration officer on arrival.
UK news in pictures

Show all 50
And if you are travelling to Portugal for essential purposes, be prepared to show evidence to support your reason for travel, to your airline and to the immigration officer on arrival.
Travellers need to complete an online passenger locator card before arriving in Portugal and must show a negative RT-PCR test result for Covid-19 at the time of boarding. The test must have been taken within 72 hours of departure.
Those arriving from the UK will be required to self-isolate for 14 days on arrival.
Will I need a vaccine passport?
When travel from the UK to Portugal becomes possible again, it doesn't appear that a "vaccine passport" – proof that a traveller has received both doses of an approved vaccine – will be required.
Portugal's tourism minister said entry should be permitted "not only for vaccinated people, but those who are immune or who test negative".
Vaccinated travellers may be permitted entry without the need to take a Covid test beforehand, while unvaccinated tourists will likely still need to present a negative PCR result from a test taken within 72 hours of departure.
What about the Azores and Madeira?
The autonomous region of Madeira is launching a "green corridor" for arrivals who are fully vaccinated or have recovered from Covid-19.
Tourists who can prove vaccination or recovery will no longer have to provide a negative Covid test.
To be eligible, tourists must prove their status through one of two documents: proof of Covid-19 recovery in the last 90 days, validated by the respective country of origin, stating the name, date of birth, health number, type and date of the test and explicit mention of 'recovered'; or the official vaccination certificate, including the date of the two doses taken and respect for the immunisation period according to instructions for each vaccine.
Read more:
Documentation in English must be submitted to the 'Madeirasafe.com' app prior to arrival.
Meanwhile, Portugal's other autonomous region, the Azores islands, has just 79 active cases of Covid-19. Corvo, the smallest island of the Azores, is the first territory in the country whose entire population have already received the first dose of the vaccine against Covid-19, with the second dose due to be given in March. Five per cent of the entire Azorean population have been vaccinated in total, and the remainder should all be fully vaccinated by July. If enough residents are vaccinated, this could pave the way for the islands to reopen to travellers, whether inoculated or not.
What restrictions are in place right now?
Mainland Portugal is currently in a 'state of emergency', with the country under national lockdown.
People must stay at home other than to buy food and other essential items; go to work for those who cannot work from home; go to a hospital, health centre or dental clinic; go to a veterinary clinic or walk a pet; carry out caring or similar duties; take short periods of exercise outdoors (individually, not in groups).
Traveller says he felt 'more like a prisoner' in UK quarantine hotel
There is a ban on travelling between municipalities at the weekend from 8pm on Friday to 5am the following Monday morning. If you have to travel for essential purposes, such as to go to work or for medical treatment, be prepared to show evidence of the essential nature of your journey if required to do so by the police.
What has the Portuguese tourism industry said?
Following the announcement about Portugal coming off the red list, João Fernandes, president of Algarve Tourism Bureau, said: "We are delighted with the decision to take Portugal off the red list. We have been able to overcome a second wave of coronavirus, to reduce the infections levels to some of the lowest in Europe.
"The Algarve has always been a favourite holiday destination with British holidaymakers and this announcement is a hopeful sign that we will soon be able to welcome them back in early summer.
"The Algarve offers so much as a holiday destination and last year we were distinguished as the best beach and best golf destination in the world. We can't wait to welcome back British visitors and share our beautiful region with them once more."
Register for free to continue reading
Registration is a free and easy way to support our truly independent journalism
By registering, you will also enjoy limited access to Premium articles, exclusive newsletters, commenting, and virtual events with our leading journalists
Already have an account? sign in
Join our new commenting forum
Join thought-provoking conversations, follow other Independent readers and see their replies