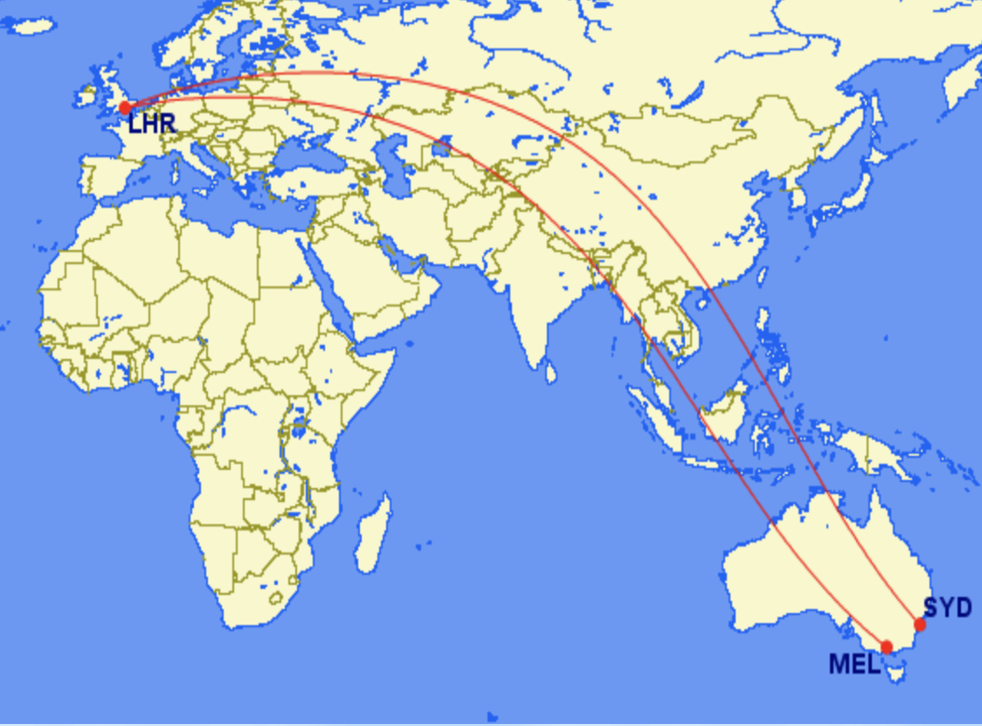 Qantas: nonstop London-Sydney flights will take off by 2022
​'Direct flights from the east coast of Australia to London and New York by 2022,' promises the airline
Simon Calder
Travel Correspondent
Saturday 01 September 2018 10:57 Comments
Non-stop flights between Heathrow and Sydney have moved a step closer, with Qantas vowing to operate "direct flights from the east coast of Australia to London and New York by 2022".
The revelation came as the Australian airline announced record full-year profits.
Previously Qantas had said only that it had asked Airbus and Boeing to put forward proposals for aircraft to serve what would be the world's longest routes.
In March, the Australian airline launched the first scheduled nonstop flights between Heathrow and Perth. It says the new route "is the highest rating service on our network".
The link is served by Boeing 787 Dreamliner aircraft, but Qantas believes that it needs a specially configured version of either the Boeing 777X or Airbus A350 to make such long routes profitable
London-Sydney was first served nonstop in 1989 by a special proving flight with a Qantas Boeing 747, but no paying passengers were on board.
The 10,573-mile journey is expected to take 20 hours, 20 minutes at an average speed of 520 mph. The most direct route would take the plane over Denmark, Latvia, western Russia, northeast Kazakhstan, China and the Philippines before making landfall in Australia close to Darwin.
Melbourne is another possibility. The distance is 70 miles shorter, but the most direct routing is substantially different, taking in Nepal, Bangladesh, southern Thailand and Borneo.
At present the world's longest route is Qatar Airways' daily service between Doha and Auckland, at 9,032 miles. The Qantas London-Perth flight, at 9,009 miles, is second, with Emirates' link between Dubai and Auckland third at 8,824 miles.
From October, though, they will all move down one place when Singapore Airlines reintroduces flights from its home base to New York - a flight of 9,534 miles, whose most direct course passes very close to the North Pole. Qantas' planned route from Sydney to New York is 9,950 miles, and will be about 80 minutes quicker than the link to London.
British Airways has gradually retrenched its services from Heathrow to Australia and New Zealand, and currently has only a single flight via Singapore to Sydney. BA has shown no interest in flying nonstop to Australia.
Register for free to continue reading
Registration is a free and easy way to support our truly independent journalism
By registering, you will also enjoy limited access to Premium articles, exclusive newsletters, commenting, and virtual events with our leading journalists
Already have an account? sign in
Join our new commenting forum
Join thought-provoking conversations, follow other Independent readers and see their replies