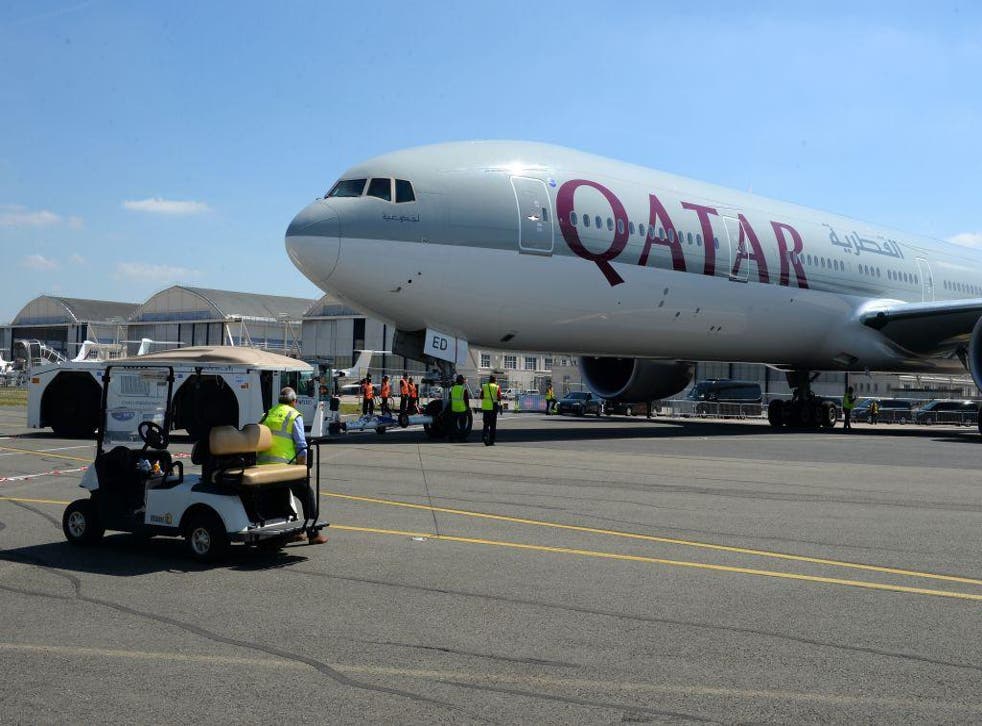 Qatar Airways: What it's like flying through Doha right now
With the Qatar diplomatic crisis continuing, rumour has it that the capital city's airport is a ghost town. Should you fly Qatar Airways at the moment? Carla McKirdy hops on board
Carla McKirdy
Monday 17 July 2017 13:14 Comments
Strange images of Hamad International Airport in Doha circled the world early last month. After a diplomatic row that saw Saudi Arabia, Bahrain, Egypt and the United Arab Emirates sever ties with Qatar, blocking access to their airspace, photos appeared to show that the second busiest airport in the region had effectively become a ghost town.
Around 30 million passengers pass through Doha every year, but last month, travellers reported that the airport was "deserted".
I'd heard whisperings on social media that with the empty planes, flying Qatar Airways was "like taking a private jet".
Trump says Qatar has 'historically been funding terrorism at a very high level'
Did that make it a good or a bad idea to fly Qatar in the circumstances? With a ticket from Phnom Penh to Houston via Doha booked long before the incident kicked off on 5 June, I didn't have the luxury of choice.
I flew on 30 June, just before the laptop ban was lifted. And although I was preparing myself for the worst, I was in for a big surprise.
Before the flight
The omens weren't good. I assumed, when the crisis started, that Qatar Airways would email me explaining whether the airspace ban would affect my flight or not.
Obviously it would, because although I wasn't flying to any of the countries involved, Qatar had been forced to change its normal flight paths into Doha – albeit slightly – in order to avoid flying through UAE airspace.
But there was no statement released, no travel warnings for ticketed passengers – not even any reassurance that their flight would be operating and wouldn't be delayed.
The policy of silence extended to the website, too. Three weeks into the dispute, I scoured it for clues; there was nothing. Finally, on 7 July, a notice addressing the diplomatic incident finally went up – yet at the same time, the site still advertised Dubai as one of its top destinations, although it had been a month since Qatar Airways last flew there.
On arrival
At Phnom Penh airport, the attendant at the check in desk welcomed me with a big smile. "Business or pleasure?" she inquired. Small talk aside, she said nothing about the elephant in the room. I looked around for any update about the effects of the diplomatic row, but it was in vain. There was only one thing left to do: hope for the best.
Onboard
Forget those enticingly empty plane photos; onboard, it was business as usual, with a fully packed flight. Crew made no reference to the diplomatic crisis – not even when outlining the flight path we would take.
The only evidence of the row was a blink-and-you'll-miss-it moment. The onscreen flight tracker showed our plane leaving Vietnam and inching its way towards Qatar in a straight line – except for a sharp dip off-route to avoid cruising over UAE airspace.
I reckon it added about 10 minutes flying time – but because delays are built in to schedules, we still landed on time.
At Doha
So what about that ghost-town airport? On arrival at Hamad International Airport (where I was in transit), just one subtle sign revealed that something was possibly amiss: bright red letters reading "cancelled" on the screens next to flights listing destinations such as Dubai, Abu Dhabi and Riyadh.
But that was the only thing visible; anyone unaware of the ongoing news would be none the wiser about the reason – or the fact that they'd been "cancelled" for weeks. All other scheduled services appeared generally to be on time.
But there was none of the ghost-town air – from the looks of it, every other plane must have been as full as mine. The corridors were full of people spilling out of security, weaving their way through the crowds towards their respective departure gates, and stopping for an obligatory selfie in front of the giant teddy bear "artwork" that's synonymous with Doha airport.
Everything was working like clockwork; everyone seemed oblivious to the diplomatic incident going on around them and threatening their travel plans.
Qatar has some pretty good offers on at the moment – prices may not be enough to entirely counter the worries that have been instilled in the travelling public, but decent deals include Kathmandu from £454, Bali from £539 and Perth from £638.
Would I travel with them while the future still looks so uncertain, though? Only at the right price.
Register for free to continue reading
Registration is a free and easy way to support our truly independent journalism
By registering, you will also enjoy limited access to Premium articles, exclusive newsletters, commenting, and virtual events with our leading journalists
Already have an account? sign in
Join our new commenting forum
Join thought-provoking conversations, follow other Independent readers and see their replies