Qatar Airways: UK-Africa connections via Doha jeopardised by 1,000-mile diversions
Airline says it is business as usual. Really?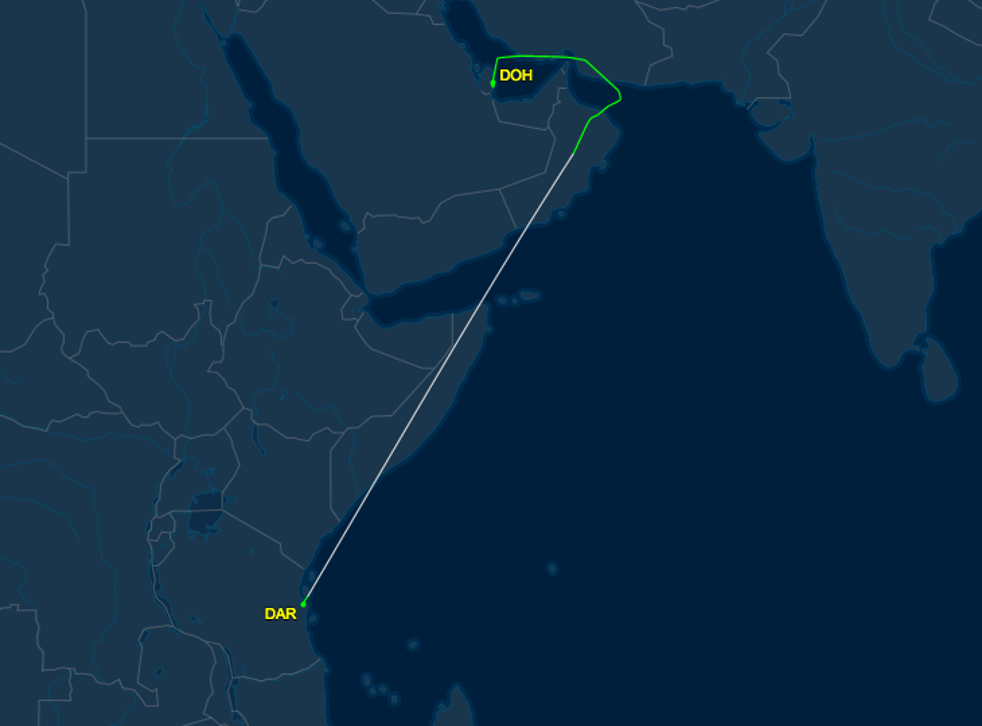 Elizabeth has a ticket on Qatar Airways. She is one of many travellers who have got in touch since Monday's shock news that, as part of a diplomatic row between Arab countries, the Qatari carrier has been banned from the airspace of Bahrain, Egypt, Saudi Arabia and the United Arab Emirates. "Booked a flight to Australia with Qatar for end of September," she wrote. "Will I be able to cancel and get a refund because of the problems at the moment? I'm really worried."
As soon as the ban was announced, I contacted the airline to ask about the effects of the airspace ban on Qatar flights to and from the UK, and worldwide. I have followed up twice since, with no response from Doha so far. So I must make some educated guesses. "Qatar Airways' global operations remain unaffected; airline says it is 'Business as Usual'": that is Qatar Airways' position. But I have been monitoring flights since Tuesday morning, when the ban took effect, and the operation looks far from normal. Some flights having to divert by up to 1,000 miles, triggering long delays and missed connections. Many routes are unaffected. Flights to and from Birmingham, Heathrow, Manchester and Edinburgh are being routed over Iran and Turkey, with no significant delays. Australian and New Zealand services are avoiding the UAE by flying over Iran and Pakistan, adding a couple of hundred miles and perhaps 20 minutes to journey times. On such a long flight, though, there are opportunities for making up time.
And that's why I told Elizabeth not to worry, saying: "You can't cancel without losing your money, but I reckon it is extremely unlikely you will not be able to travel as booked. If for any reason the flight is disrupted, Qatar will rebook you on other carriers or provide a full refund." If the airline hands the money back, travelling at the end of September there be no problem buy a new flight on a different airline, such as Emirates or Etihad, for a similar fare.
But on some other routes, travellers may be less confident. I have been looking particularly at flight QR1348, which is scheduled to leave Dar es Salaam at teatime every day, destination Doha. With Saudi Arabia banning overflights, the plane has to go the long way around. The aircraft is a narrow-bodied Airbus A320, on which the scheduled five-and-a-half hours is quite enough – that's the same as a transatlantic flight from Heathrow to St John's in Canada. But since the ban took effect, the link has taken much longer. On Tuesday, the duration was seven hours, 17 minutes, and the distance covered was almost 1,000 miles longer than the direct track – taking the total distance to as much as London-Boston.
Some of the passengers enduring this short-haul equipment on a long-haul trip will be transferring to UK flights, and with a delay of over an hour connections could be jeopardised. With dozens of daily flights cancelled because of the ban on flights to neighbouring countries, Qatar Airways has plenty of spare aircraft and crew. The carrier could choose to communicate to passengers, and the media, about how it plans to handle this potentially long-term issue – perhaps by adjusting schedules and reassessing connections in the light of the new restrictions. But instead what you and I are told is that "global operations remain unaffected". If the carrier wants to bury its head in the desert sand, so be it. But Qatar Airways' business depends on filling planes through the Doha hub. Already, thousands of passengers from nearby Arab states are excluded from connecting in Qatar, so anticipate some deep discounts in the weeks and months ahead. As always in air travel, though, be prepared for delays and disruption.
Register for free to continue reading
Registration is a free and easy way to support our truly independent journalism
By registering, you will also enjoy limited access to Premium articles, exclusive newsletters, commenting, and virtual events with our leading journalists
Already have an account? sign in
Register for free to continue reading
Registration is a free and easy way to support our truly independent journalism
By registering, you will also enjoy limited access to Premium articles, exclusive newsletters, commenting, and virtual events with our leading journalists
Already have an account? sign in
Join our new commenting forum
Join thought-provoking conversations, follow other Independent readers and see their replies