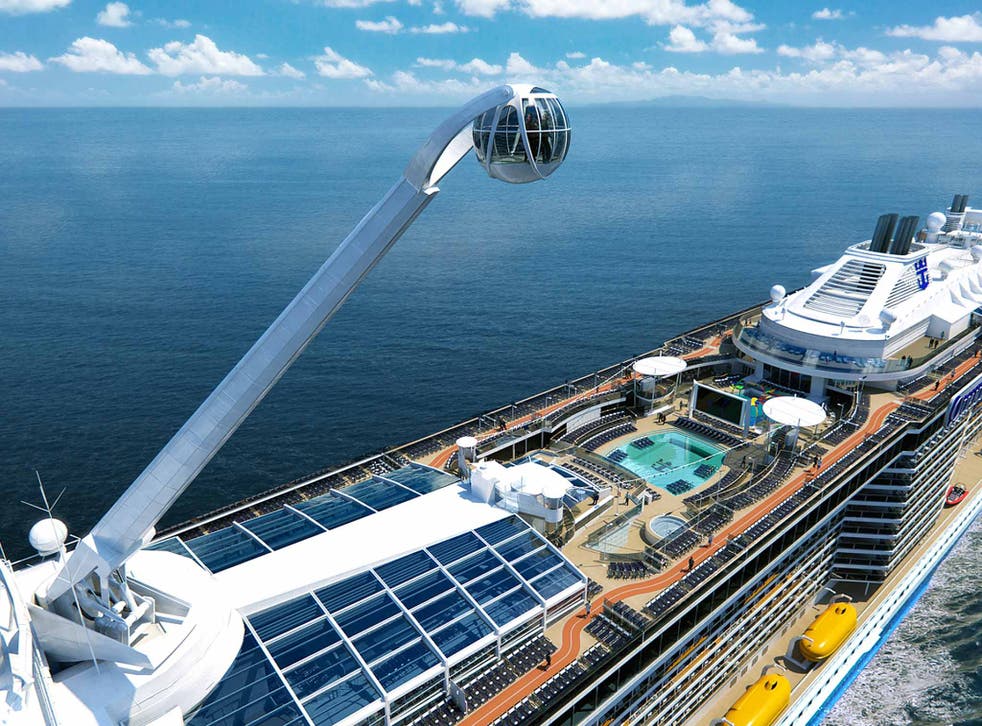 Quantum of the Seas: inside the world's smartest cruise ship
Simon Usborne gets a preview of Royal Caribbean's latest enormous vessel before her maiden voyage
During dinner at Wonderland, where the waitresses are dressed like Alice and the potatoes are made to look like stones, my head starts tipping gently to the right, as if an imaginary white rabbit were tugging at my ear. It keeps rolling and as I perch on a huge upholstered chair, I wonder if it is the drink, or if I am nodding off. Then it comes back to me: I am on a boat, and the barely perceptible motion tells me that we must now be sailing.
It's easy to forget where you are on a ship as vast and as mad as Quantum of the Seas. Longer than The Shard is tall, she rises 16 storeys out of the water and has beds for 4,000 passengers served by 1,500 crew. A running path around the top deck is 133 metres longer than an Olympic athletics track. Equal parts resort hotel, shopping mall and monospecific ark, she floats as solidly as any of those structures would in a biblical flood.
My fiancée and I went in two by two, hours earlier at Southampton, where, on Friday, Royal Caribbean's newest vessel dwarfed the nearby Ikea. Hundreds of journalists and industry people had gathered for a two-night cruise in an unseasonably sunny English Channel, aboard "the world's smartest cruiseliner" before she set sail on her maiden voyage to New York. The bars are free, including a robotic one, and so are the 19 restaurants. How fat will it be possible to get in two days?
Preview trips are a crucial front in cruise wars, a fierce industrial battle in which torpedoes worth millions come stamped with a ™ or an ® . The biggest weapons are the "firsts". Quantum offers the first dodgems at sea, the first trapeze, the first skydive simulator (Ripcord by iFLY®), the first Jamie's Italian (he's here, waving his arms at a camera crew), the first crane pod viewing thingy (North Star®) and the first robotic bar possibly anywhere (Bionic Bar®).
On board the Quantum of the Seas

Show all 10
Bigger boats make bigger waves and Royal Caribbean now has six of the 10 longest cruise ships at sea. Twin giants Allure and Oasis (362m; 6,300 passengers) lead Quantum (347m; 4,000 passengers) as the new top three. But the Miami company is also presenting this latest class as the smartest in the industry as it tries desperately to appeal to the valuable "new-to-cruise" market. In short, the company is using tech to attract cruise sceptics like me.
An army of agents with tablets roam Southampton's notoriously queue-bound terminal, scanning passports and boarding passes, which can be printed after online check-in. I was on board in minutes, entering via the main decks four and five, where a Vegas-style promenade of restaurants, bars, and shops is rendered in browns, beiges and chrome (some of the decor decisions here are seriously suspect, not least the "art" in Quantum's 16 elevators).
Inside my "Superior Ocean View Stateroom with Balcony" on deck nine, chipped "WOWbands" are ready for action. Another hi-tech first, they open the door to my room, and can be scanned at bars to add drinks to my account (in my case, showing £0). They also link to the Royal iQ app on my phone, which allows passengers to track luggage as they board, as well as collect prints and CDs from the ship's official photographers. Additionally, they can be used to reserve restaurant tables and seats at the 1,300-capacity Royal Theatre, where Mamma Mia is the big show.
The equally cavernous Two70° lounge with its three-storey windows transforms at night into a stage with a "vistorama" projection display and six dancing screens mounted on robotic arms. But most of the fun goes on across the top decks. Adjacent surf and skydiving simulators lead to two swimming pools, a spa and giant gym. There are bars everywhere. North Star, essentially a London Eye pod on a fancy crane, carries camera-toting passengers 100 metres above Quantum, serving as her own giant selfie stick.
At a media cocktail reception, I get talking to a wiry man who looks important. He turns out to be Adam Goldstein, President of Royal Caribbean and a serious amateur athlete. He is most excited about his new ship's connectivity. O3b, a communications company which started out by bringing the internet to developing countries, is now also directing its satellites at Quantum, beaming down super-fast speeds wherever she sails (to New York this week, from where she'll cruise the Caribbean before relocating to China).
But as the five-star general in this bizarre battle, doesn't Goldstein worry that, by launching ever more contrived experiences on ships that are so big that you don't even realise you have set sail, passengers are becoming disconnected from what used to be the main attraction – the sea? "We do try and bring the sea into it," he tells me, singling out the acres of window in the genuinely stunning Two70° lounge, and the lofty views from North Star. "But we have to appeal to new demographics."
Goldstein hopes Quantum's Wi-Fi, which is said to outpace that of all other cruise ships combined, will attract younger adults who don't get "offline", as well as families who cannot leave their jobs or devices at home. "Ten years ago, we could still market disconnectivity," he explained. "Today, that is a ludicrous concept."
I'm on my own voyage between those markets, and while I might not be convinced that cruising will ever be my thing, however smart or genuinely fun it can be, my newly rounded stomach and I have no doubt who's winning cruise wars.
Travel Essentials
Royal Caribbean's 'Quantum of the Seas' sails on a two-night sampler cruise from New York City on 21 November, with prices starting at £376 per person, cruise-only. She sails in the Caribbean until February (eight nights from £1,499pp with flights) before relocating to Asia.
Her sister ship, 'Anthem of the Seas' launches from Southampton in April 2015, with three-night no-fly cruises to Europe starting at £529pp (0844 493 2061; royalcaribbean.co.uk).
Register for free to continue reading
Registration is a free and easy way to support our truly independent journalism
By registering, you will also enjoy limited access to Premium articles, exclusive newsletters, commenting, and virtual events with our leading journalists
Already have an account? sign in
Register for free to continue reading
Registration is a free and easy way to support our truly independent journalism
By registering, you will also enjoy limited access to Premium articles, exclusive newsletters, commenting, and virtual events with our leading journalists
Already have an account? sign in
Join our new commenting forum
Join thought-provoking conversations, follow other Independent readers and see their replies