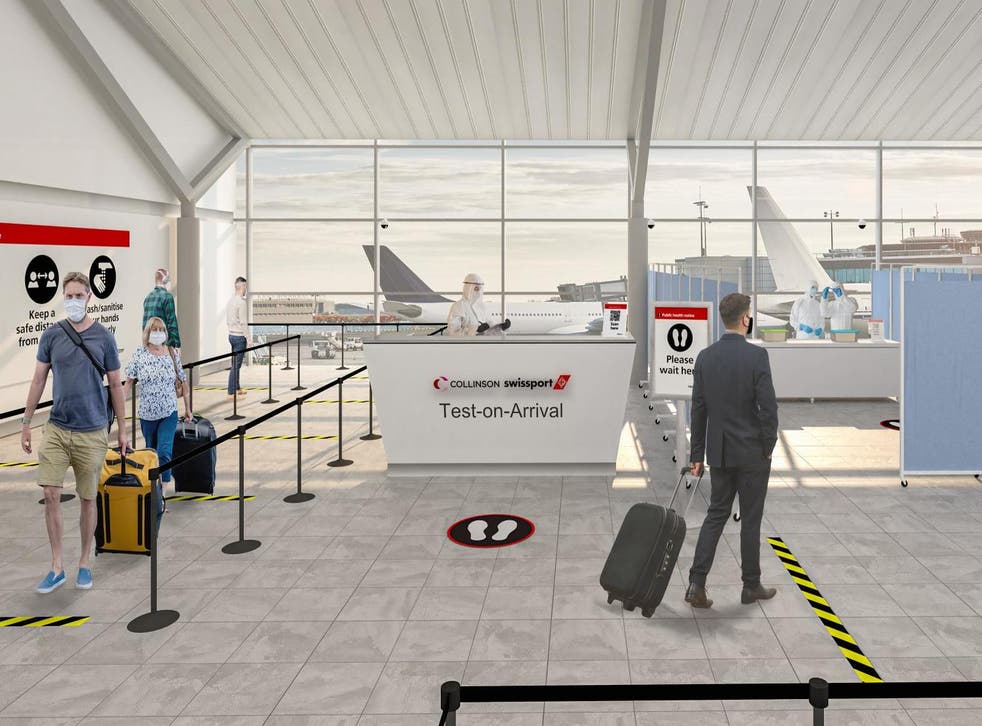 Quarantine: could a coronavirus test at Heathrow replace self-isolation?
Price of test not yet decided, but likely to be between £100 and £170
Passengers arriving at Heathrow may soon be able to take a coronavirus test to avoid quarantine.
The government has exempted travellers arriving from 60 nations from the need to self-isolate for a minimum of 14 days.
But the rule remains in place for more than 100 countries – including, controversially, Portugal and every nation in Africa.
Even though the blanket quarantine policy is now eased, the need to self-isolate is dampening enthusiasm for business and leisure journeys.
Other countries and territories have introduced testing on arrival. But when the quarantine requirement was imposed four weeks ago, the Home Office made it clear that testing would not be accepted as an alternative to spending two weeks indoors.
But the transport secretary, Grant Shapps, revealed on Friday that the government is considering a negative test in lieu of quarantine.
Now Heathrow airport is "ready to host a pilot for the testing".
The partners involved are the travel assistance firm, Collinson, and the ground-handling business Swissport.
The paid-for service will be available for anyone with a flight landing in Heathrow Terminal 2 – which rules it out for British Airways passengers, who use only Terminal 5 at present.
The price of the test is not yet decided, but is likely to be between £100 and £170. A similar arrangement at Vienna airport costs €190 (£170).
Some airlines may offer the test to higher-spending passengers as part of their business-class product.
Passengers will need to set up an account and book their test online, before beginning their journey to the UK.
The PCR tests will be carried out by Collinson nurses in a Swissport facility on arrival at the airport. During the appointment, a swab will be taken for testing, which is then sent to a Collinson laboratory near Heathrow.
They are claimed to be "the gold standard of virus detection", according to Collinson's joint chief executive, David Evans.
"It is able to detect the virus even when someone is asymptomatic," he said.
Passengers arriving from countries for which quarantine is still required will be told to go straight to their place of self-isolation – usually the home – and wait for test results. The target time is 24 hours.
The hope is that a negative test will allow travellers to end self-isolation and resume normal activities.
If the test comes back positive, the passenger will be told to continue self-isolation, staying at their given quarantine address for the next 14 days.
There has been criticism of the accuracy of tests, in particular for the significant number of "false negatives".
Mr Evans said: "We have seen the results of clinical trials using the same testing protocol at other European airports. In these trials, travellers were tested on arrival and again five days later.
"They showed zero cases of someone testing negative in the first instance and then positive in the second, proving the sensitivity of the tests when carried out on arrival."
The chief executive of Heathrow, John Holland-Kaye, said: "The government made a significant step forward last week by removing quarantine for visitors from many countries.
"But we still need a solution that safely allows passengers to travel to and from higher risk countries. This trial with Swissport and Collinson will provide a much-needed alternative to quarantine for those arriving passengers."
Richard Cawthra, chief commercial officer for Swissport, said: "Should the government also grant the exemption we are seeking, travellers could go to countries beyond those on the list with confidence, knowing that they would not face a quarantine upon landing in the UK as long as they test negative.
"This would not only stimulate inbound and outbound tourism and business travel in the UK, helping the economy and the travel sector back on their feet."
Paul Charles, spokesman for the Quash Quarantine group of travel businesses, said: "We called for these tests in May as they are a sensible alternative to quarantine, and enable the economy to keep moving.
"We're pleased the government is now looking closely at these measures and wish they had done so in May, when travel experts were advising them to do so."
There is currently no iaunch date for the pilot programme, nor when it might be extended to other terminals and airports.
Join our new commenting forum
Join thought-provoking conversations, follow other Independent readers and see their replies