New 1,250 mile motorway stretching across Russia given go-ahead
The new Meridian Highway will help to connect Hamburg with Shanghai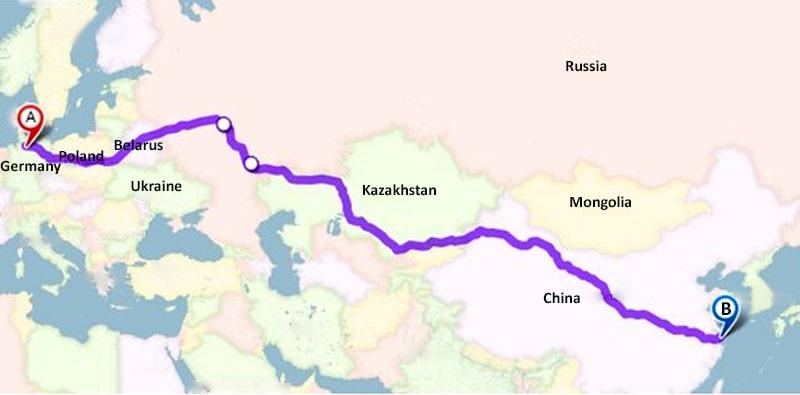 A new toll motorway stretching 1,250 miles across Russia has been given the go-ahead.
The privately financed Meridian Highway will run from the Belarus border to the frontier with Kazakhstan, acting as a "Moscow bypass" for traffic between Europe and China.
The Vedimosti business newspaper reports that the Kremlin has approved the proposal, and that work has already begun around the Sagarchin frontier post at the eastern end of the road.
At the western end, the four-lane highway will enter Belarus close to Smolensk, halfway between Moscow and Minsk. It will run through some deprived areas of the world's biggest country, which have been dubbed "Russia's Rust Belt".
The new toll link is expected to cost around 600bn roubles (£7.5bn), and will be built using a public-private partnership – with guarantees to investors about returns. The main source of revenue is likely to be trucks between Europe and China. It is expected to take some of the freight that currently uses the Trans-Siberian Railway and the Suez Canal.
Kim-Putin summit: Leaders meet for first talks in Russia
Show all 10
The Meridian Highway is the western component of a new Russia-Western China highway, stretching over 5,000 miles and ultimately connecting the ports of Hamburg and Shanghai.
It is one of a number of projects promoted by Beijing as part of China's Belt & Road Initiative.
For Western visitors travelling by car, the new road will improve access to western Russia and should provide vastly improved connections between Europe and the central Asian republics of Kazakhstan, eastern Uzbekistan, Kyrgyzstan and Tajikistan – though visa rules for both Russia and Belarus are currently difficult.
The original Meridian Highway was an early 20th-century US "auto trail" between North Dakota and Texas.
Join our commenting forum
Join thought-provoking conversations, follow other Independent readers and see their replies