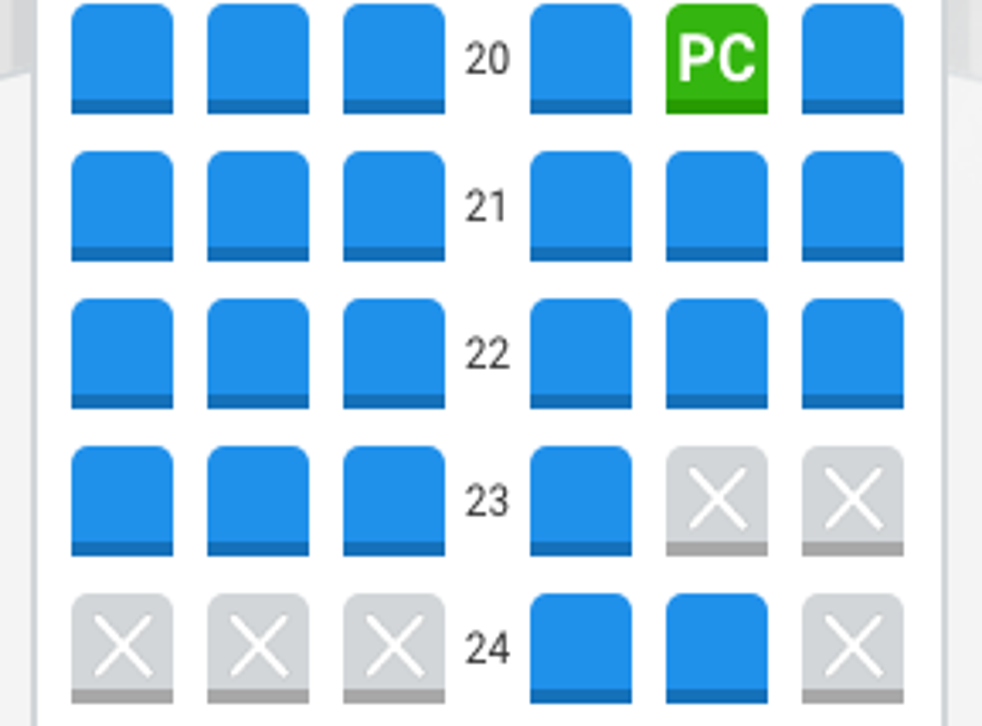 Ryanair's random seat allocation system: have I cracked the code?
Plane Talk: lucky numbers or a rigged raffle? The airline's assignments look reasonable
Simon Calder
Travel correspondent
Friday 14 July 2017 17:26 Comments
Being thoroughly anti-social by nature, the sequence did not bother me: 20E, 21D, 22C, 28B and 32B.
These are not lottery lucky numbers, but the seat assignments for the flight I am taking on Monday from Stansted to Santiago de Compostela in Spain.
In the olden days, paying for seats was unheard of. Everyone seemed to end up relatively happy. Some foreign airlines still maintain the quaint and welcome practice of allocating seats free of charge, in advance.
But on the Ryanair flight, our party of five is sprinkled along a dozen rows, with three of us (I'm the one in 28B) allocated middle seats, and the other two being diagonally across the aisle in 21D and 22C.
Budget airline passengers are accustomed to paying extra for services which used to be free, from checking in a bag to a cup of tea on board. But as the summer surge begins, Ryanair has been accused of deliberately seating couples and families apart in order to persuade them to pay for seat reservations.
It's important to say that this has nothing to do with seating families with young children together: Ryanair already insists that at least one parent pays for a seat, and accompanying under-12s can be sat adjacent for free.
But starting in mid May, passengers travelling in couples and groups started contacting me to say that they had each been allocated the unpopular middle seat, often many rows apart.
Here's Tony Osborne, who is flying from Birmingham to Dublin with his wife. Well, they are on the same plane, even if 28 rows apart.
"We have always taken pot luck and generally end up sitting together or adjoining rows," said Mr Osborne. "But we could not be further apart on this flight. I cannot believe that 24 hours before departure that these were the only two seats left."
A spokesperson for the airline said: "Mr Osborne's flight was fully booked, as most of our weekend flights are, which is why he and his travelling companion were allocated seats 3C and 31E when they went to check-in and receive their randomly allocated seats."
If spare seats are available when you check in, you are presented with the opportunity to tackle the random generation of seat numbers by paying a few pounds to sit together.
On social media, many passengers have claimed this is a nasty moneymaking wheeze. But Ryanair tells me: "This is entirely a matter of customer choice. We are not trying to force people to pay for reserved seats.
"We are very happy to facilitate any customer who wants a free of charge random seat but we are also going to do our best to facilitate customers who are willing to pay for a reserved seat."
While I prefer British Airways' and easyJet's practice of seating even skinflints like me as close to their companions as possible, I think Europe's biggest budget airline is behaving reasonably. It appears to me that the airline's definition of "random" may have subtly altered.
Since people who do pay for seating go for window and aisle seats, rather than the unpopular middle seat, this summer the airline's default is to assign non-paying people to middle seats.
From Ryanair's perspective, that has the added bonus, as the aircraft fills, of maintaining a sporting chance of there being an empty seat on one side or the other, and hence the possibility that the passenger will pay to move their companion to the adjacent space.
Casting a statistician's eye on the five seat assignments, I think it curious that none of us is seated in rows 1-19. But I know there's a seat for me on board somewhere. It's only a two-hour flight – and sociable people will be able to chat with their new randomly allocated friends on either side.
Register for free to continue reading
Registration is a free and easy way to support our truly independent journalism
By registering, you will also enjoy limited access to Premium articles, exclusive newsletters, commenting, and virtual events with our leading journalists
Already have an account? sign in
Join our new commenting forum
Join thought-provoking conversations, follow other Independent readers and see their replies