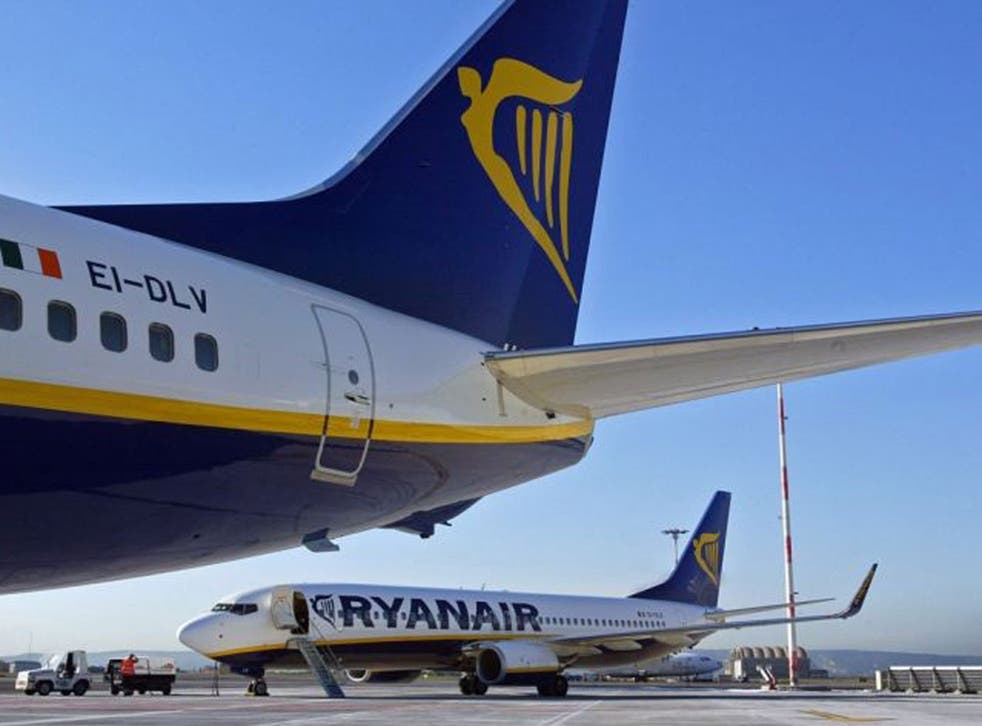 Ryanair brings in allocated seats - but with strings attached
Profits set to fall for first time in five years
Simon Calder
Monday 04 November 2013 18:15 Comments
The traditional scrum at the boarding gate is soon to disappear. As Ryanair looks ahead to a winter of discontented shareholders, with predicted daily losses of up to half-a-million pounds, the airline says it will bring in allocated seating - but with strings attached.
From 1 February, the present "free seating" policy will end. Every passenger will know before boarding where they will be sitting.
The plan is being sold as the next stage of the Ryanair corporate makeover; last week, Europe's biggest low-cost airline said it would soften its hard-line policies on everything from cabin baggage to correcting mistakes with online bookings.
The Irish airline's chief executive, Michael O'Leary, told The Independent: "We're responding to the feedback we've had from customers. I want my customers to love me as much as I love them."
This latest move appears to emulate easyJet, which introduced allocated seating for all one year ago. Superficially, the system is the same: a passenger can either pay £10 for extra legroom or one of the first five rows, or £5 for any other specific seat. But there is a significant difference: easyJet will let passengers check in weeks before departure. The British airline has sophisticated software in its reservations system to try to ensure that people sit with travelling companions, and in particular that parents are seated with children. But Ryanair makes no such promises. A family of four on a round trip must pay £40 to guarantee seats together. In addition, while passengers can check in two weeks ahead without a fee, and print out boarding passes for outbound and return legs for short trips, in future the only way to do this will be to pay the £5 per-person fee.
The plan was outlined as Ryanair revealed half-year profits up 1 per cent to €602m. Its traffic grew by 2 per cent to 49m passengers, representing an average profit of €12.30 for every passenger carried between April and September. Mr O'Leary said "This has been the slowest rate of growth in the history of Ryanair. We've had our weaker summer for five years."
Douglas McNeill of Charles Stanley Securities said: "It's too early for Ryanair's recent improvements [to customer service] to have had much effect, but these numbers suggest that it's not a moment too soon in making them."
The outlook for the second half of the year is gloomy. Losses in the third and fourth quarters are expected to total €90m, because of a 9 per cent fall in average fares. The fourth quarter looks particularly bleak, with a loss of €50m - about £2 per passenger carried between January and March.
The aviation consultant John Strickland said: "They may have a tough winter but most airlines would love to have Ryanair's level of profitability. The new efforts on social media and seating will allow them to tap new customers who may have avoided them until now."
Franco Mancassola, former chief executive of Debonair - the low-cost airline that closed in 1999 - said he felt vindicated by the reforms adopted by Ryanair: "I am happy to see that the Debonair concept and philosophy, 'Comfort is not a class privilege,' is beginning to be understood, probably even by the fierce critics back then - with Ryanair leading the diatribe. It took 15 years but finally the so-called 'no-frills' airlines are seeing the light."
Register for free to continue reading
Registration is a free and easy way to support our truly independent journalism
By registering, you will also enjoy limited access to Premium articles, exclusive newsletters, commenting, and virtual events with our leading journalists
Already have an account? sign in
Join our new commenting forum
Join thought-provoking conversations, follow other Independent readers and see their replies