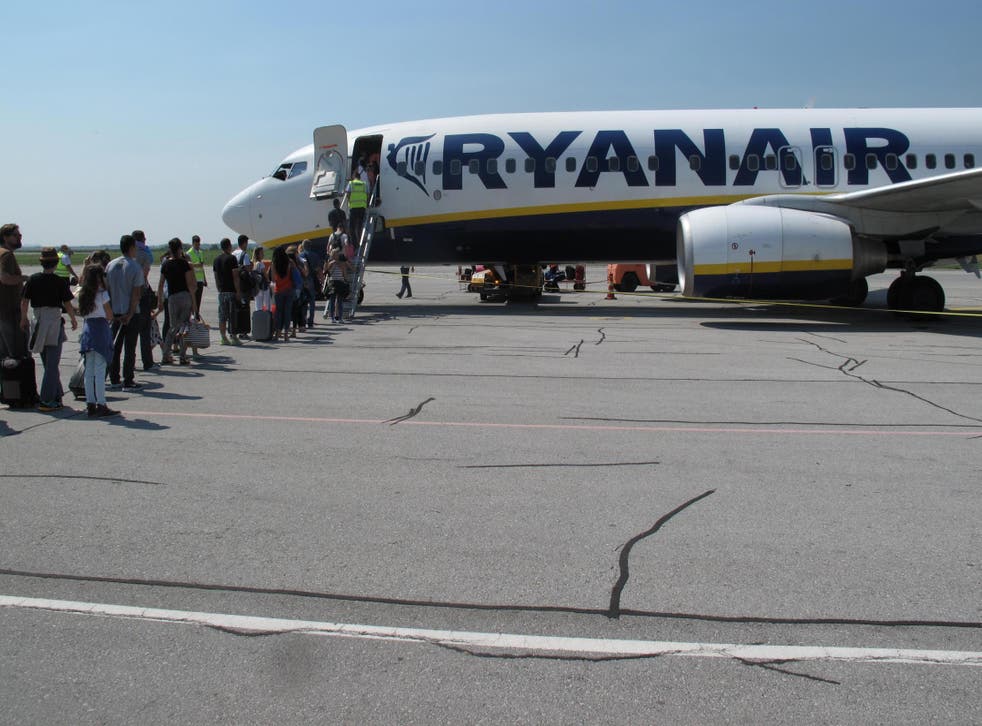 Ryanair to cancel up to 50 flights a day for next six weeks
Switch in annual leave system blamed for staff shortages
Up to 9,000 Ryanair passengers a day face having their travel plans wrecked as the airline cancels "40 to 50" flights a day until the end of October.
The budget airline, which is Europe's largest, said the move was to "improve its system-wide punctuality".
Ryanair blames "a combination of ATC capacity delays and strikes, weather disruptions and the impact of increased holiday allocations to pilots and cabin crew".
The airline is changing its April-to-March annual leave calendar to a January-to-December model. As a result flight crews are seeking to take their full allocation of holiday, leaving Ryanair's most ambitious summer schedule ever short of staff.
In a statement Ryanair said it has a backlog of crew leave. "These tighter crewing numbers and the impact of ATC capacity restrictions in the UK, Germany and Spain, as well as French ATC strikes and adverse weather (thunderstorms) have given rise to significant delays in recent weeks."
Ryanair's on-time performance has declined from 90 per cent to under 80 per cent over the past two weeks, which the airline says "is unacceptable to Ryanair and its customers".
Tracy Virr was due to fly back from Bordeaux to Stansted, but was informed her flight was cancelled. She was rebooked two days later, but that flight was also cancelled. She told The Independent: "What is extraordinary is that we have just been left with no help or advice from Ryanair. The online help has been of no practical help at all and we now feel that we cannot even trust that we will get home on Tuesday.
"We are going to the airport tomorrow just to see if we can talk to someone and appeal for their help in getting us home. I fear there may be many others doing the same."
Lisa tweeted: "Anyone know reason Ryanair have cancelled many flights over days – they say 'out of our control' but won't specify."
Ryanair's Michael O'Leary tells Theresa May to start delivering on Brexit
Someone tweeting as Antonio Rossi claimed to be crew at the airline, and wrote: "This is directly Ryanair's bad employee relations causing many hundreds of pilots to leave."
The airline says the cancellations "will create additional standby aircraft which will help restore on-time performance".
It added: "Customers will be contacted directly about this small number of cancellations and offered alternative flights or full refunds."
If Ryanair does not have a suitable alternative flight, affected passengers are entitled to be booked on rival airlines. They must also be provided with meals and accommodation until they reach their destination.
Depending on the amount of notice given, they could also qualify for EU compensation of up to €400 (£352).
Register for free to continue reading
Registration is a free and easy way to support our truly independent journalism
By registering, you will also enjoy limited access to Premium articles, exclusive newsletters, commenting, and virtual events with our leading journalists
Already have an account? sign in
Register for free to continue reading
Registration is a free and easy way to support our truly independent journalism
By registering, you will also enjoy limited access to Premium articles, exclusive newsletters, commenting, and virtual events with our leading journalists
Already have an account? sign in
Join our new commenting forum
Join thought-provoking conversations, follow other Independent readers and see their replies