Boeing, Boeing, gone? Why Ryanair will fly through this unprecedented turbulence
Expect cheap seats in their millions as the airline seeks to entice winter travellers on board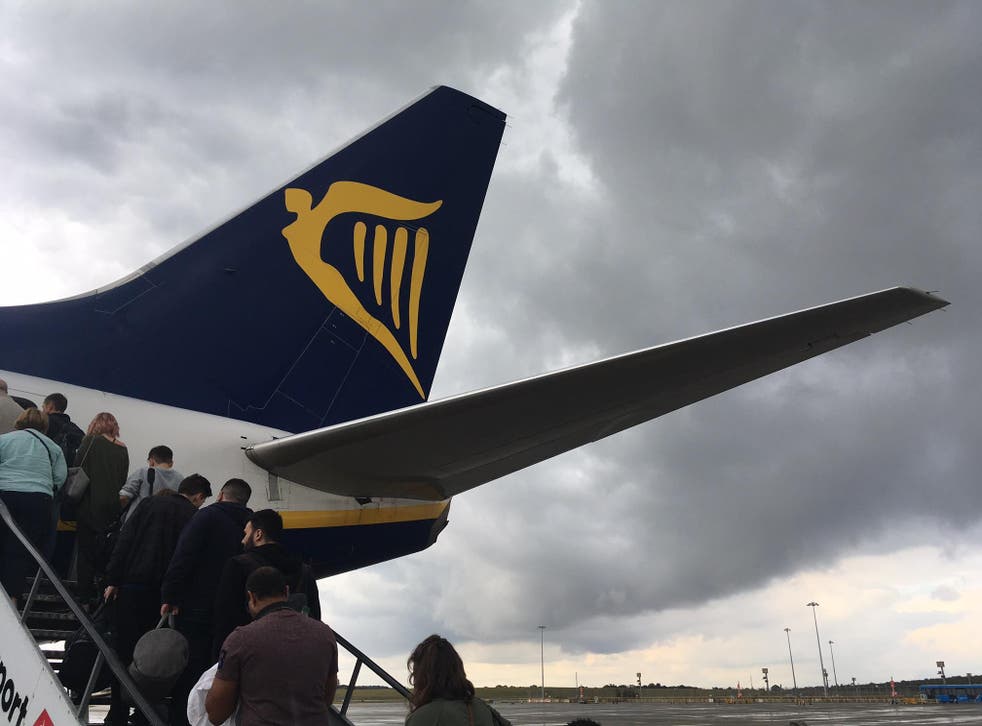 A boarding pass is basically a lottery ticket. While the odds are strongly in favour that you will reach your approximate destination roughly on time, all manner of misfortune can intervene to scupper your schedule.
Just ask the passengers snared by Thursday's air traffic control strike in France – or aboard Virgin Atlantic's flight 11 from Heathrow to Boston last week. Thunderstorms at the Massachusetts capital's Logan airport meant Virgin's Boeing 787 was diverted to Bangor, Maine. And the next day, the 226 passengers were delayed by more than 90 minutes because their plane was used as a taxi to take a pilot from Heathrow to Manchester to cover for an unwell colleague.
Yet Ryanair's current crisis is of an entirely different scale. Because of a shortfall in available pilots apparently caused by poor scheduling, Europe's biggest budget airline has upset the plans of 300,000 people. That is my calculation of the number of people booked to travel between last weekend and the end of October who have been told with anything from six hours' to six weeks' notice that their flight won't be taking off.
Pilots, along with planes, are an essential commodity for running an airline. This "mess-up" takes the concept of staff shortage to a whole new level. It has also given free rein to many people who are unhappy with Ryanair's uncompromising management style. Former pilots are saying how relieved they are to be flying for someone else; current flight crew are warning that staff are leaving in their hundreds and that a mass "sick out" is being coordinated on social media; and disgruntled passengers are vowing never to travel with the airline again.
With a Ryanair flight booked for Monday this week from Stansted to Girona in Spain, I fretted that my Pyrenean plans might be wrecked – though I knew the odds of a cancellation were long, at around 50-1.
In the event it took off, and I met some interesting folk on board thanks to Ryanair's random middle-seat-assignment raffle. But the departure turned out to be among the one in five flights arriving significantly late. The crew never explained the cause of the 40-minute delay, but the effect was to miss the Girona airport bus and trigger a taxi ride that cost much more than the air fare.
For travellers as well as airlines, aviation can be a high-stakes game. Because prospective passengers know that, and may not trust Ryanair's promise that its winter schedule will operate in full, the Irish airline will be offering cheap seats on an unprecedented scale between November and Easter.
The airline insists the pilot shortage will not affect Ryanair flights beyond the end of October. The odds seem to be in its favour: the significantly lighter flying schedule once the winter timetable takes effect should mean there are enough pilots to crew its Boeings. And I predict those planes will be full. Ryanair is "price passive, load-factor active", which means it will lower fares to whatever level is necessary to get upwards of 180 people on board each Boeing 737.
Rival airlines are reaping the benefit of the crisis at Ryanair, but that advantage may not last. While this week has seen some extremely robust discussions at Ryanair's headquarters near Dublin, the flight-crew foul-up is likely to signal a winter of discontent in other carriers' boardrooms as they battle against a squadron of cheap seats.
Passengers don't choose an airline on how well it treats its pilots, but on price (safety, thankfully, being a given). For every traveller who vows "I'll never fly Ryanair again", there's someone else who, if the price is right, will be prepared to take that seat – and their chances.
Register for free to continue reading
Registration is a free and easy way to support our truly independent journalism
By registering, you will also enjoy limited access to Premium articles, exclusive newsletters, commenting, and virtual events with our leading journalists
Already have an account? sign in
Register for free to continue reading
Registration is a free and easy way to support our truly independent journalism
By registering, you will also enjoy limited access to Premium articles, exclusive newsletters, commenting, and virtual events with our leading journalists
Already have an account? sign in
Join our new commenting forum
Join thought-provoking conversations, follow other Independent readers and see their replies