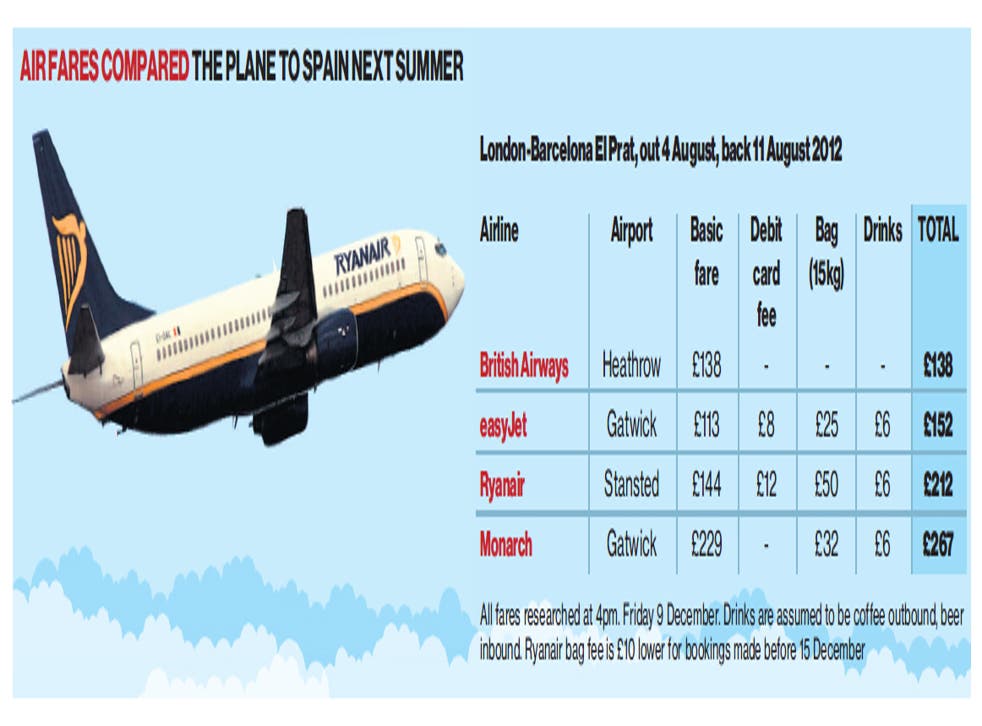 Ryanair's new fees: £1 for your ticket, £5 for your sandwich – £100 for your bag
The no-frills airline will be increasing some of its charges by up to 150 per cent next summer
Simon Calder
Saturday 10 December 2011 01:00 Comments
Passengers planning to fly Ryanair next summer, beware: charges on Europe's biggest budget airline will soar in 2012. Checked-in bag fees paid in advance increase by two-thirds, while travellers checking in a bag at the airport without booking ahead face a fee of £100 – up 150 per cent.
The airline has divided 2012 into low and high seasons, with the latter stretching across the summer from June to September, as well as Christmas. In peak season, the cost of checking in a single 15kg bag rises from £15 to £25, totalling £200 for a family of four on a return trip. The price for a second bag will be even higher, at £45.
Ryanair claims such fees are intended to change passenger behaviour in order to keep costs – and therefore fares – low. Stephen McNamara, a spokesman for the airline, said "Over 70 per cent of Ryanair passengers will be unaffected by these changes as they already travel with no checked-in bags."
But Ryanair's cabin-baggage rules are less generous than its rivals. The maximum volume is 44 litres, compared with the industry standard of 63 litres, as used by easyJet and British Airways. BA also allows a laptop or handbag up to 32 litres. The weight limit for Ryanair is 10kg; for BA, 23kg; and for easyJet there is no maximum. Ryanair enforces its limits strictly. The charge for passengers who breach the airline's strict size or weight is £40.
Rival travel firms formed a long queue to respond to Ryanair's fee increases. A British Airways spokesman said, "With free food and drinks, free baggage and free check-in, booking with BA gives you the best possible value for money." Andrew Kelly, marketing manager for the ferry firm DFDS Seaways, said, "You can now take four people in a car from Dover to the Continent during peak season for less than the airport baggage charge on Ryanair for two cases." Diane Poole, a spokeswoman for Stena Line, said: "The beauty of travelling by ferry is that there are no restrictions on baggage."
Ryanair claims the lowest average air fares in Europe: last year a typical flight cost £35. But in a snapshot of fares between London and Barcelona's main airport, departing on the first Saturday in August, Ryanair turned out more expensive than both its nearest rival, easyJet, and British Airways – even before baggage and other fees were added.
Register for free to continue reading
Registration is a free and easy way to support our truly independent journalism
By registering, you will also enjoy limited access to Premium articles, exclusive newsletters, commenting, and virtual events with our leading journalists
Already have an account? sign in
Join our new commenting forum
Join thought-provoking conversations, follow other Independent readers and see their replies