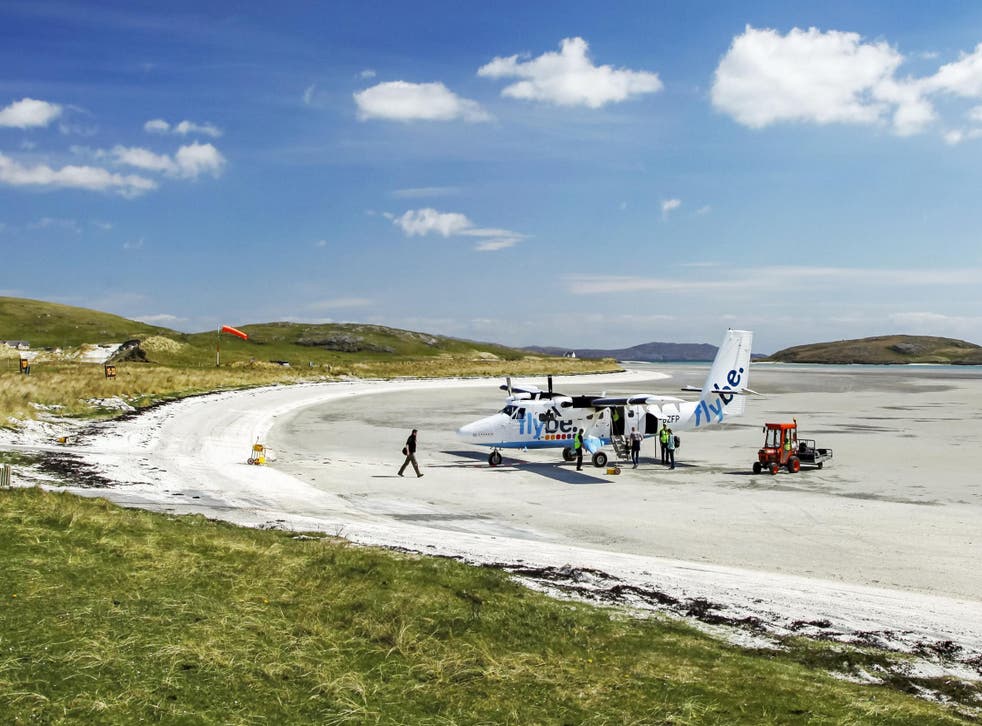 Security searches at three Scottish airports to end – but union warns plan places a nuclear power station at risk
Prospect union says key locations are 'far more likely to be potential targets'
Highlands and Islands Airports Ltd (HIAL) is to end the standard screening of passengers and their cabin baggage at Barra, Tiree and Campbeltown airports from 30 January.
Uniquely, Barra airport uses the beach as a runway for scheduled flights to and from Glasgow.
Under Civil Aviation Authority rules, small passenger aircraft are exempt from the usual obligations for full security screening. Passengers flying around Orkney already face no security checks before boarding flights.
But Prospect's negotiator, David Avery, said the move to end checks before Loganair flights depart "puts staff and passengers at risk".
He said that several strategic locations, as well as the airports themselves, were "far more likely to be potential targets".
"The flight path into Glasgow is close to nuclear power facilities at Hunterston, the large oil terminal and facilities at Finnart on Loch Long, and Ministry of Defence establishments at Coulport, Faslane and Glen Douglas."
The union says the decision puts 10 jobs at Tiree, Barra and Campbeltown airports at risk. It claims that the trigger for the move was a five per cent cut to HIAL's budget.
But the airports operator says that it is making the security regime proportionate to the risk, and that passenger experience will improve: "These new arrangements have been agreed and approved by the Department for Transport and the Civil Aviation Authority. They continue to place safety and security at the forefront of every passenger's journey, whilst offering facilitation benefits in most cases."
On most flights from small communities, the majority of passengers are personally known to airport and airline staff.
Anyone transferring to an onward flight will go through the normal security screening process at Glasgow airport.
HIAL's airports are heavily subsidised by the Scottish government, to the tune of £22 for each passenger passing through the 12 airports last year.
While scheduled flights on larger aircraft are subject to international security stipulations, small planes are exempt. In locations such as Kenya, New Zealand and the Maldives, tourists are routinely transported without security checks.
Join our new commenting forum
Join thought-provoking conversations, follow other Independent readers and see their replies