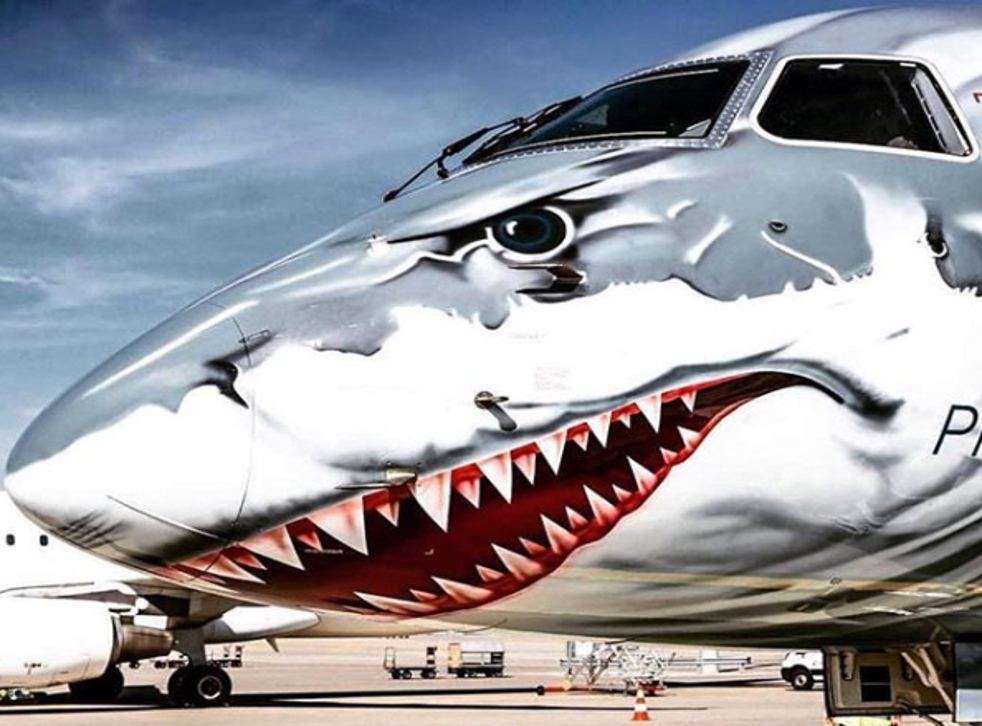 Embraer's 'shark plane' is the coolest aircraft in the skies
Is a shark? Is it a plane? It's both…
A new aircraft painted to look like a shark is making waves in the aviation world.
Plane manufacturer Embraer has nicknamed one of its new E190-E2 models the "Profit Hunter" as it takes it on a tour of air shows to drum up business for the jet.
The distinctive paint job, complete with menacing, red-framed jaws, is not the only time the Brazilian company has used wildlife for inspiration.
One of its larger E195-E2 aircraft has the face of an eagle emblazoned on it, while the E190-E2 has also been given a makeover as a tiger on some of the planes.
However, it's the shark that's stealing the show right now: the great white has been tagged multiple times on Instagram, far outstripping its avian and feline counterparts.
The aircraft itself can carry 150 passengers and has Embraer's signature two-two formation – meaning no middle seat.
"Preserving passenger personal space is the goal," Rodrigo Silva e Souza, vice-president of marketing for Embraer Commercial Aviation, told CNN Travel. He added that the seat configuration, as well as larger windows and luggage bins, is designed to give the plane a "wide-body cabin feel" and create an impression "of being on a larger aircraft".
The model also features improved fuel efficiency and reduced emissions.
Widerøe, a Norwegian airline, already has three of the jets in service and is soon to be followed by AerCap, an aircraft-leasing company, which has ordered 23; the first will be used by Kazakhstan's Air Astana.
Embraer is hoping its bold design will take some of the focus off its main rival, the recently unveiled Airbus A220.
Unfortunately for animal lovers, the E190-E2 aircraft will be branded with airlines' specific livery when they go into service.
It makes a change from several recent stories of plane paintwork going awry. Thomas Cook unveiled its new aircraft in October, only to discover a rude word appeared when the middle doors were opened.
Cathay Pacific, meanwhile, was left red-faced after a brand new plane was found to have the airline's name misspelled on the side (it was missing a crucial "F").
Register for free to continue reading
Registration is a free and easy way to support our truly independent journalism
By registering, you will also enjoy limited access to Premium articles, exclusive newsletters, commenting, and virtual events with our leading journalists
Already have an account? sign in
Register for free to continue reading
Registration is a free and easy way to support our truly independent journalism
By registering, you will also enjoy limited access to Premium articles, exclusive newsletters, commenting, and virtual events with our leading journalists
Already have an account? sign in
Join our new commenting forum
Join thought-provoking conversations, follow other Independent readers and see their replies