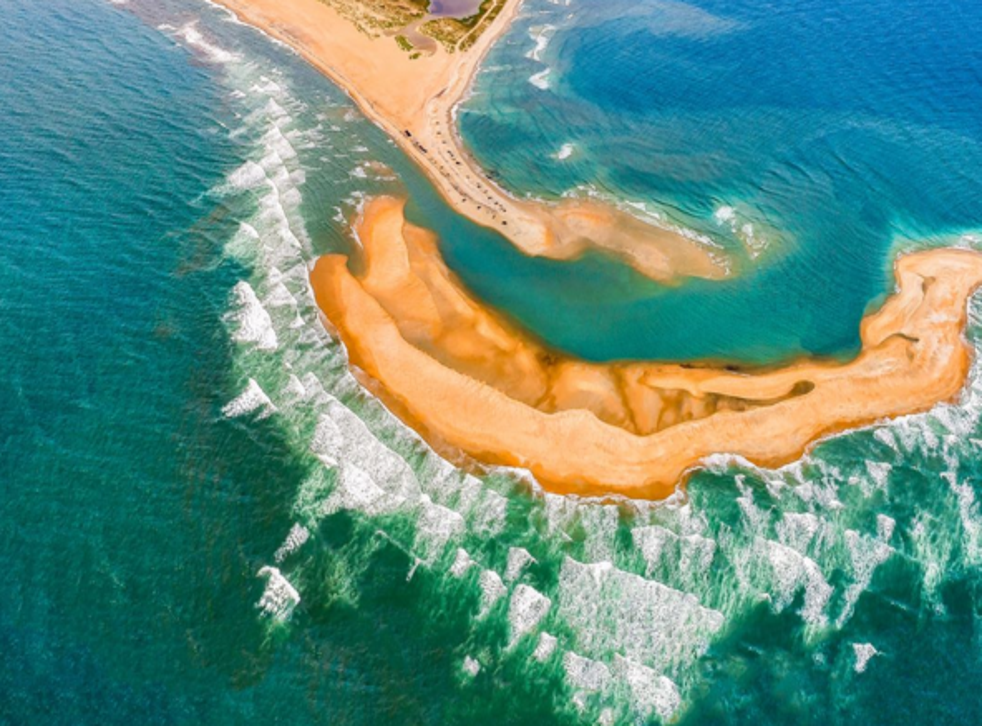 Shelly Island: New island appears off the tip of Cape Point but tourists warned to stay away
A mile-long sand bank emerged from the sea this spring
A new island has appeared off the coast in the US, near North Carolina's Cape Point, attracting adventurous tourists and photographers.
The mile-long sand bank first started appearing in the spring. "It was just a little bump in April," visitor Janice Regan told The Virginian Pilot. She and her grandson Caleb, 11, explored it looking for shells on Memorial Day.
Instagram user chadonka posted an aerial image of the new island, showing just how large the new addition is.
"It's a hoss," Danny Couch, a local historian, tour guide and lifelong resident of nearby Hatteras Island told National Geographic. "Every 10 to 15 years we'll get something that's pretty dramatic. But this one is the largest one I've seen in my lifetime."
However, experts have said that the island, dubbed Shelly Island by locals, is dangerous and have warned visitors off exploring it.
Dave Hallac, superintendent of the Cape Hatteras National Seashore, advised people not to try to walk or swim across to the island because of the current – a flow as powerful as a riptide sweeps across in between the mainland and the new island.
"We're worried about shark bites, but we're more worried about drownings," Bill Smith, president of the North Carolina Beach Buggy Association, told The Virginian Pilot.
He added that five-foot sharks and huge stingrays have been spotted swimming in the waters around Shelly Island.
"It's just part of the natural process," Mark Dowdle, deputy superintendent of Cape Hatteras, told National Geographic. "I've seen parts of the Outer Banks erode for months, only to then fill back in again."
He added: "I suspect it will continue to change. It always has. It most likely always will."
Join our new commenting forum
Join thought-provoking conversations, follow other Independent readers and see their replies