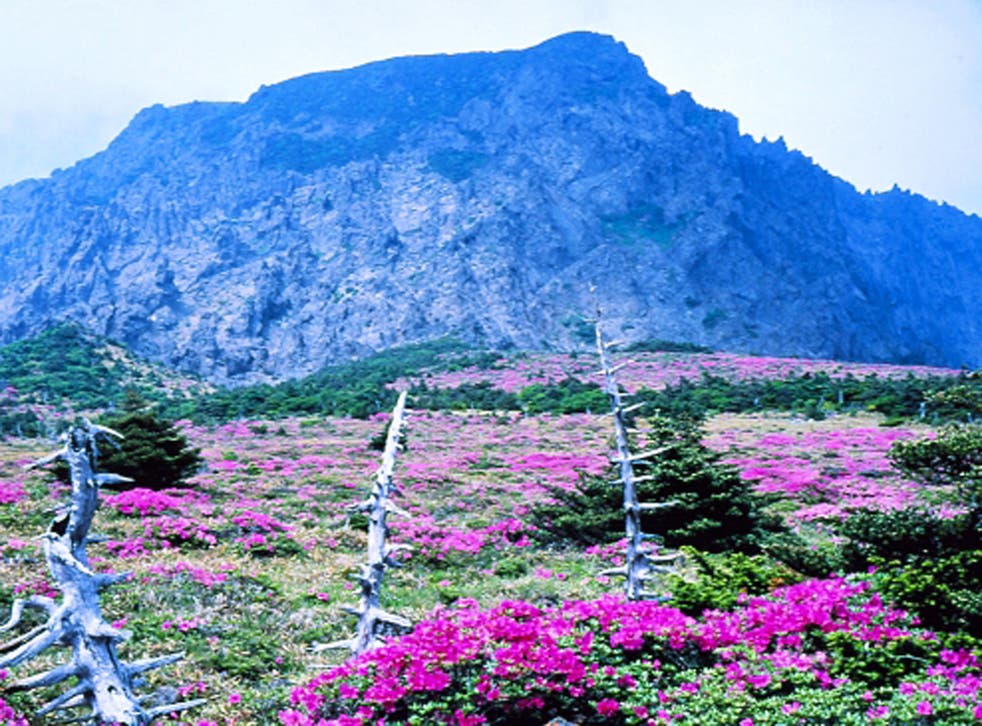 Simon Calder: A short hop from Seoul, budget flights in Europe, and a billion passengers in Asia
A short hop from Seoul, but a giant in aviation terms
Sunday afternoon in spring on Jeju Island, off the south coast of mainland Korea, is a delight. You can wander from flower-strewn gardens to silvery beach, hike along the rockier parts of the corrugated coastline or bike across the hills and far away.
Around every corner you find a new photo opportunity, usually complete with a couple of happy honeymooners in the foreground: the isle is prime territory for Korean newlyweds.
At the end of your stay, though, be careful how you leave. If you seek solitude, depart the island by ship rather than air – because Jeju airport is at one end of the world's busiest air route.
Amadeus, one of the giants in aviation reservation systems, has been crunching some mighty numbers. Its business is to know who flies where. Last year, 2.5 billion people stepped aboard a flight. An easier way to understand figures of that magnitude is to calculate that an average of every two seconds, a flight departs from somewhere on the planet, with around 150 people on board. But where are they going? Amadeus revealed the world's top 10 air links in terms of passenger numbers. And only one city-pair tops 10 million passengers a year – as you might discover at Jeju airport.
Missed the 1pm Korean Air departure from the island to Seoul? There's another one in 20 minutes and a third half-an-hour after that. And forget narrow-bodied planes such as Airbus A320s and Boeing 737s; they are all 747 Jumbo jets. Asiana, Eastar and Jinair also offer dozens of daily departures. It is as though London and Belfast were connected by 100 flights a day, many of them wide-bodied aircraft.
Another way to look at this record-breaking route: Jeju handles more passengers on a single route to Seoul than most UK airports manage for all their destinations combined; Stansted, Manchester, Gatwick and Heathrow are the only British airports to exceed 10 million passengers a year.
Asia set for a billion passengers by 2015
Anyone who believes that Europe and North America rule the airline roost may be startled to find that no route from London, Paris, Frankfurt or New York makes the Amadeus Top 10.
Four of the top routes start at Tokyo – to Sapporo, Fukuoka, Osaka and Okinawa (itself a holiday island for the Japanese, analogous to Jeju for the Koreans). Brazil, South Africa and Australia are the other premier-league nations. Four more routes connect the two biggest cities in large countries: Beijing-Shanghai, Cape Town-Johannesburg, Rio-Sao Paulo and Sydney-Melbourne. Only one route in the top 10 is international, from Hong Kong to Taiwan (though some will say this is really "Greater China").
Asia is now the unchallenged leader in aviation, with 787 million journeys last year. If the present rate of increase continues, the one-billion passenger figure will be overtaken in 2015. In contrast, Africa has barely 50 million passengers – and on a single day more people board at an Asian airport than in a fortnight at African airports. That Cape Town-Johannesburg makes the top 10 busiest routes worldwide is a reflection of the absence of a high-speed rail link; London-Paris used to be the busiest international air route in the world, until the Channel Tunnel opened and the market collapsed.
One in six passengers from Europe to Asia and Australasia last year travelled via Dubai, Doha or Abu Dhabi – and traffic through these Middle Eastern hubs is growing at 20 per cent annually. Is the game up, then, for Asian long-haul airlines hoping to fly Brits to and beyond their hubs? Not at all: Cathay Pacific plans a fifth daily flight between Heathrow and Hong Kong from June and Singapore Airlines is to add a fourth departure in the autumn.
Europe still rules on budget flights
Europe tops the charts in terms of no-frills airlines: two out of five journeys are made on low-cost carriers, a higher proportion than anywhere else. But as the likes of easyJet, Ryanair and Norwegian expand, it gets more and more difficult to identify routes on which money can be made.
Could Vueling, the Spanish budget airline, have found the link that represents the scraping of the barrel? From June, it will fly from Barcelona – the second city in Spain – to Minsk, the capital of Belarus.
You have to be dedicated, or perhaps desperate, to get the flight – it leaves the Catalan capital at 1am, return from Minsk is at 6am. But not daily: the service operates only on Sunday morning, so if you miss it you'll have a week to wait. Which is a very long time in Belarus, if not on Jeju Island.
Simon Calder
The man who pays his way
Register for free to continue reading
Registration is a free and easy way to support our truly independent journalism
By registering, you will also enjoy limited access to Premium articles, exclusive newsletters, commenting, and virtual events with our leading journalists
Already have an account? sign in
Register for free to continue reading
Registration is a free and easy way to support our truly independent journalism
By registering, you will also enjoy limited access to Premium articles, exclusive newsletters, commenting, and virtual events with our leading journalists
Already have an account? sign in
Join our new commenting forum
Join thought-provoking conversations, follow other Independent readers and see their replies