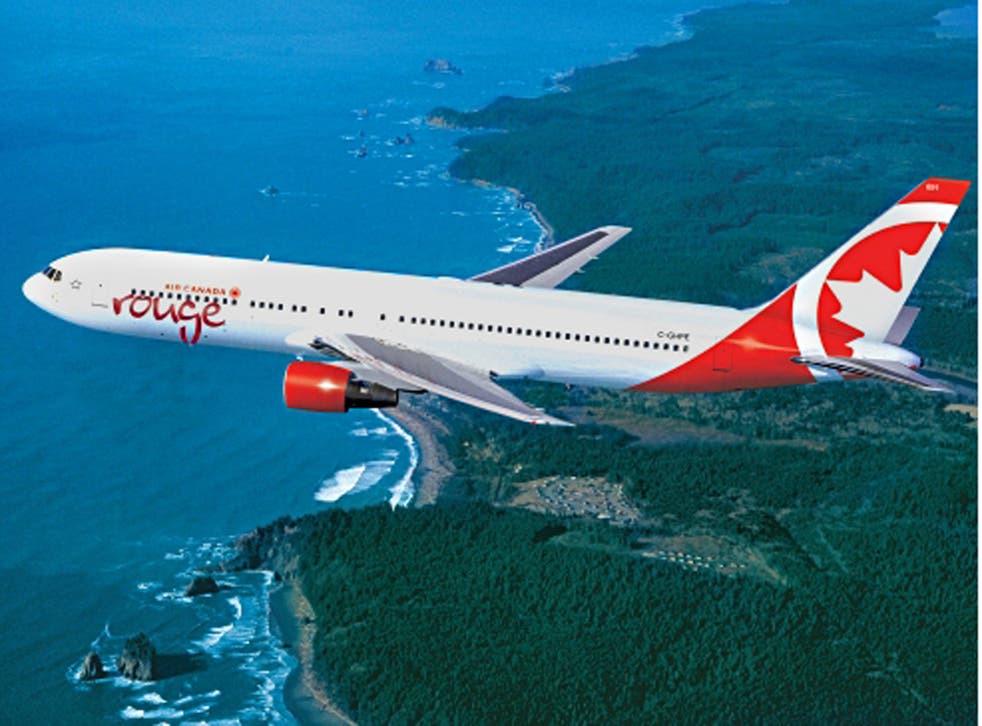 Simon Calder: Air Canada flies in face of omens with low-cost subsidiary
The man who pays his way
Simon Calder
Friday 05 July 2013 11:12 Comments
Fun. That's an essential component of every holiday, so it's good to see that, from this week, travellers can expect more of it. Starting with Air Canada's new venture. The carrier has set up an airline-within-an-airline, which yesterday began flying from Edinburgh to Toronto. A brand was devised that is supposed to represent "warmth, fun and excitement". And the name is ... rouge.
Air Canada has had a dismal record in starting low-cost subsidiaries with all-lower-case names: jazz, tango and – most notably – zip. This short-lived venture was set up in Hangar 101 at Calgary airport to compete directly with the highly successful WestJet, whose HQ lay just across the runway. In the course of two dismal years before it was expensively undone, zip made zip for its parent company.
The airline's accountants might have more fun with rouge. The lowest fare I can find this summer from the Scottish capital to Canada's largest city is £741 return, with the average more like £1,000. And that doesn't include a Labatt's beer or Canadian Club whisky. If your definition of "fun" on a long-haul flight is enjoying a cool drink over Iceland, you'll pay extra for the treat.
So why do airlines set up subsidiaries in the first place? Not for fun, but to try to make more money, or at least lose it more slowly. They rarely succeed, largely because of excess industrial baggage. "Legacy" airlines such as Air Canada (not to mention British Airways, Air  France and Lufthansa) are locked into union agreements that have been hard-fought over the years by pilots, cabin crew and ground staff. These deals are way out of line with the going rates at low-cost airlines, which were able to start "green field" businesses at lower rates.
The budget subsidiary concept is simply to cut costs and make viable routes that would otherwise be unprofitable. So, while Air Canada pilots will be at the controls of rouge, newly recruited cabin crew will enjoy less generous benefits than their "mainline" counterparts.
Even so, the omens for long-term, long-haul success do not look brilliant. The history of low-cost intercontinental airlines is peppered with failures – starting with Laker Airways which went bust 31 years ago. Sir Freddie Laker's airline was based at Gatwick; the Sussex airport was also the London end of three more recent failures: Phuket Air, Oasis Hong Kong Airlines and Zoom, all of which followed Sir Freddie's courageous carrier into oblivion.
For a time, British Airways sub-contracted a budget airline, Flying Colours, to run some of its long-haul Gatwick flights – but branding and service issues proved too costly. Passengers who thought they had bought BA found they got something more akin to a charter flight.
Next along the line was Air Asia X, a popular South-east Asian airline which nonetheless lost a fortune while shuttling between London and Kuala Lumpur. A shift from Stansted airport to Gatwick proved fruitless, and after six months in Sussex the route closed last year.
Summer gold rush across the Atlantic
Conventional wisdom insists that successful long-haul flying requires reasonable "feed" from short-haul flights at each end of the route. While Air Asia had excellent links into its hub at Kuala Lumpur, there was nothing comparable at the London end. In contrast, Malaysia Airlines can fill its planes from Dublin, Glasgow and Manchester using partner airlines, and connect deep into Asia and Australia via its KL base.
Perhaps, though, this summer is where conventional wisdom is overturned, thanks to the very high fares that the airlines are getting away with over the Atlantic. For example, for Canadians flying to Edinburgh for the festival next month, fun comes with a price tag that translates to as much as £1,500 return in economy class. The flight paths seem paved with gold.
Some golden rules for your Vegas visit
The world capital of fun? Probably Las Vegas. But from Wednesday, a "fun tax" will be imposed by one of the oldest and most characterful hotels, the Golden Nugget, downtown on Fremont Street: "Beginning 1 July, we will be adding a $5 Fremont Street Fee per day". The hotel currently subsidises the Fremont Street Experience, the free nightly sound-and-light show. "We have chosen to keep our rates low and implement a nominal $5 fee," says the Golden Nugget. From here, though, it looks as though the hotel has simply put up rates by $5 a night.
"This fee will allow you to continue to enjoy all of the attractions and highlights that Downtown has to offer," adds the hotel's statement. But bear in mind that you could be choosing a different hotel and get the entertainment free.
Should your idea of in-room fun involve making a cup of coffee and logging on to Wi-Fi, the Golden Nugget will levy more charges: $13 for a day's internet access and an astonishing $2.50 per cup of coffee even if you make it yourself. Don't want to wait in line at the hotel's catering facilities? Just pay $25 for a card that entitles you to jump the queue. Make sure no one sends you any mail while you are there: "The hotel charges a minimum of $6 per package, depending on weight." And all these extra charges are subject to 12 per cent tax. Fun can be expensive.
Register for free to continue reading
Registration is a free and easy way to support our truly independent journalism
By registering, you will also enjoy limited access to Premium articles, exclusive newsletters, commenting, and virtual events with our leading journalists
Already have an account? sign in
Join our new commenting forum
Join thought-provoking conversations, follow other Independent readers and see their replies