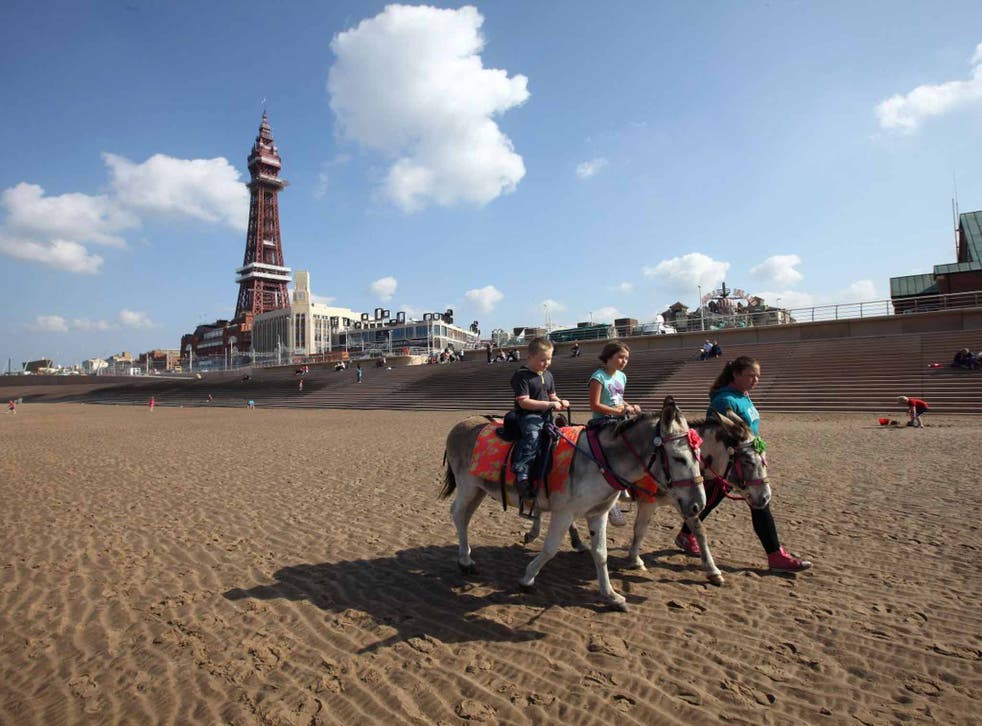 Simon Calder: Blackpool becomes the latest zombie airport
Britain's best airport may be about to close. According to passenger surveys in 2009 and 2011, Blackpool towers above other UK airports in terms of passenger satisfaction. In place of a seething, stressed mass of humanity, the tiny airport just down from the Pleasure Beach provides a calm, friendly start to your journey. But being loved does not equate to financial viability.
Everyone prefers a small, quiet airport to a large, busy one – except the shareholders. Small and quiet means the critical mass of passengers is too low to meet an airport's ferociously high fixed costs: firefighters and security search staff need to be on duty whether there is one flight every few hours or every few minutes.
Blackpool this week joined the walking dead in airport purgatory. Unless a buyer is found by Tuesday, "The regional airport for Lancashire and the Lake District" will close the following week. "We expect that the last commercial flights will take place on Wednesday 15 October," says Blackpool's owner, Balfour Beatty. "Airport operations have been making a loss for a number of years."
The construction firm has a £75m hole in its accounts, and is no longer prepared to sustain the airport's losses. The only positive: not many people will notice. It is terrible news for the staff who have made flying a pleasure, and dismal for the thousands who have made advance bookings for flights after 15 October. In the context of UK aviation, though, Blackpool does not trouble the scorers too much. In the past five years, passenger numbers have dwindled by 40 per cent. Almost as many people pass through Heathrow on a busy day as use Blackpool in a year. Even among "English seaside resorts that happen to have an airport", Blackpool comes third out of four in passenger numbers: ahead of Newquay but behind Bournemouth and Southend.
The number of routes from Blackpool does not make it into double figures. Jet2 flies to seven sunshine locations in Spain, Portugal and Turkey, while Aer Lingus Regional makes it to Dublin, and Citywing serves the Isle of Man.
Sadly, there are few circumstances in which "Blackpool" is the answer to the question: "Where should I fly to or from?" Once upon a time, the only cheap way to fly to Ireland was a short hop from Blackpool, but now travellers are thankfully spoiled for choice. Draw a circle with a radius of 10 miles from Blackpool's terminal and the immediate catchment does not look impressive. Two-thirds of the area covered comprises the Irish Sea. On terra firma, the population base amounts to around 270,000. Most live on the Fylde Peninsula: in Blackpool itself, Lytham St Anne's, Fleetwood and Poulton, but annoyingly, about one-third of the total reside in Southport on the other side of the Ribble estuary – closer, in travel time, to Liverpool John Lennon airport than to Blackpool.
Even for travellers in the nearest city, Preston, the closure of the airport at the end of the line would not be the end of the world. Trains from Preston to Blackpool airport take just over half-an-hour, and provide a choice of nine destinations. Or you could be at Manchester airport in an hour, and choose from 200 destinations, including New York, Moscow and Dubai.
Not a good development
Surely, though, people heading for Dublin, Faro or Malaga will gladly pay a premium to fly from a small and friendly airport? Sadly not – although every passenger from Blackpool pays an extra tenner for the privilege of boarding a flight.
All airports levy fees for the aircraft itself and also for each passenger processed. Usually these charges are bundled in with Air Passenger Duty and all the other levies that airlines like to indicate are nothing to do with them. But at Blackpool, you have to pay a £10 "Airport Development Fee" to be allowed through security.
The airport's website says the fee is to "secure its future". This week, a passenger named Geraldine Mayall, from Essex, asked for her fees back on the grounds that "clearly no development was being undertaken". But her application was declined; the airport explains that the charge is actually "the fee payable for an Airside Access Ticket". Presumably for the next 10 days it will be an Airport Re-development Fee to help turn the site into a housing estate. "Thank goodness direct trains between Blackpool and London are being restored," Ms Mayall told me.
University challenge
My sad prediction is that Blackpool will go the way of the zombie airports of Manston in Kent, Coventry and Plymouth City. All three failed to make scheduled services viable and closed.
Staff at Durham Tees Valley airport, where passenger numbers fell by 10 per cent in the year to July, will look nervously at what is happening on the other side of the Pennines. City of Derry, Valley in Anglesey and Cardiff also incur costs out of proportion to the number of passengers, but have the backing of Ulster, Scottish and Welsh politicians respectively.
Blackpool's demise could benefit Carlisle Lake District airport, close to the Scottish border. The dormant Cumbrian airport may expand from its present tally of zero routes. Apply the "How far is the nearest proper airport?" test to Britain's cities, and Carlisle is the outlier: the closest is Newcastle, 60 miles away.
Meanwhile, if you want to fly from a small, friendly English airport that time forgot, your best bet is Cambridge. But hurry. You can fly from the centre of academic excellence to Amsterdam or Dublin, but only until to 26 October, when those CityJet flights end. Cambridge airport must surely stop describing itself as "Your Global Gateway". But it remains open, with charter flights to Geneva on winter Saturdays.
Register for free to continue reading
Registration is a free and easy way to support our truly independent journalism
By registering, you will also enjoy limited access to Premium articles, exclusive newsletters, commenting, and virtual events with our leading journalists
Already have an account? sign in
Register for free to continue reading
Registration is a free and easy way to support our truly independent journalism
By registering, you will also enjoy limited access to Premium articles, exclusive newsletters, commenting, and virtual events with our leading journalists
Already have an account? sign in
Join our new commenting forum
Join thought-provoking conversations, follow other Independent readers and see their replies