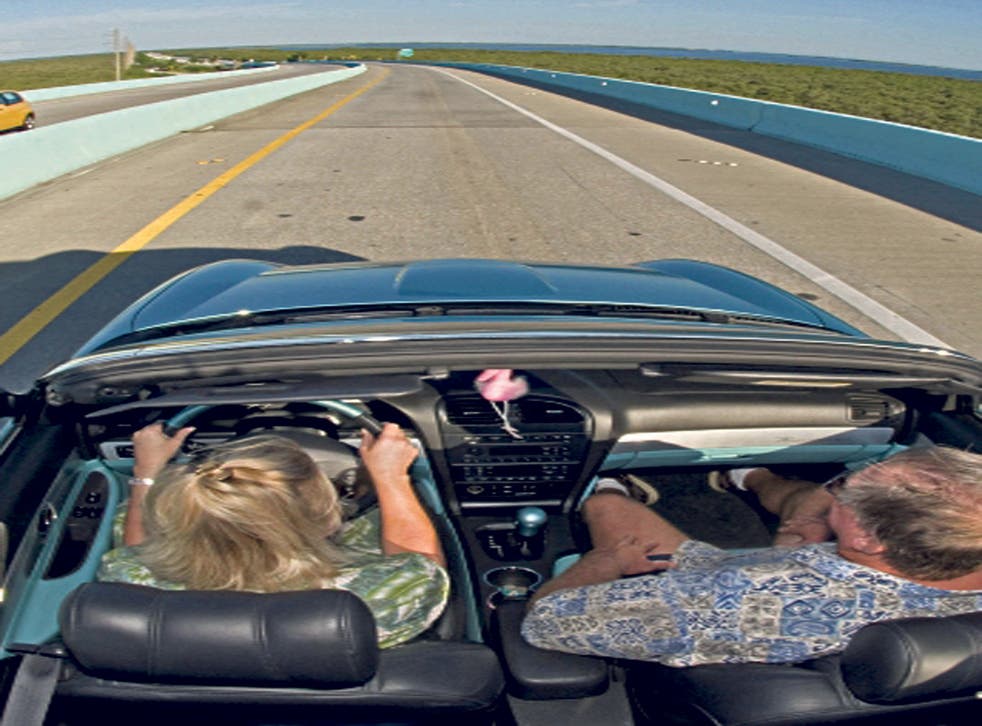 Simon Calder: Car hire in Florida takes a giant leap... back to the Forties
The man who pays his way
Simon Calder
Friday 15 February 2013 13:00 Comments
America has many great strengths, but public transport from airports is not one of them. Sanford airport in Florida has no public bus link to Orlando, the city it serves. The airport's slogan – "Next Exit: Fun" – emphasises that the vast majority of British travellers who touch down there will rent a car. But this weekend, they may be turned away – leaving families stranded on the sidewalk, all packed up with nowhere to go.
At the root of the problem: a change to Florida's motoring rules that takes the shine off your time in the Sunshine State. As The Independent revealed on Thursday, a new law requires every foreign visitor intending to hire a car in Florida to show an International Driving Permit (IDP).
The rental companies proved slow to pick this up, but on Thursday everything changed, with Avis and Hertz insisting that British customers in Florida produce the IDP. No use arguing, either, that the vehicle was booked months ahead – no permit, no vehicle. The Foreign Office put out a bulletin on Thursday evening, alerting British travellers to the necessity for a permit. A close study of the legislation reveals that the only way to dodge the law is to rent a golf buggy.
Having established that you need the document, your problems are just beginning. You can get an IDP by post from the AA or RAC, but to obtain one in a hurry you must apply at a post office, taking both parts of your driving licence, a passport photo and £5.50. But not any post office – only 88 of them across the entire UK, with none close to the main British gateways to Orlando: Gatwick and Manchester airports.
The IDP is a fetchingly retro document, resembling a ration book. It was established by the 1949 Geneva Convention on Road Traffic. You may not have seen anything like it since the lamented blue British passport was ousted in a ruthless Euro-plot. You choose between the 1926 version (as demanded by Brazil, Burundi, Iraq and Somalia) and the more modern 1949 edition (now essential for driving in the Sunshine State). As was the tradition in the Forties at international conventions, the important bits are in French, from nom to domicile. Which is ironic, given that the apparent reason for Florida's crackdown was to ensure that its Highway Patrol officers could read every permis de conduire in English.
The law drafted in the state capital, Tallahassee, had the reasonable aim of requiring motorists to carry documents in English – Florida's official language. But officials seemingly overlooked the fact that British licences (along with Irish, Canadian, Australian and New Zealand documents) are already in English, with the added bonus of educating the police about the right way to spell "licence" (although, come to think of it, that looks suspiciously French).
Next exit: jail?
The Florida Department of Highway Safety and Motor Vehicles warned me that offenders would, at the very least, have to attend court – with prison an option for the authorities – bad news for the several thousand British motorists inadvertently driving illegally in Florida in cars they obtained before the hire companies changed their policies to reflect the new stipulation. Edmund King, AA president, said: "British tourists are bound to be caught out by this meaningless change in Florida's motoring laws. A UK photo licence gives just as much detail as an International Driving Permit. Thousands going to Walt Disney World will get caught out by this 'Mickey Mouse' change."
Simon Veness, the leading British writer on Orlando, conducted some research on behalf of UK motorists: "We have spoken to several sheriff's department officers who are completely unaware of this new law. When we pointed it out to them, their reaction was, 'We're having nothing to do with that.' Their interpretation is that the IDP is only for non-English licence-holders and they will not be expecting any British tourists to have one. No one would ever get arrested for not having a licence, let alone an IDP. You would get a standard citation for a traffic violation (about $120) and you would certainly not be going to court over it unless you wanted to dispute it."
Changing lanes
On Thursday night, after the car-rental firms had changed their rules, officials in Florida backtracked – saying the new law clashed with US obligations under that 1949 Convention. While lawyers argue it out, "the Florida Highway Patrol will not take enforcement action based solely on the lack of an IDP". But will the rental firms revoke their new rules in time for the half-term rush?
Register for free to continue reading
Registration is a free and easy way to support our truly independent journalism
By registering, you will also enjoy limited access to Premium articles, exclusive newsletters, commenting, and virtual events with our leading journalists
Already have an account? sign in
Join our new commenting forum
Join thought-provoking conversations, follow other Independent readers and see their replies