Simon Calder: End of the runway for BMI, but will passengers suffer?
The man who pays his way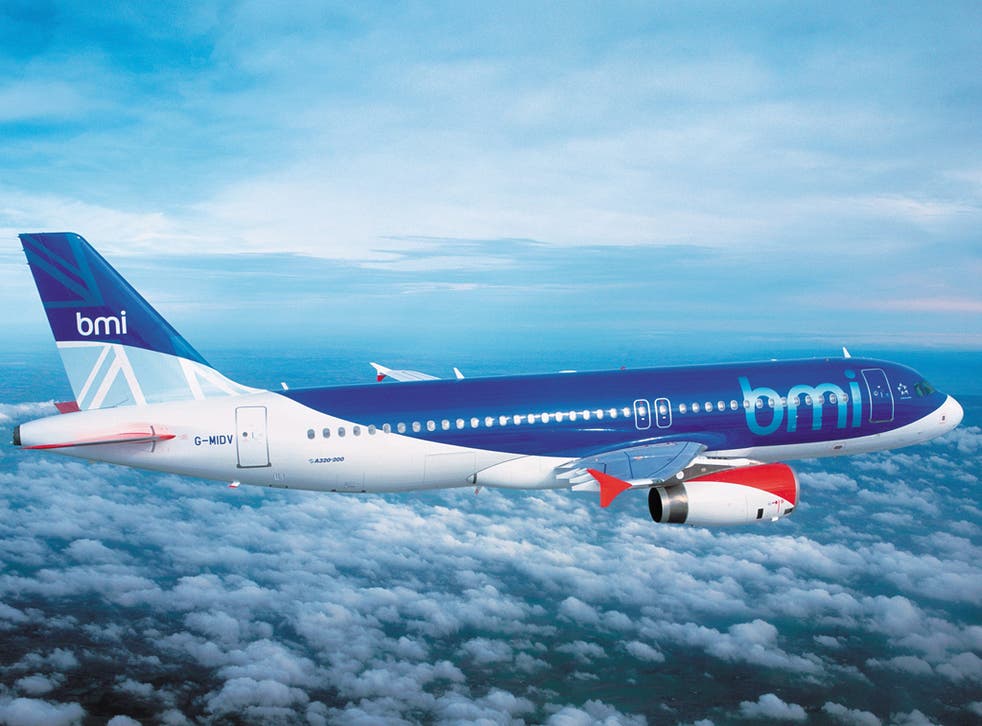 BMI could be about to vanish. British Midland, as was, has done wonders for UK travellers. But by Friday the Heathrow-based part of its operation is set to become part of IAG and will be subsumed into BA. What will it all mean for passengers – and staff?
Remind me of the tangled history of BMI?
It wasn't easyJet that opened up the skies of Europe – it was British Midland. Under Michael Bishop (now Lord Glendonbrook), the airline demanded the right to compete against the established "flag carriers" in the 1980s – first of all taking on British Airways from Heathrow to Belfast, Edinburgh and Glasgow, then expanding into Europe. It helped break the cartel that kept fares prohibitively high.
Sadly, for the past decade BMI has found it impossible to compete with no-frills airlines, and at present it's losing £5 per second. Lufthansa, which is its very unwilling owner, has long been keen to offload BMI, and by Friday it should become part of IAG, the company that owns BA and Iberia of Spain.
Last week BA revealed plans for assimilating BMI that will see nearly half the 2,700 staff lose their jobs. How are the job cuts decided?
As is so often the case, it's the back-office staff who will suffer most. BMI has the finest HQ in aviation, a stately home close to East Midlands airport called Castle Donington. But many of the functions carried out there, from marketing to finance, will simply be absorbed by existing BA departments with little room for staff to be tranferred. Survival prospects are highest for front-line staff at Heathrow – 1,100 ground staff, cabin crew, pilots and engineers will find that they are working on planes with a different livery.
If BMI is such a basket case – why is BA taking it over?
One word: slots. Because BA is already by far the biggest airline at Heathrow, it can extract the maximum value from the precious permission to take off and land at the world's most congested airport. The takeover will win it an extra 56 pairs of slots a day, but BA is likely to surrender a quarter of those in return for the deal getting past competition regulators. That is not enough for Sir Richard Branson, president of Virgin Atlantic, who has vowed to fight the deal "in order to protect the millions of passengers who will see their options reduced by the takeover".
What does it mean for passengers?
Between now and the end of October, BMI will carry on as usual – which includes selling amazingly cheap flights, particularly from Heathrow to Aberdeen, Belfast, Dublin, Edinburgh and Nice. But when the clocks go back at the start of the winter season, many loss-making routes will be culled. Some slots currently used for short-haul flights will be converted into much more lucrative long-range services as BA expands, particularly into Asia.
On routes where BA now competes with BMI, fares will inevitably rise. On the domestic front, though, competition to Aberdeen, Manchester and Edinburgh could be maintained – possibly with Virgin Atlantic starting its first UK domestic routes.
Reports yesterday suggested that BA will close BMI's Belfast City base, but services are likely to continue, staffed from Heathrow.
Frequent flyers aren't happy?No. For three decades BMI's Diamond Club has been extremely popular with frequent flyers on the airline's domestic and European routes. Since 2000 it's been a member of the Star Alliance, giving passengers the chance to earn miles shuttling to Brussels and back, but redeem them on Singapore Airlines, South African Airways and Europe's biggest aviation grouping, Lufthansa. Members have been told that, from tomorrow, redemptions on Lufthansa flights, as well as on its subsidiarys — Swiss, Austrian and Brussels Airlines –will cease. Any bookings made today will be honoured.
Will BMI's frequent-flyer scheme merge with BA's?
In previous takeovers of this kind, the new owner has transferred the takeover target's frequent flyers to their own scheme, maintaining their points and status; this is actually easy in the case of BA's Avios and BMI's Diamond points, because the currencies are worth exactly the same. But BMI has told members only: "We are working with British Airways to offer Diamond Club customers the ability to earn and redeem miles on British Airways and its oneworld partners following completion of the sale. We will do everything we can to communicate more detail as soon as possible."
What happens to Bmibaby and BMI Regional?
Lufthansa wants rid of anything with "BMI" in the name. Bmibaby may be sold as a going concern, while BMI Regional could be subsumed within Flybe or perhaps a European regional airline. For the time being, services – and sales – continue as normal.
Register for free to continue reading
Registration is a free and easy way to support our truly independent journalism
By registering, you will also enjoy limited access to Premium articles, exclusive newsletters, commenting, and virtual events with our leading journalists
Already have an account? sign in
Register for free to continue reading
Registration is a free and easy way to support our truly independent journalism
By registering, you will also enjoy limited access to Premium articles, exclusive newsletters, commenting, and virtual events with our leading journalists
Already have an account? sign in
Join our new commenting forum
Join thought-provoking conversations, follow other Independent readers and see their replies