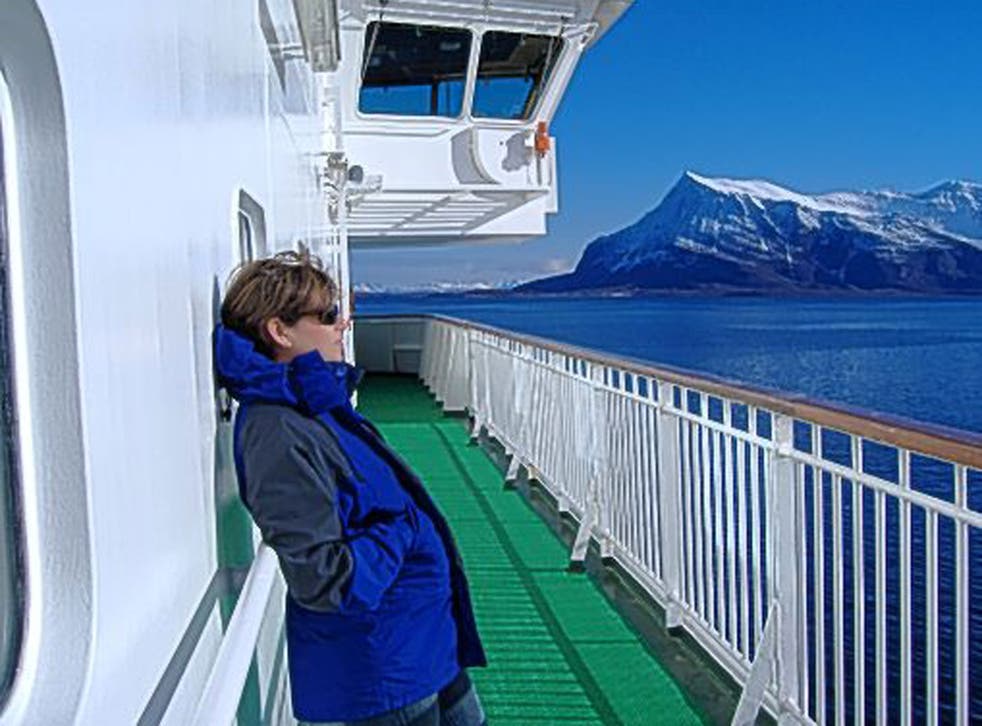 Simon Calder: Norway pushes the boat out for ferry holidays
Transport-as-national-icon confers two great benefits. The first is emotional: the sense that a train, boat or plane network binds a country and its people. The second is pragmatic; often, the system is subsidised to the hilt, allowing travellers from abroad to join the citizens on their journeys for a fraction of the true cost.
Hurtigruten, the marine link that connects Norwegian communities between Bergen and the Russian border, is an excellent example. With daily departures heading north and south between 34 coastal communities, it is both a clockwork testament to endurance and a spectacularly expensive social service.
The concept of a daily link from Norway's western flank to the far north was born in 1893 – a time when it was a poor nation on the fringes of Europe, rather than one of the wealthiest, as it is today. Excepting the inevitable pauses for war, Hurtigruten has provided a commercial and human lifeline through the decades. The oil boom transformed Norway and its infrastructure. A highway system, augmented by brilliantly engineered bridges and tunnels, unites many of the coastal settlements that previously were linked only by ferry.
Add ferocious competition between domestic airlines and you can see why ferry passenger numbers have dwindled. While the ships conscientiously connect Trondheim with Tromso and Kristiansund with Kirkenes, the average Norwegian is not stepping aboard on a breezy day in November.
Last year the enterprise lost the equivalent of £90,000 a day. Even when exceptional items are stripped away from the accounts, each departure in either direction is subsidised to the tune of £18,000. This is where you and I come in.
"What we do is significant for the nation," says Hurtigruten's chief executive, Daniel Skjeldam, introducing the shipping line's latest annual report. From his firm's perspective, it is better to sell a berth at a bit above marginal cost (the amount required to accommodate and feed the extra passenger) than to leave it empty. A good way to fill the ships and stem the losses is to lure Brits to the rugged and remote edge of the Earth with the prospect of holidays that, by Norwegian standards, are absurdly cheap.
I was tempted, and booked a south-to-north voyage at a price of £759 for each of my family of four. For about the price of three good meals a day in Norway, we got three good meals a day plus six nights in a comfortable cabin and 1,500 miles of travel. Not to mention unlimited use of the swimming pool, sauna and Wi-Fi (though not all at the same time). Adding the flights took the total close to £1,000 each – hardly low-budget, but great value for the privilege of exploring Europe's extremes in comfort.
I say "exploring" – but is "exploiting" a more appropriate term? No, because these vessels will be sailing anyway, come hell or high water. In a sense, we subsidised the Norwegians. But I'm not complaining. I agree with Hurtigruten's boss when he says: "Our guests leave our ships fully aware that their trip has been worth every penny."
Go slow via Oslo
The northbound journey lasted seven days. Going home, the trip was scheduled to take just six hours. The low-cost airline, Norwegian, promised a simple journey from Kirkenes at the end of the line: just one swift change at Tromso to a Gatwick flight. But soon after I paid for the flights, the airline rescheduled the second component. The incoming flight was moved earlier and no longer connected: convenient for Norwegian but inconvenient for us. The only alternative flight the airline offered involved an extra stop – and a long wait – in Oslo.
Could we be re-booked on SAS, which had a one-stop flight from Kirkenes to Heathrow at the right time? No. So I tried a different tack: since we would be involuntarily in transit in one of the world's most expensive airports for three hours, might Norwegian pay for a coffee and a sandwich? Again, no, with the bizarre explanation that "we're not charging you for changing your flight". Not even Ryanair charges passengers for unilaterally disrupting their travel plans.
On the day, the flight from Kirkenes arrived in Tromso 20 minutes early – and parked next-gate-but-one to the Gatwick plane. Terrific. We had only cabin baggage. Since we had been through a security check before a domestic flight, no further search was necessary. I told the cabin crew my cunning plan and waited to be given the nod.
Nothing happened.
We watched the plane leave, and eventually reached Gatwick, via Oslo, seven hours later.
The airline told me: "You were not checked in for this Tromso-London flight," adding: "As the UK is not part of Schengen, one has to go through the passport control before one is able to come to the departure gate." On a quiet Saturday afternoon in a small north Norway airport, I think we could have managed it.
Skye news
At least the unhelpful response from Oslo was written in reasonable English. When Catherine Robertson's easyJet flight from Stansted to Glasgow was four hours late, she had to pay £46 for a night in a hotel before her onward journey to Skye. In response to her request for restitution of the hotel stay, she received a letter somewhat lacking in literacy from easyJet Customer Services in Luton. It explained the delay was caused by a medical emergency, and added the bizarre comment: "All the passengers on board have to pass through security to confirm that the medical condition are fine."
The airline refused Ms Robertson's request for a refund of the extra expense the delay had caused, and suggested instead: "If you require an insurance letter please let me know I can provide you with the nominal charge of GBP 10.00." To translate: "We delayed you; that'll be £10, please."
Register for free to continue reading
Registration is a free and easy way to support our truly independent journalism
By registering, you will also enjoy limited access to Premium articles, exclusive newsletters, commenting, and virtual events with our leading journalists
Already have an account? sign in
Register for free to continue reading
Registration is a free and easy way to support our truly independent journalism
By registering, you will also enjoy limited access to Premium articles, exclusive newsletters, commenting, and virtual events with our leading journalists
Already have an account? sign in
Join our new commenting forum
Join thought-provoking conversations, follow other Independent readers and see their replies