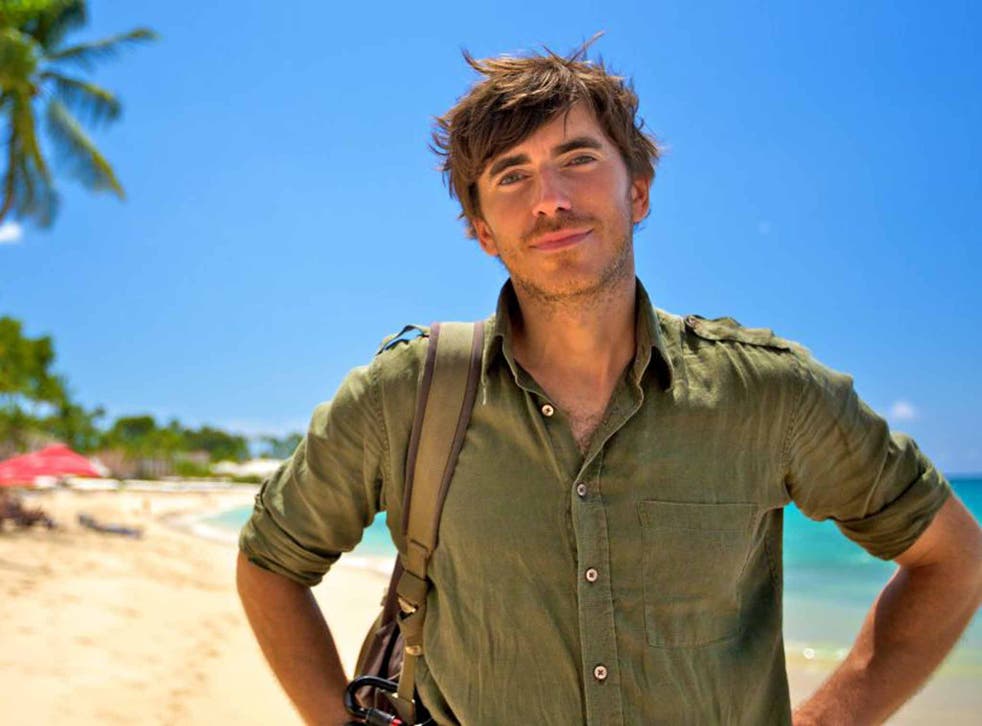 Simon Reeve's Caribbean: The dark side of dream destinations
Simon Reeve has visited the most dangerous places in the world, and for his new TV show he's braving... the Caribbean
Sophie Lam
Tuesday 24 March 2015 18:29 Comments
"All these islands are very beautiful, and of quite different shapes... and full of the greatest variety of trees reaching to the stars… there are very lofty and beautiful mountains, great farms, groves and fields." You can only imagine the astonishment that Christopher Columbus must have felt when he first glimpsed the islands of the Caribbean more than 500 years ago. Certainly they would be physically unrecognisable to him now, but that bedrock of natural beauty is little altered and now draws around one million British tourists a year to its palette of sun-enhanced hallucinatory colours.
But where there's light, there's also shade, and there's no better person to reveal the dichotomy of the Caribbean's good looks and troubled undercurrents than Simon Reeve, the beatific but boundary-pushing TV presenter, who is, by his own confession, a "contrary type". Over the past 12 years, he has brought us Places That Don't Exist, a show about breakaway states and unrecognised territories such as Somaliland, which he describes as one of his favourite places in the world. He has also travelled around the equator and both margins of the tropics to illustrate the planet's chiaroscuro, from the extraordinary wildlife of Madagascar, to Thilafushi – not a paradise honeymoon island but the Maldives' dirty secret: an artificial landfill site where toxic waste bleeds into a once pristine lagoon.
For his latest series, the region that Reeve describes as "glorious" will undoubtedly rally an eager crowd of viewers who will be dreaming of sunnier climes. But, as he hopscotches his way around the Caribbean – and this is by no means intended to be a comprehensive inventory, "this is telly after all" he reminds me – much more will be revealed than white sand and palm trees. Over three episodes, the first of which aired on BBC2 on Sunday night, he skirts around the edge of the Caribbean, literally but not figuratively. The coastlines might be familiar, but some of their locations may not be – the Dominican Republic, Puerto Rico, Barbados, St Vincent and Jamaica, but also Venezuela, Colombia, Nicaragua, Honduras and Haiti. You might describe some of these as the forgotten corners of the Caribbean.
But it was Haiti – Columbus's land of lofty mountains and great farms – that surprised Reeve the most. "We have a relentlessly negative impression of it that has been formed by its bad luck and hopeless leaders over the years. It has also been forged historically by European powers who were deeply miffed by the fact that Haitians bonded together and overthrew the shackles of slavery and colonial rule to become the first independent black country. Consequently, it was demonised," he explains. "That was even evident in the relief response to the earthquake in 2010 when soldiers turned up in full battle dress." In showing us both the desperation of the earthquake victims still living in tented camps, alongside deep-held traditions such as Vodou ceremonies, and dolphins frolicking in discernibly dreamy waters, he hopes to counter some of the negative stereotypes levelled at Haiti.
No less compelling is Honduras, the wedge of Central America that is home to both the classic Caribbean resort-island of Roatán and San Pedro Sula, which has been named the world's most violent city. "Arriving felt like a descent into a mad place… like anything could happen," Reeve confesses. To understand better where the country's problems are fomented, he visited narcotics gangs in one of its prisons – "something that required a lot of setting up and certainly not something I'd recommend tourists to do."
Such was the danger he faced, that his safety could only be assured by being accompanied by a bishop. Inside, he faced what he describes as some of the scariest men on earth, whose facial teardrop tattoos act as murder tally. The guards have effectively relinquished authority – one gang member described how he took control of his wing by decapitating his predecessor. In a bizarre flash of surrealism, the inmates of another wing were anxious to show Reeve the nativity scene they'd created for a competition.
The intensity of these experiences means that series such as this are filmed in instalments, so that both Reeve and his crew can digest what they've seen, then come back fresh for another segment of filming. "We are on the move almost every day, so it would be logistically very difficult and expensive to film a series in one go."
So does the compulsion to uncover the dark side of dream destinations contribute to a pessimistic view of the world? "Obviously there are a billion terrible things going on, but there are also a billion magnificent moments. This is the confusion of life. The more I travel, the more I get a sense of how little I know. Even as I am learning, I find more questions arise and I'm less certain about their answers. What I've tried to take away from situations is a sense of how much I take my life for granted. We are among the most fortunate people to live, ever. That's really something to cherish and remember when you're getting cross about your wi-fi signal."
As travel continues to get easier and more accessible, his advice is to push ourselves beyond what feels comfortable, "to do things that your children, grandchildren or parents wouldn't necessarily approve of. Try crazy local food, get out there and meet magnificent people. You shouldn't be just sitting by a swimming pool with your headphones on; it's a waste of life and money. Feed your brain, your mind and your soul with as many experiences as you possibly can. Travel delivers that in such wonderful ways." The world might have become more familiar since pioneers like Columbus first charted it, but there are still endless opportunities for life-affirming discoveries of our own. "Just go for it", as Simon says.
'Caribbean With Simon Reeve' continues on Sunday on BBC2 at 8pm
Register for free to continue reading
Registration is a free and easy way to support our truly independent journalism
By registering, you will also enjoy limited access to Premium articles, exclusive newsletters, commenting, and virtual events with our leading journalists
Already have an account? sign in
Join our new commenting forum
Join thought-provoking conversations, follow other Independent readers and see their replies