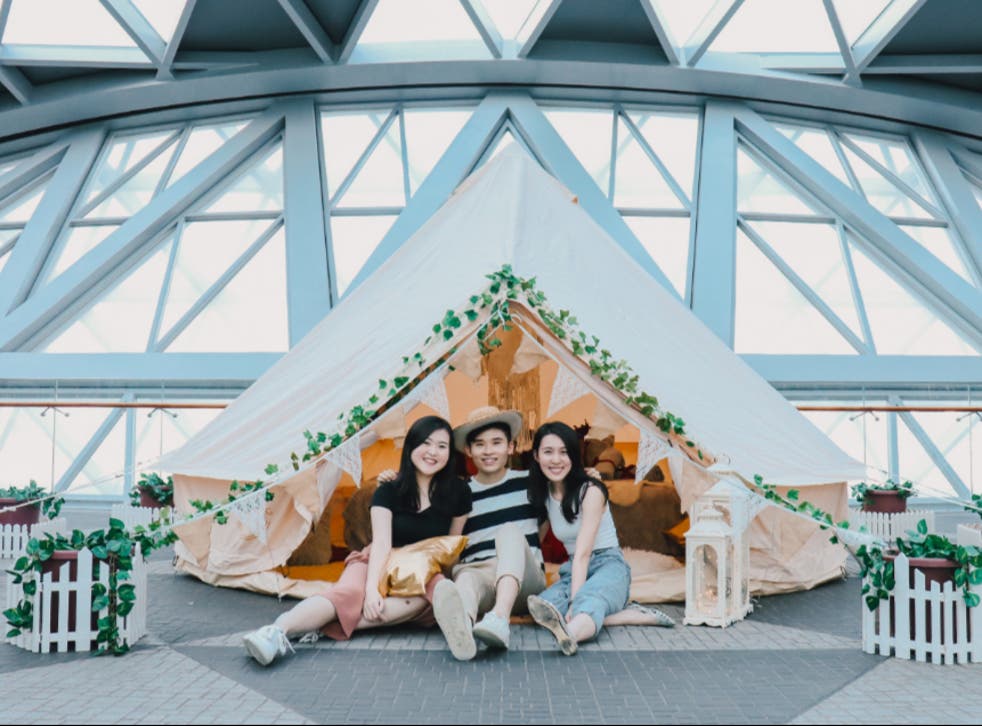 Singapore airport launches glamping tents for £200 a night
Luxury yurts sleep up to five people
This year may not have provided many opportunities to travel, but it's certainly seen airlines and airports get creative to offer new experiences amid increasingly harsh restrictions.
The latest novelty attraction comes from Singapore's Changi Airport, where aviation fans can spend a night glamping in luxury yurts.
The setting for this unusual sleepover is the airport's new retail complex, Jewel, which opened to much fanfare in 2019.
Guests can bed down in Jewel's Shiseido Forest Valley – an indoor garden spanning five storeys – or the Cloud9 Piazza, located on the top floor.
Both offer views of Jewel's famed Rain Vortex, the biggest indoor waterfall in the world.
Campsites are currently closed in Singapore due to coronavirus, but Changi airport claims its new offering is "even better because you don't have to fret about the humidity, wet weather plans or those awful mosquitoes."
Guests can opt for a daytime slot, when groups of up to five can share a picnic, or an overnight stay.
The yurts sleep up to four adults or up to two adults and three children, with one or two Queen size beds, toiletries, a fan, blankets, pillows and cushions, perfume, a portable charger and a festive welcome basket all provided for guests who sleep over.
The experience is running until 3 January, and other perks include the use of shower facilities at YotelAIR; tickets for the Changi Experience Studio (a digital attraction featuring interactive games) or Manulife Sky Nets (a netted play area eight metres off the ground); Canopy Park tickets; a Jewel mascot soft toy; shopping discounts; and free parking.
'Supertrees' in Singapore
Costing S$360 (£202) a night at weekends, the price tag is more glamping than camping, while a three-hour picnic slot costs S$200 (£112) at weekends or S$150 (£84) on weekdays.
Elsewhere, Singapore Airlines opened a pop-up restaurant on board one of its planes during the pandemic.
The unique dining experience took place aboard a giant Airbus A380, with diners able to choose from a menu of international or Peranakan dishes.
Each meal included two free alcoholic drinks and unlimited soft drinks.
Visitors could also choose what class of seat they wanted to experience at the pop-up eatery, which opened on 24 and 25 October.
Ticket prices ranged from S$50 (£28) for an economy seat to S$300 (£170) for business class and S$600 (£340) for a suite.
Join our new commenting forum
Join thought-provoking conversations, follow other Independent readers and see their replies