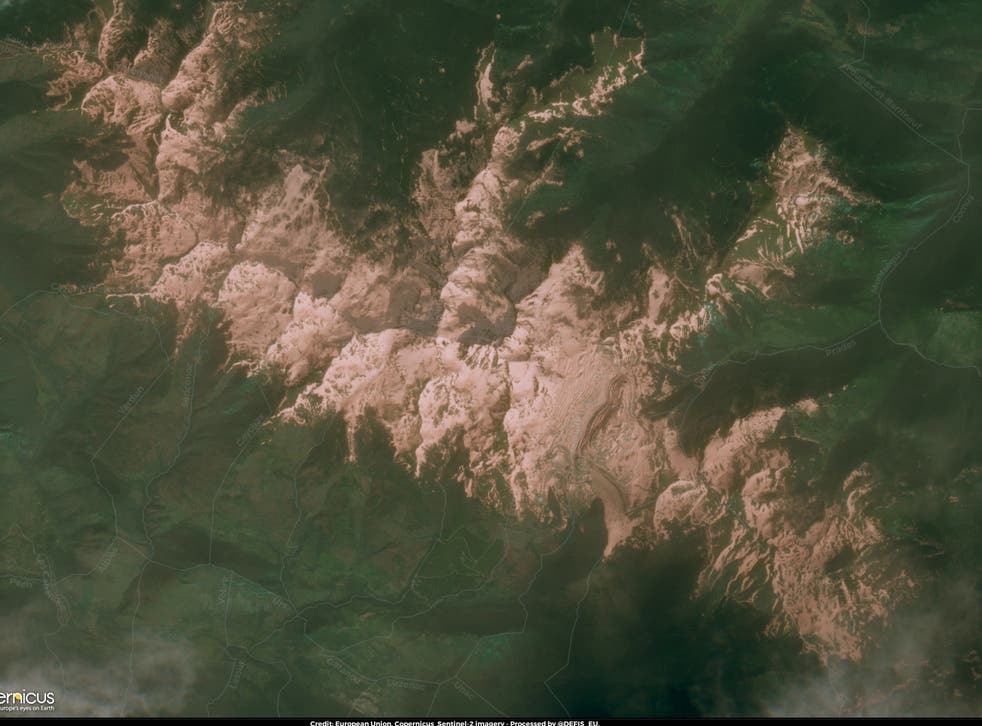 Saharan sand lands on ski resorts in Europe
'Landscapes look like Mars,' said the EU's Directorate-General for Defence Industry and Space
Ski slopes across the Alps and Pyrenees have been covered in sand and dust from the Sahara.
The EU's Directorate-General for Defence Industry and Space tweeted a "very rare" picture of the mountain resort of Mont d'Olmes in the Pyrenees covered by a layer of sand and dust.
"A massive transport of #SaharanDust across the Mediterranean turned the snow in the #Pyrénées brown while landscapes look like Mars," the organisation said.
Images from the Andorran resort of Granvalira, published by Météo Pyrénées, show a coating of red dust on top of the snow.
Similar pictures have been shared online from Alpine ski resorts in France, Switzerland and Italy. The dust has been lifted from the world's largest desert and carried above the Mediterranean by strong southerly winds.
The Met Office says: "The wind can blow strongly over deserts – whipping up dust and sand high into the sky.
"If the winds in the upper part of the atmosphere are blowing north, the dust can be carried as far as the UK.
"Once it is lifted from the ground by strong winds, clouds of dust can reach very high altitudes and be transported worldwide, covering thousands of miles.
"In order for the dust to get from up in the sky down to the ground, you need something to wash it out of the sky – rain.  As raindrops fall, they collect particles of dust on the way down. Then when the raindrops land on something and eventually evaporate, they leave behind a layer of dust."
A year ago, thousands of British holidaymakers were stranded at airports in the Canary Islands due to the quantity of airborne sand sweeping in from the Sahara.
Join our new commenting forum
Join thought-provoking conversations, follow other Independent readers and see their replies