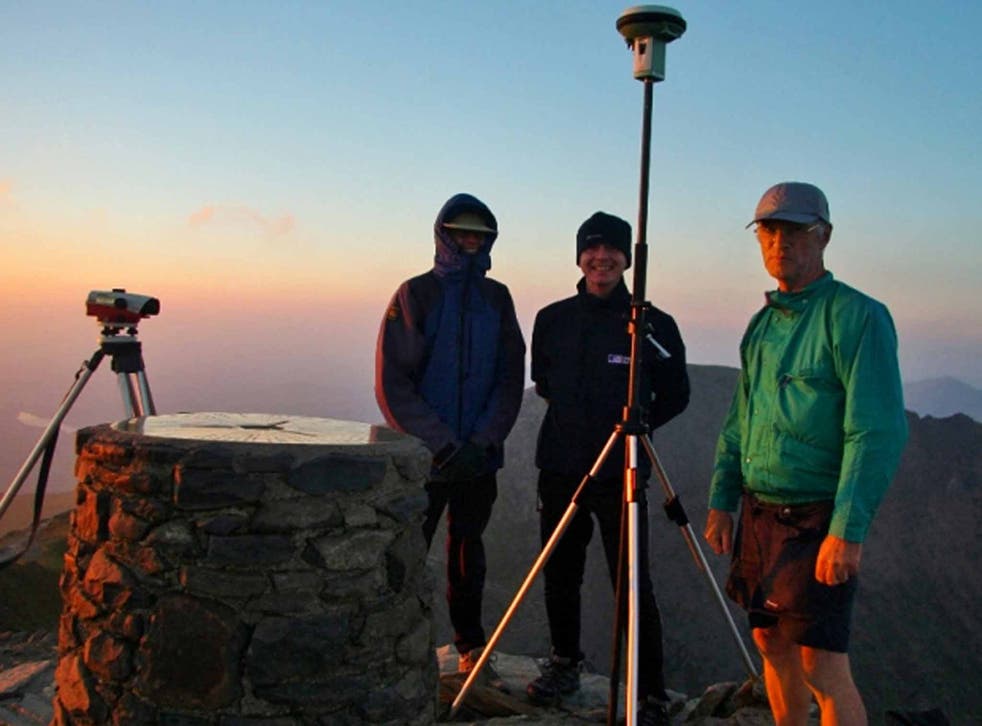 Snowdon: Has it really grown an extra metre?
Amateur surveyors are claiming that Snowdon is one metre higher than previously thought. Jamie Merrill wonders if they're making a mountain out of a molehill
Jamie Merrill
Tuesday 14 October 2014 19:25 Comments
It might not sound like a vast measurement, but for those intrepid souls who have climbed to the summit of Snowdon, the news that the tallest mountain in Wales has grown a metre in height will surely add to their sense of achievement.
According to the records of the Ordnance Survey (OS) the mountain, which was named after the legend of a local giant, stands at an impressive 1,085m. That is certainly what the organisation's familiar pink maps say, and it is no doubt what the 400,000 people who climb it every year will have boasted about to their friends and families.
Now, though, a group of amateur mountain measurers has announced that Snowdon is actually a metre taller at 1,086m. The team behind this unlikely geographical claim is comprised of three retirees who have dedicated the last eight years to surveying more than 150 British mountains and hills.
John Barnard, Graham Jackson and Myrddyn Phillips, who make up G&J Surveys, have made mountain data their hobby and use traditional triangulation methods alongside an advanced GPS receiver system to record the new measurement this summer.
The data was released yesterday as part of a television documentary for ITV Wales, but it won't be recorded officially because the OS refuses to add this new measurement to the 10,000 or so alterations it makes to Britain's mapping landscape every day.
"These guys have amazing kit and we've worked with them in the past to promote hills or demote mountains that they've surveyed, but this occasion is slightly different," says Rob Andrews, a spokesman for OS. "The real difference with Snowdon is that there is essentially a small village at the top, including a concrete plinth at the summit and a café built in 2009. Our view is that we measure the actual rock summit, which remains unchanged at 1,085m."
Despite this setback ,the mountain measuring trio isn't downbeat, says Phillips, who joined the team in 2007. "We're not exactly disappointed as we still hope that our figure may be included in brackets on OS maps to show the new man-made summit," he says. "What this really shows is how sad it is that there has been so much tampering by man with this summit. I can understand that man has a preoccupation with the highest point, but the summits of our mountains should be left clear so that those views and heights can remain free."
Phillips is quick to point to the team's past successes. Last year, it almost echoed the plot of 1995 film The Englishman Who Went Up a Hill, But Came Down a Mountain. The film, which stars Hugh Grant, sees a fictional Welsh village conspire to trick cartographers into reclassifying a nearby hill as a mountain.
At Thack Moor in the North Pennines there was no floppy-haired actor or montage scene of busy villagers building an earth cairn; instead, Phillips and his friends used their GPS kit to prove the Cumbrian peak was 2cm higher than originally thought, forcing the OS to grant it mountain status (610m) to the delight of locals.
When it comes to mountain spats, though, Snowdon and Thack Moor are tiny in comparison to the "big one" on Mount Everest, which has arguably been raging since the Great Trigonometrical Survey led by the mountain's reluctant namesake George Everest in 1802 (this Victorian adventurer was ahead of his time in wanting to give it a local name, but was overruled).
The most recent peak in this ongoing saga was when China upset Nepal in 2005 by claiming that the world's tallest mountain was just over three metres shorter than a widely accepted 1954 survey. The two countries share a border along the Himalayan giant and despite 4,000 climbers scaling it since 1953, the exact height is still disputed by the two countries.
Back on Snowdon, the scale of the issue is much smaller, but the bragging rights are no less fiercely fought over. "People often incorrectly call Snowdon Britain's second tallest mountain after Ben Nevis, which of course is false as there are many taller mountains in Scotland," says Phillips. "This doesn't change that, and isn't that important in grand scheme of things, but, to people who enjoy data, that one metre is very important indeed, especially if you've climbed to the top."
Register for free to continue reading
Registration is a free and easy way to support our truly independent journalism
By registering, you will also enjoy limited access to Premium articles, exclusive newsletters, commenting, and virtual events with our leading journalists
Already have an account? sign in
Join our new commenting forum
Join thought-provoking conversations, follow other Independent readers and see their replies