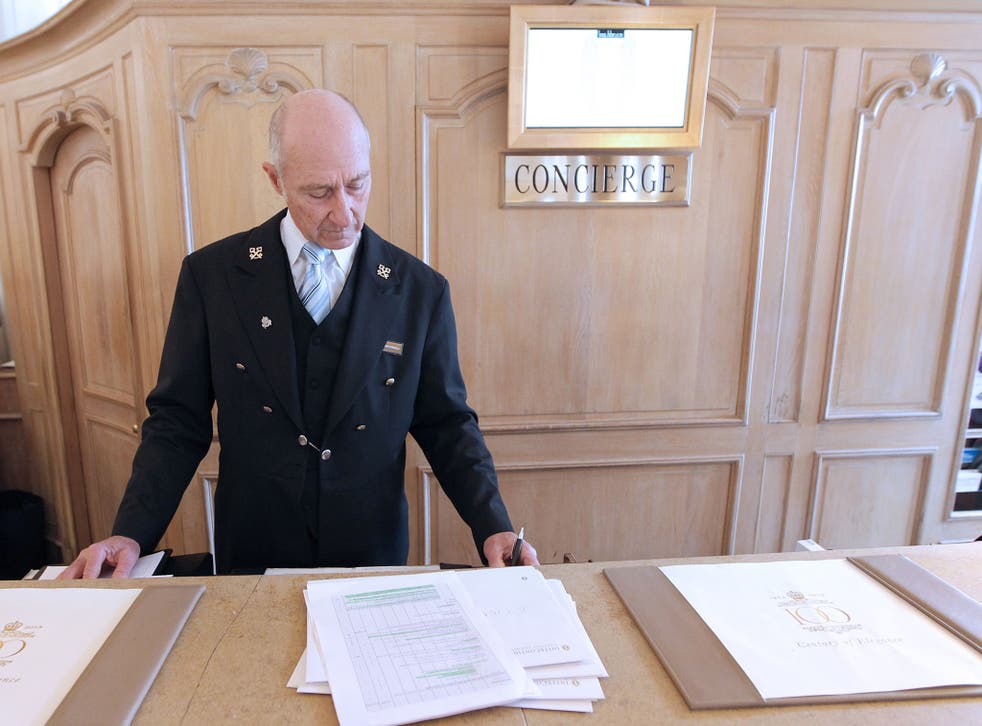 Something To Declare: For top travel tips, nothing beats a charming concierge
Often underused, occasionally outrageously overused – a concierge can be the secret to a special escape.
Competent and unflappable, they're on hand to impart intel and exploit their bulging contacts book, from the prosaic (map-marking, metro-finding) to the eccentric (pet-monkey loan, parachuting proposal). Urban myths abound of outlandish demands, but the reality is, these suited-and-booted troubleshooters can make magic happen.
More than just ticket-sourcers or maître-d'-whisperers, they're often experts. Cultured cribs such as Le Royal Monceau in Paris have art concierges, while shopaholics get the ultimate retail chaperoning at The Upper House in Hong Kong, which is in cahoots with Net-a-Porter. Some have Porsche keys to hand over (hola, Rancho Valencia in California); while The James Royal Palm in Miami even has a "sun concierge" to fine-tune tanning.
The capital of I-want-I-get is of course New York City. Here Melissa Ettere, head concierge at The Standard High Line, explains how much is expected of her.
"A great concierge needs to know everything," she says. She plays psychoanalyst, reading guests quickly and booking them into the places that will best suit them. "It can be as simple as spotting a current-season 'it' bag and understanding this person wants to go to the next 'it' place. When you get a client who belongs at that night's private party at Le Baron, you need to be able to make it happen as fast and as easily as sending a text."
While we've come to expect click-our-fingers results at five-star hotels, who doesn't like a little VIP treatment in smaller establishments too? JK Place in Florence is adept at getting red carpets rolling – they'll slip you gold-dust private-tour Uffizi tickets quicker than you can Google "Michelangelo".
The trend for hyperlocal is all the rage among discerning tourists, which makes embedded knowledge is all the more important. Take, for example, Manchester's mineral water tunnel. No, I hadn't heard of it either. But the Great John Street Hotel has and will have you signed up on a tour to take you deep down to the Thirlmere aqueduct.
A lack of that sort of insider nous is especially noticeable. I'll never forget asking the nice Latvian concierge at a hotel in Jersey where we could go for a lunch on the coast en route to catching our plane. He suggested a burger at a bowling alley by the airport. Yowzers.
Hotels are also gearing up to service our demands on Twitter. A so-called "Twitter hotel" in Mallorca invites guests to make their requests in 140 characters or less. It's just a shame it looks so naff (sorry, Sol Wave House); I'd rather be armed with a pre-loaded tablet as is done at reinvented Dormy House in the Cotswolds.
Still, nothing beats a good old-fashioned charmer in the lobby, the kind who has your interests at heart, whether that's sneaking you into a backstage party or recommending a cheap dumpling place. So next time you check in, for the most memorable and authentic experiences, head straight for the front desk.
Juliet Kinsman is the editor-in-chief of Mr & Mrs Smith hotel guides (mrandmrssmith.com)
Join our new commenting forum
Join thought-provoking conversations, follow other Independent readers and see their replies