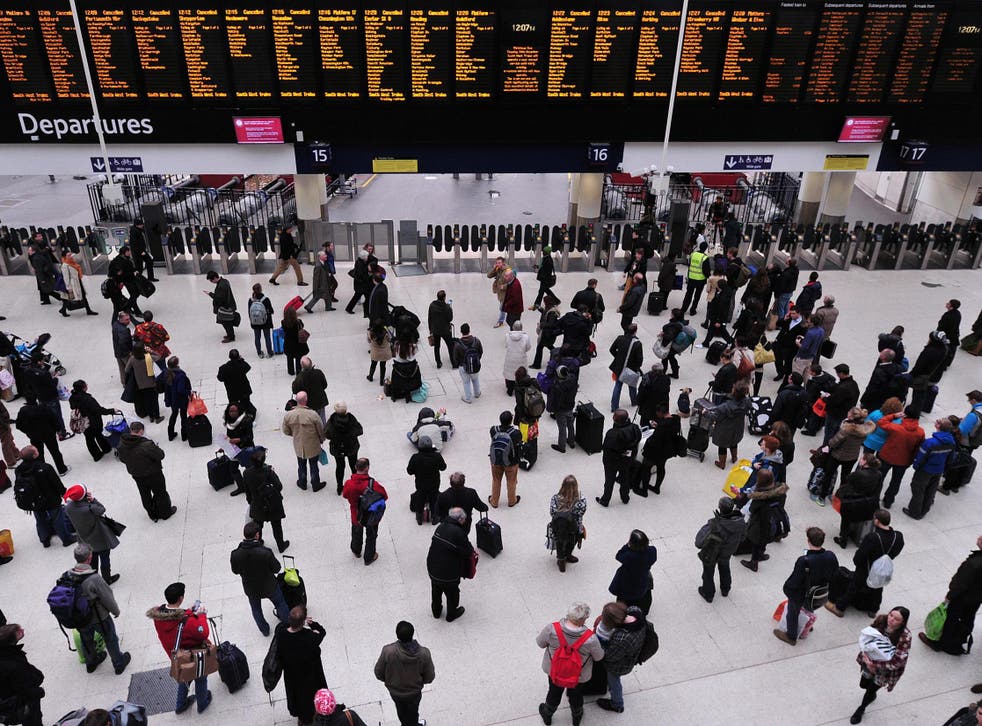 South Western Railway strike: December walkout to go ahead after talks break down
Dispute over role of guards will hit commuters as well as passengers on the GWR line and retailers in London
The 27-day South Western Railway (SWR) strike will go ahead in December after talks collapsed over the role of guards on trains, the RMT union has said.
The union, which has been involved in a long-running dispute with SWR and other train operators over the role of guards, has ordered its members to walk out on every day next month apart from Sunday 1 and Thursday 12 December – the date of the General Election – after union members voted in favour of a month-long strike.
Guards will not technically be striking on 25 and 26 December, when SWR would not be running any trains.
The stoppage will affect commuters in and out of the UK's busiest railway station, London Waterloo, on trains to and from southwest London, Surrey, Hampshire, Berkshire, Dorset and Wiltshire. It will also impact those trying to return home to Devon from the capital for Christmas, as SWR offers cheaper trains to Exeter.
The RMT general secretary, Mick Cash, said: "RMT is angry and frustrated that a set of proposals that would have guaranteed the safety-critical role of the guard at the point of despatch, and which would have cost the company absolutely nothing, have been kicked back in our faces.
World's best train journeys

Show all 10
"There is no rational explanation for the company position and we can only assume that either they or their paymasters in Government want this strike action to go ahead for politically motivated purposes."
During the many previous rail strikes, services on the main lines have operated at about half the usual frequency, while branch lines have had rail services cancelled altogether – with only some of them replaced by buses.
The guards' dispute – with both SWR and other train operators – ostensibly centres on who opens and closes the doors on trains. But it masks a more deeply rooted conflict over the nature of the guard's work in a railway system largely adapted to driver-controlled operation.
A spokesperson for SWR said the train operator was "extremely disappointed" at the strike call, and added: "The deliberate targeting of services up to, and during, the Christmas period is typical of the lack of concern the RMT continues to have for our customers.
"The RMT has always said it wanted us to keep the guard on every train. That is what we have offered as part of a framework agreement, if the RMT work with us to agree a method of operation for our new trains which fully utilises the new technology to improve safety, security and accessibility as well as day-to-day performance.
"Instead the RMT appear purely focussed on keeping control of train doors in a misguided attempt to hold power over the industry.
"Whilst we have shown commitment to the role of the guard by introducing over 80 additional guard roles since the start of our franchise, the RMT do not have the long-term interests of either our customers or our colleagues, including their members, at the heart of their actions.
"We remain committed to finding a solution that will help us build a better railway for everyone. We will do everything we can to keep customers moving during strike action."
The Labour Party has backed the RMT's campaign. Earlier this year Jeremy Corbyn told The Independent: "It's very much Labour policy that there should be fully staffed trains in all parts of the country at all times."
The strike will affect retailers and the entertainment industry in central London in the run-up to Christmas, as day-trippers stay away.
It will also cause many problems for travellers who normally use GWR between London Paddington and Reading.
Support free-thinking journalism and attend Independent events
All GWR lines will be closed from Christmas Eve to Friday 27 December inclusive, because of track and overhead wiring work. InterCity services to Exeter, Plymouth, Bristol, Cardiff and Swansea will start and end at Reading.
SWR was expected to run extra services between Reading and London Waterloo, but the strike will result in fewer trains than usual.
Join our new commenting forum
Join thought-provoking conversations, follow other Independent readers and see their replies