Woman who has 50 planes a day taxiing yards from her back garden: 'It's totally unacceptable'
Local resident Janet Marchant filed 400 complaints in three months
Southend Airport: Resident complains about the 'aircraft that sits at the end of her garden'
"The airport has always been there. My grandad started living here in 1953. So I've lived with the airport for many, many years.
"But there's never been a taxiway at the bottom of my garden with aircraft sitting there for up to 20 minutes at a time."
Janet Marchant, 67, was speaking exclusively to The Independent on the perimeter of Southend airport – which adjoins her garden in Wells Avenue.
"I think that's totally unacceptable," said the retired newsagent.
But the southeast Essex has vowed to continue its relentless expansion. This month Ryanair launched more than 50 weekly flights to a dozen destinations, and next month Loganair will start flying from Southend airport to Glasgow, Aberdeen and Stornoway in Scotland.
Jet route passes yards from back gardens - in pictures

Show all 6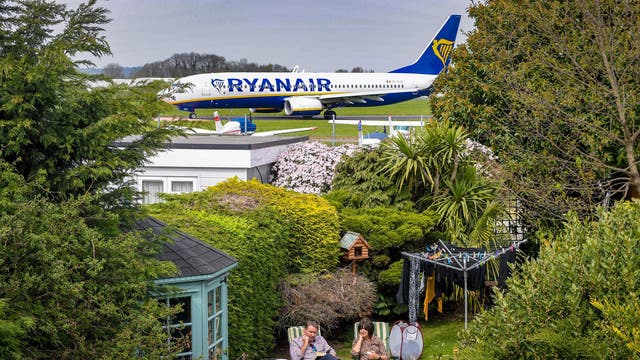 Flybe and easyJet also serve Southend.
The airport was created in 1914 and was once the third-busiest in Britain, after Heathrow and Manchester, but was left behind by the growth at its Essex rival, Stansted, as well as Gatwick, Luton and London City airports.
The Stobart Group, which owns Southend airport as well as Stobart Air and 30 per cent of Flybe, is capitalising on congestion at other London airports. While the government has approved expansion at Heathrow, plans for a third runway are progressing slowly while demand increases.
The airport said Mrs Marchant had submitted 400-plus complaints in the three months between November 2018 and January 2019 "about the same issue" – use of the "Charlie" taxiway by medium-sized jet aircraft.
While the taxiway is not new, the increase in flights mean that it is more heavily used.
A spokesperson said: "We have investigated each and every one and found them to be operated as permitted."
The airport said its expansion would continue. It added 40 per cent capacity last year to 1.5 million, and plans to reach 5 million by 2022.
"We appreciate that the Wells Avenue properties were built close to the Charlie Taxiway. As such, we hold quarterly meetings with those residents and are actively investigating measures to reduce noise.
"The airport has ambitious plans to grow and we will continue to work closely with the Civil Aviation Authority to ensure that London Southend Airport remains safe and environmentally responsible for all our stakeholders."
The airport invited Ms Marchant to a meeting with airport officials.
Afterwards she told The Independent: "There have been some points raised that we're going forward with."
When asked if she was hopeful of improvements, she said: "We'll see."
Join our new commenting forum
Join thought-provoking conversations, follow other Independent readers and see their replies