The Independent's journalism is supported by our readers. When you purchase through links on our site, we may earn commission.
Passengers forced to deplane Southwest Airlines flight after woman refuses to wear mask
'I must say I took some pleasure when an old grey haired man yelled, Bye, Felicia,' says one passenger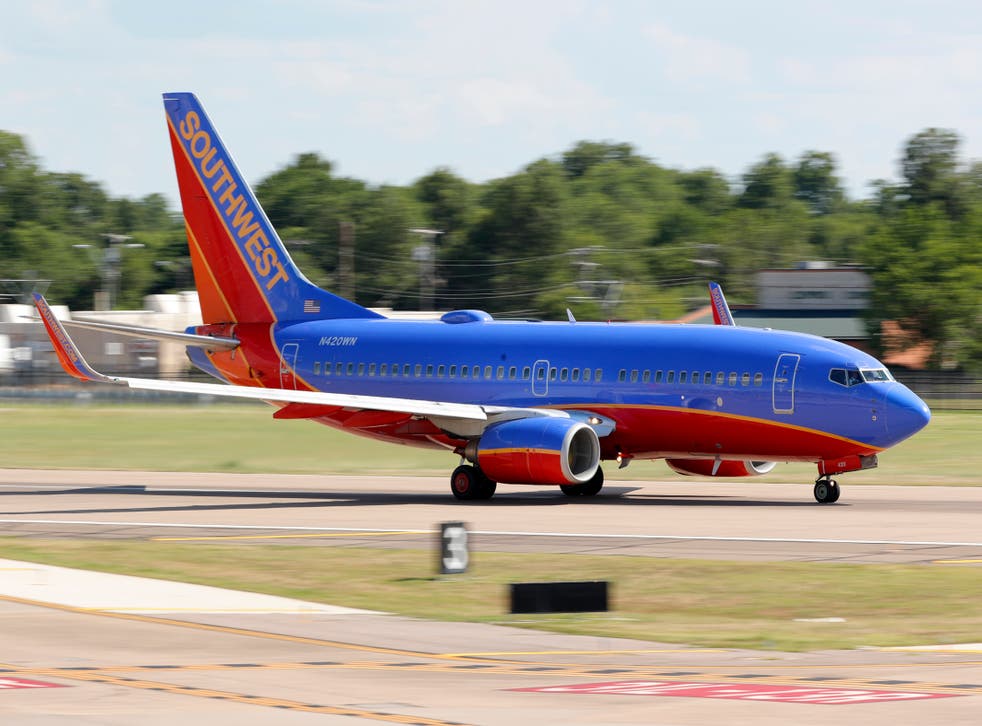 An entire flight was forced to return to the gate and deplane after a woman onboard refused to wear a mask.
The Southwest Airlines service from Nashville to Las Vegas on 3 November was almost ready to depart when the aircraft had to turn around.  
A Metro Nashville Airport Authority Department of Public Safety officer had to be dispatched to the gate, an airport spokesperson confirmed to The Tennessean, after a female passenger would not put on a face covering or leave the aircraft when instructed to do so.
"Shortly after pushing back from the gate, Flight 2388 from Nashville to Las Vegas returned after a customer refused to follow our face covering policy," said a Southwest spokesperson.
The woman's refusal to depart the aircraft of her own accord meant the entire planeload of passengers had to get off.
One fellow traveller onboard the flight shared the experience on social media.
According to The Tennessean, Kevin Ross posted on Facebook: "Thanks to this woman, an entire plane of passengers had to deplane because she refused to wear a mask.
"Passengers thanked her for ruining their day (missed connections due to the delay) and [she] screamed back, 'I'm allowed! I'm allowed!' to which at least half of the passengers in unison yelled back, 'No you are not!'"
He added: "What a scene. I must say I took some pleasure when an old grey haired man yelled, 'Bye, Felicia.'"
The incident delayed the flight by about an hour, but the woman was not arrested.
Southwest, like many airlines, has updated its policy to make face coverings mandatory during the pandemic.
The airline states on its website: "Customers are required to wear a face covering over their nose and mouth at all times during their Southwest travel experience.
"It is highly encouraged to bring your own hand sanitizer and face covering.
"A well-secured cloth or mask that fits snugly against the face, covers an individual's nose and mouth, and is secured under the chin will be accepted."
Coverings with exhalation valves or holes or that are made solely of materials like mesh or lace are not permitted, and nor are coverings that cannot be fitted securely under the chin, such as bandanas and face shields.
Register for free to continue reading
Registration is a free and easy way to support our truly independent journalism
By registering, you will also enjoy limited access to Premium articles, exclusive newsletters, commenting, and virtual events with our leading journalists
Already have an account? sign in
Register for free to continue reading
Registration is a free and easy way to support our truly independent journalism
By registering, you will also enjoy limited access to Premium articles, exclusive newsletters, commenting, and virtual events with our leading journalists
Already have an account? sign in
Join our new commenting forum
Join thought-provoking conversations, follow other Independent readers and see their replies