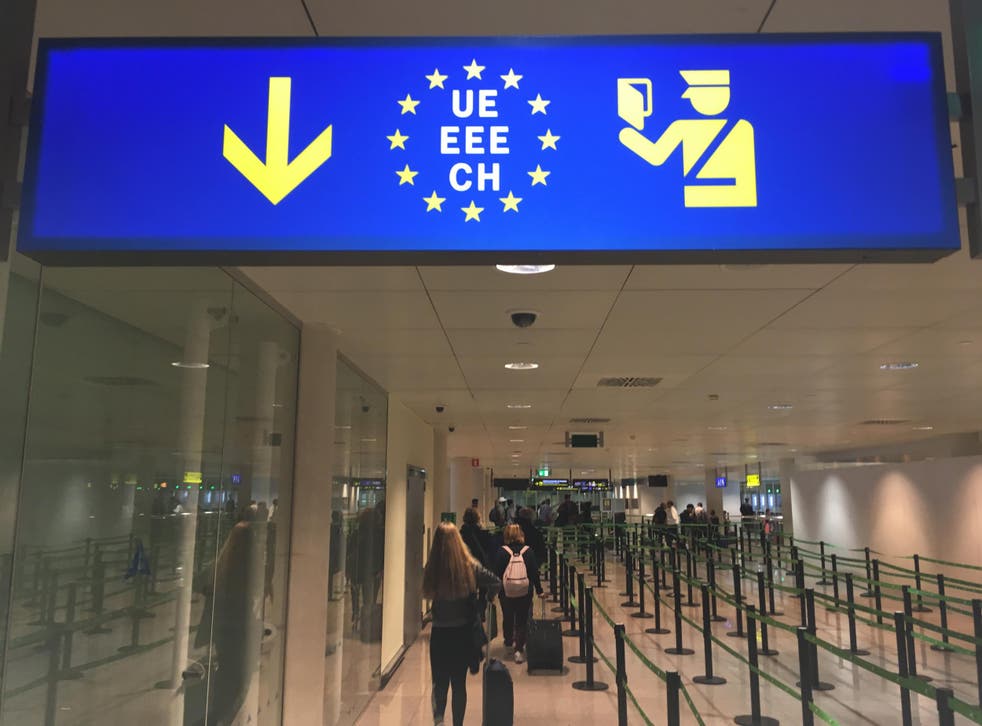 Pain in Spain: now an airport security strike hits passengers
'Arrive at least three hours before the scheduled departure time,' says Ryanair
Simon Calder
Travel Correspondent
Thursday 03 August 2017 19:17 Comments
Airlines are warning passengers flying from Barcelona airport to arrive three hours before departure, as a sequence of strikes by security staff begins, affecting thousands of British travellers.
Union members working for the Eulen security firm at Spain's second-busiest airport are calling one-hour strikes at key times on Fridays, Sundays and Mondays. They are concerned about their workloads, including 16-hour shifts, and what they say is insufficient manpower when the airport is at its busiest.
The workers staff the security checkpoints that all passengers and members of flight crew are obliged to pass through.
The Independent understands that the proposed strikes are indefinite, and that there may be full-scale industrial action later this month.
Whenever there is a strike that disrupts travel, the Spanish government stipulates a "minimum service level" in order to protect the "fundamental right" of freedom of movement.
The level set for this dispute is 90 per cent. But even if nine out of 10 staff work normally, the strikes could prove disruptive. The stoppages are taking place on the busiest days of the week and are timed to hit peak passenger flows. The 60-minute strikes begin at 5.30am, 10.30am, 4.30pm and 6.30pm.
There have been allegations that something approaching a work-to-rule is taking place already, with flight delays on Thursday of up to 90 minutes – though it is not clear if these are related to security.
Barcelona is a key hub for British travellers. It handles 45 million passengers a year, the same as Gatwick, and many of them are heading to or from the UK. The city's El Prat airport is the leading destination from Gatwick, with 16 flights each way on Friday. There are 37 additional flights each way from 15 other UK airports, likely to be carrying 18,000 passengers in total.
Ryanair said it intended to operate a full schedule, and advised passengers to arrive at least three hours before the scheduled departure time of their flight.
British Airways said in a statement: "We are operating a normal schedule of flights to and from Barcelona airport on the days of potential strike action but are advising customers to allow extra time to go through airport security and immigration checks."
New and more onerous passport checks on outgoing passengers at airports across Europe's Schengen Area are leading to long delays, with some travellers missing flights.
Monarch Airlines said: "We advise customers to allow extra time for their journey through the airport to ensure they get to their departure gate on time."
A spokesperson for Vueling, the low-cost airline based in Barcelona, said: "We are informing our clients by social media and sending SMSs telling them to get to the airport with more time than usual."
And easyJet said: "Queue times for all passengers going through security are expected to be longer than usual. We are advising passengers to allow extra time to get through security, ensuring they arrive at the departure gate on time."
Register for free to continue reading
Registration is a free and easy way to support our truly independent journalism
By registering, you will also enjoy limited access to Premium articles, exclusive newsletters, commenting, and virtual events with our leading journalists
Already have an account? sign in
Join our new commenting forum
Join thought-provoking conversations, follow other Independent readers and see their replies