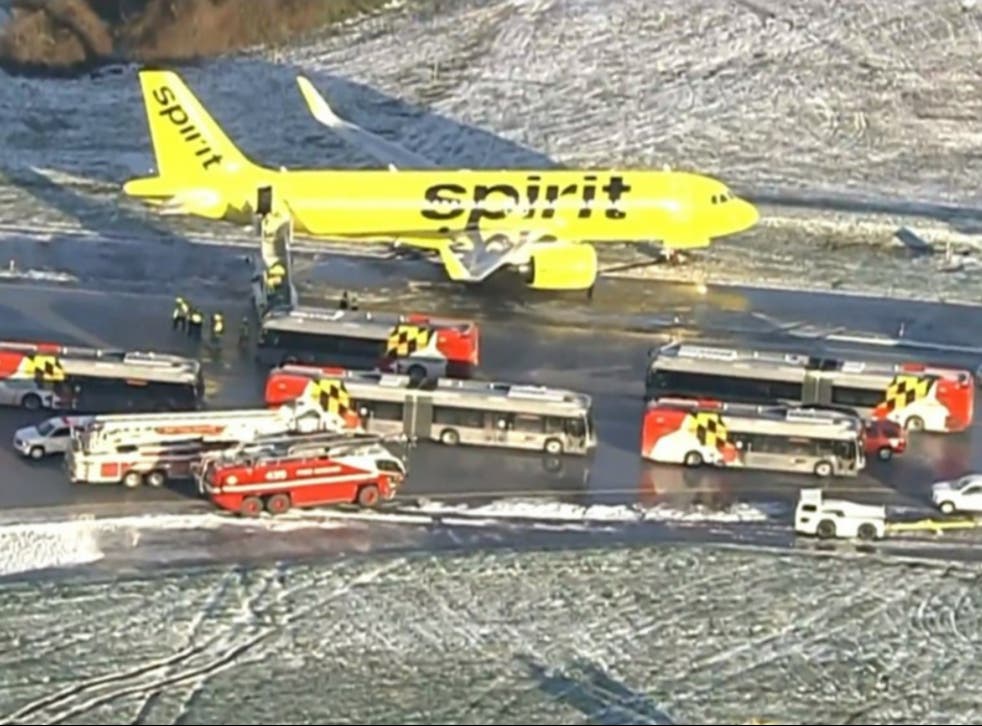 Spirit Airlines flight skids off taxiway
No one was injured in the incident
A Spirit Airlines flight skidded off the taxiway due to wintery weather after landing.
Flight NK696 from Las Vegas had touched down safely at Baltimore/Washington International Airport on 17 December when the incident occurred.
The aircraft, which had 111 people onboard, landed slightly ahead of schedule and was following instructions about where to go when it gently slid off the taxiway upon turning.
The plane was then stuck on the soft ground to the side of the tarmac.
"We're hoping to get towed out of here," the pilot said, reports simpleflying.com. "We're not deploying any chutes or doing any sort of evacuation."
However, the attending rescue vehicle said the position of the jet's nose gear would make it difficult to tow.
In the end, stairs were attached to the rear exit, allowing passengers to disembark.
No one was injured in the incident.
A Spirit spokesperson said: "After safely landing and entering the taxiway this morning, the nose wheel of Spirit Airlines flight 696 slowly slid onto the grass while turning a corner and taxiing to the gate.
"All 111 Guests and Team Members are safe and were transported by bus to the terminal."
The incident followed significant snowfalls and icy weather in Baltimore, with winter storm warnings issued over the last few days.
It's not the first time inclement weather has caused a plane to skid.
In January, a Delta Air Lines plane skidded off the runway in Wisconsin with 107 passengers onboard.
Plane skids off runway in Turkey
Flight 1770 to Atlanta, Georgia, slipped before take-off, ending up partially on the grass next to the tarmac at Green Bay Austin Straubel International Airport.
While no one was injured in the incident, which occurred at around 6.15am local time on 4 January, all passengers had to deplane and board another aircraft.
"It was scary at first because people kind of jumped and screamed a bit," passenger Jake Liebergen told Wbay.
"We noticed he was going pretty fast around the corner and slid a little bit.
"And out of our window we saw snow coming and before we knew it, we were right in the snow and the plane tipped."
Register for free to continue reading
Registration is a free and easy way to support our truly independent journalism
By registering, you will also enjoy limited access to Premium articles, exclusive newsletters, commenting, and virtual events with our leading journalists
Already have an account? sign in
Register for free to continue reading
Registration is a free and easy way to support our truly independent journalism
By registering, you will also enjoy limited access to Premium articles, exclusive newsletters, commenting, and virtual events with our leading journalists
Already have an account? sign in
Join our new commenting forum
Join thought-provoking conversations, follow other Independent readers and see their replies