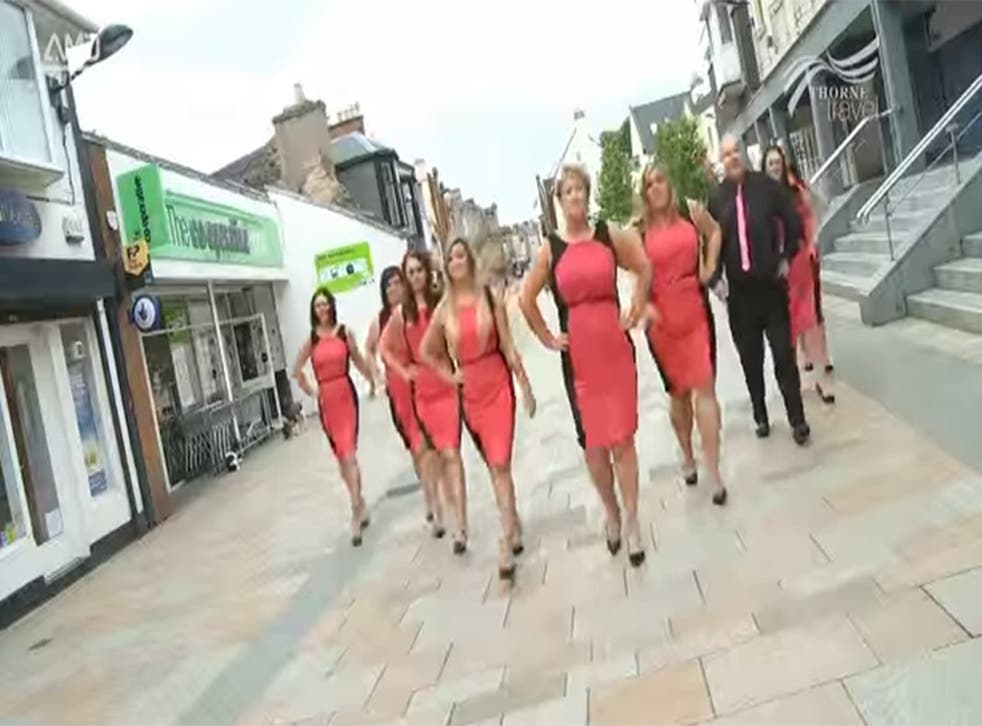 Spoof Virgin viral ad from Thorne Travel sees bookings rocket 110%
The travel company have been preparing a sequel
Jake Alden-Falconer
Tuesday 14 October 2014 14:25 Comments
Its stardust special effects, overly-enthusiastic locals and baggy 'pilot' outfit have sent people scoffing from Edinburgh to Sydney – but now Thorne Travel is having the last laugh, as its bookings have rocketed by 110 per cent since their ad went viral.
With their hands clasped firmly to their hips, staff at Thorne Travel have strutted their spoof video to global success. The budget ad has clocked up over 850,000 views since catching the attention of Father Ted writer Graham Linehan, who tweeted on Friday: "After a year of ebola, UKIP, gamergate and worse, WE HAVE FOUND OUR UNICORN CHASER."
The ad sees travel agents don pink uniforms and march through the bemused town of Kilwinning in imitation of the iconic Virgin Atlantic ad.
"We wanted to show people that we were a bit different, a bit quirky," said Shona Thorne, manager of Thorne Travel, which has been advising on luxury travel for nearly half a century. "We all had a laugh. We thought 10,000 hits would be nice – we never expected the success we've had!"
Appreciation has spanned from locals enjoying Kilwinning's new-found attention to travellers chuckling abroad: "We've had people bring flowers, chocolates, cards. Emails from Scotland and Australia!," says Thorne.
It may have used up their marketing allowance for the year, but it couldn't have been spent better: Thorne has since appeared on ITV's Good Morning Britain and The Robin Galloway Breakfast Show in Scotland. And she's had to cancel her annual leave to cope with the demand.
For those who couldn't get enough of the video, Thorne says: "We've actually just finished a second one, so there's another to look forward to."
Register for free to continue reading
Registration is a free and easy way to support our truly independent journalism
By registering, you will also enjoy limited access to Premium articles, exclusive newsletters, commenting, and virtual events with our leading journalists
Already have an account? sign in
Join our new commenting forum
Join thought-provoking conversations, follow other Independent readers and see their replies