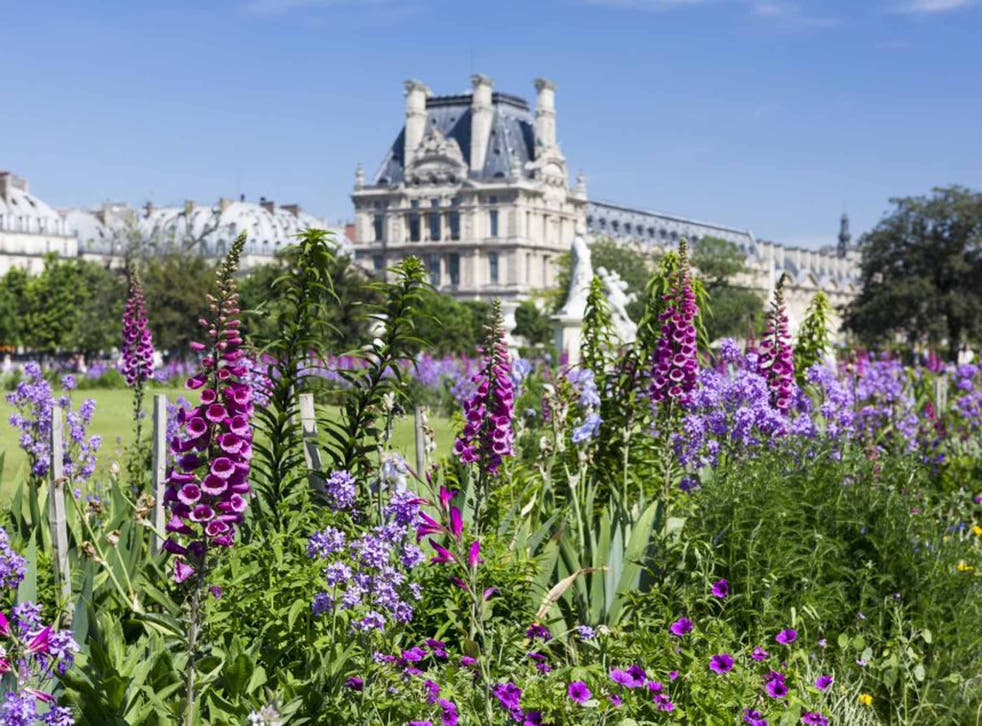 Spring breaks from Paris to Padstow: Find a sense of renewal
​As the Northern Hemisphere creaks back into life, Chris Leadbeater seeks the best viewing spots 
You can always rely on John Keats for a seasonal metaphor. A master of melancholy the author of "To Autumn" may have been, but in his 1818 poem "The Human Seasons", he turned his pen to the wonders of spring. True, he was describing man's ageing process rather than the year's hopeful period of rebirth and renewal – but in his spry talk of "lusty spring, when fancy takes in all beauty with an easy span", the doomed Romantic neatly framed the thrill of that quarter of the calendar when everything seems to be made again.
In other words, spring is an excellent time to cast off winter's grip and embark on a travel jaunt in search of blossom, brightness and the burble of the planet (or, at least, the Northern Hemisphere) waking from slumber, whether on home soil or distant shores, and whether with children in tow – or happily à deux. As these potential escapes demonstrate.
Prove yourself eminently capable at Warwick Castle
The Midlands fortress, 11th-century in origin, has more recently been a bastion of family friendly days out. But Warwick Castle will welcome spring with special focus this year (0871 663 1676; warwick-castle.com; daily 10am-4pm until 18 March, until 5pm to September; adults from £18.60, three-11s from £16.20). Its gardens – always an oasis of spring fragrance – were heavily remodelled in the 1750s by Lancelot "Capability" Brown, the landscaping maverick whose 300th birthday (30 August 1716) is marked this year. As part of this, Warwick is offering a "Debating Tour" of the gardens (daily at 1pm until 21 October; included in ticket price), where two experts discuss whether Brown was a creative genius or a wrecker of heritage. Children who find such topics dull can enjoy the frightful Castle Dungeon, the fairytale Princess Tower, or, from Easter, a new Horrible Histories Maze that weaves through history from Vicious Vikings to the Frightful First World War. "Glamping" breaks in medieval-style tents (which sleep four) are available from £161 per night, with breakfast.
Baa baa new sheep in Cornwall
Nothing says "spring" quite like a newborn lamb tottering to its feet. Families can coo over these flossy creatures at Trevorrick Farm – at St Issey, near Padstow – where the main attraction is a magical menagerie of winsome animals. Children can spend days holding baby chicks and collecting eggs, grooming a Shetland pony – and bottle-feeding freshly minted sheep. This working farm sits five miles from the beach at Harlyn, on the Cornish north coast, and comes with a swimming pool and a games room, as well as cottage accommodation. Seven-night stays in the Owls Roost Cottage, which sleeps up to four, cost from £385 (self-catering) through Farm Stay UK (024 76 696 909; farmstay.co.uk).
Camp like Dr Dolittle on the Isle of Wight
If you want the springtime serenade of small animals and purring children, but would like to broaden the creature repertoire, Grange Farm – near Marsh Green, on the south-west coast of the Isle of Wight – should prove suitably exotic. As well as the standard array of donkeys, horses, sheep, pigs and goats, this lovely spot – which lies within walking distance of the beach – is also home, somewhat unexpectedly, to water buffaloes and alpacas. Once the weather is warm enough, this is also a fine location for a camping break. A three-night stay for a family of four in April costs from £59 for a basic tent pitch, or from £158 for a pair of wooden "camping pods" (which sleep two people) – with Pitchup.com.
Delight in daffodils in the Midlands ...
The main purpose of the National Memorial Arboretum (01283 245 100; thenma.org.uk; daily 9am to dusk; free) is to honour Britain's military. But this 150-acre enclave – 30,000 trees swaying in the breeze outside Alrewas in Staffordshire – is also an option for family trips as the first flushes of spring push up through the ground. It hosts regular Wildlife Watch Group days, aimed at children. Saturday 19 March will focus on daffodils, via guided walks (2-4pm; £1 per child; book in advance) in search of them – and the chance to pick some to take home. The Innkeeper's Lodge in nearby Lichfield (08451 551 551; innkeeperslodge.com) has a family suite which sleeps four, from £65 a night, room only.
… or amid the splendours of South Wales
Wales can, of course, claim to be the spiritual home of the daffodil. It underlines this at Aberglasney House & Gardens, in the Tywi Valley of Carmarthenshire. This 15th-century estate (01558 668 998; aberglasney.org; daily 10.30am to 4pm November to March, daily 10am to 6pm April to October; £8) offers an ocean of yellow petals in March, April and May, via its annual Daffodil Festival. Visitors can walk amid flowerbeds – and rest their heads at the on-site Coachman's Cottage – which sleeps four, and can be rented in March from £400 per week. Nearby, at Llanarthne, the National Botanic Garden of Wales (01558 667 149; gardenofwales.org.uk; same opening hours as Aberglasney; £9.75) has the world's biggest single-span greenhouse, and vast fields of wildflowers.
Enjoy a snow break with a difference in Glasgow and Edinburgh
A rather paler, though no less lovely, contribution to the explosion of regrowth can be admired during the Scottish Snowdrop Festival. This takes place across various venues (to 13 March; details at visitscotland.com) – such as Duntreath Castle (01360 770 215; duntreathcastle.co.uk; garden openings by arrangement until 30 November; £4), a 15th-century pile at Blanefield, 10 miles north of Glasgow, where winding woodland paths are dusted with white flowers. Similarly, the Royal Botanic Garden in Edinburgh (0131 248 2909; rbge.org.uk; daily 10am to 5pm in February, until 6pm March to October; free) is a haven of blooms which runs "Snowdrop and Early Spring" walks every Friday, Saturday and Sunday (11am to 12.30pm; £5) until 6 March. The Balmoral, nearby on Princes Street (0131 5562414; roccofortehotels.com), offers doubles for £179, room only.
See Paris come back to life with a flourish
Spring's emergence will be another step in Paris's shaking off the shadows that have haunted it of late. Its urban gardens are awash with flutter and fragrance in March and April: the Jardin des Tuileries fills the gap between Place de la Concorde and the Louvre with the rustle of branches and clinking coffee cups; the Jardin du Luxembourg illuminates the 6th arrondissement with its tree-lined promenades, fountains, floral finesse – and the rippled surface of the Grand Bassin, where children sail model boats. But you can find spring at its most cultured at the Musée Rodin (77 Rue de Varenne; 00 33 1 44 186 110; musee-rodin.fr; Tuesday to Sunday, 10am to 5.45pm; €10), which reopened after a multimillion euro renovation in November. The Hotel Biron, Rodin's former workshop, hosts some of the sculptor's most famous pieces – such as 1884's L'Eternal Printemps (Eternal Spring), two young clasped lovers in bronze. A three-night stay in April at the four-star Les Matins de Paris, in the 9th arrondissement, starts at £206 per person (room only, with train) via Eurostar (03432 186 186; eurostar.co.uk).
Tiptoe through the tulips in Holland
The Dutch capital is synonymous with spring – and you do not even need to go as far as the massed ranks of blooms in the fabled Keukenhof garden, which lies 20 miles to the south-west in Lisse (open 24 March to 16 May; 00 31 252 465 555; keukenhof.nl; €16), to find great swaths of colour. The Bloemenmarkt has been an Amsterdam institution since 1862, its florists sell their wares from barges on the Singel canal. Meanwhile, elsewhere, the Tulip Museum, in Jordaan (00 31 20 4210095; amsterdamtulipmuseum.com; daily 10am-6pm: €5), dissects the flower's inalienable slot in the city's history and image. Kirker Holidays (020 7593 1899; kirkerholidays.com) offers three-night breaks at the four-star Hotel JL No 76 – a boutique retreat slotted into two 18th-century townhouses a short hop from the Rijksmuseum –from £539 per person, with flights, transfers and B&B.
British rail travel through the ages

Show all 30
Fall for New England in a new way
America's Atlantic shoulder is always touted as a place for autumn adventures. But New England is also a leafy swirl in spring. Connecticut is a case in point. The most westerly of the region's six states marks winter's passing in events such as the Dogwood Festival, at coastal Fairfield (6-8 May; 001 203 259 5596; greenfieldhillchurch.com/dogwood-festival) – a yearly tribute to a flower that largely thrives in the north-eastern US. The Meriden Daffodil Festival (001 203 630 4259; daffodilfest.com), meanwhile, will stretch its salute to 600,000 of said golden favourites to two weekends (23-24 April; 30 April-1 May) of parades and fireworks. America As You Like It (020 87428299; americaasyoulikeit.com) sells a 10-night "Southern New England" road trip that spends four days in Connecticut as it loops in and out of Boston, from £1,072pp, with flights, car and hotels.
See spring with a cherry on top in Japan
Spring arguably takes on its most beautiful form in the Far East's great island nation. But if you want to take an end-of-season glimpse at the fabulous cherry blossom that turns Japan into a haze of pink in March, spurn the much-photographed trees of Tokyo, Osaka and Kyoto, and head for the northwesterly island of Hokkaido, where this giddy carnival of flora takes its bow in late April. Inside Japan (0117 370 9751; insidejapantours.com) sells a 15-night Hokkaido Fly Drive, which meanders across this sparsely populated rural outcrop – making a particular virtue of Daisetsuzan National Park, Japan's largest protected space (876sq miles), which adds further joy to the spring spectacle with its wealth of lavender and poppies. Prices for this self-guided tour start at £2,520pp, including breakfast, most evening meals, car and domestic flights (flights to Tokyo extra).
Join our new commenting forum
Join thought-provoking conversations, follow other Independent readers and see their replies