The Independent's journalism is supported by our readers. When you purchase through links on our site, we may earn commission.
Passenger plane finally lands at St Helena airport a year after £285m project was due to take off
Governor and new-born baby on first passenger flight to remote South Atlantic island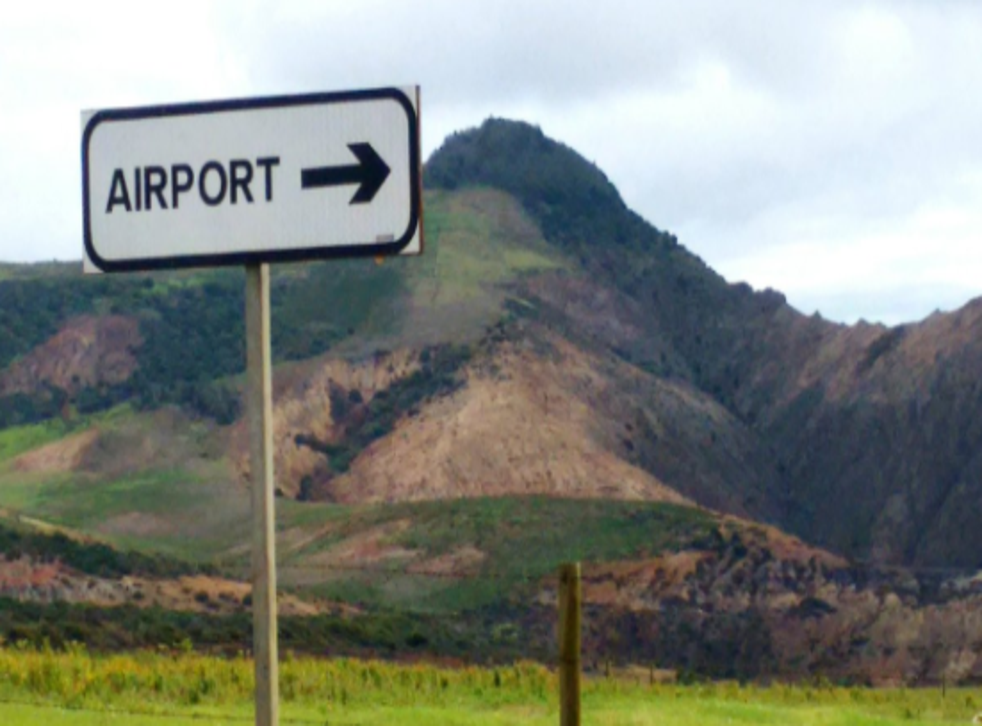 Almost a year after its planned royal opening, the successful handling of a passenger flight at St Helena airport has raised hopes that scheduled services may begin some time this year. The Independent has learned that an announcement is imminent.
A spokesperson for the St Helena Government said: "It is hoped to announce the preferred bidder in early UK summer 2017. Commencement of air services will follow once the regulatory permissions are granted and the necessary practical arrangements are in place."
An airport intended to transform access to the tiny South Atlantic possession was first announced in 2005, then given the go-ahead by the Tory-Liberal Democrat coalition government in July 2010.
The £285m scheme is one of the UK government's most expensive investments in terms of cost per capita: over £70,000 for each of the island's 4,000 inhabitants.
St Helena Airport's first successful passenger flight

Show all 6
Services were due to begin early last year. After a three-month postponement, regular flights from Johannesburg — the main air hub for southern Africa — were planned from May. The carrier was Comair, in the colours of British Airways.
In addition, a British start-up, Atlantic Star Airlines, proposed charter flights from Luton via Gambia.
But a test flight using the planned Boeing 737 jet aircraft was severely affected by windshear. The opening ceremony, which was intended to be carried out by Prince Andrew, was abandoned.
It became clear that the wind conditions make using the runway for relatively large aircraft such as the 737 too unpredictable for scheduled services. The Government is now tendering for operators using smaller jets, which have neither the range nor the capacity of the intended planes.
Atlantic Star proposed basing two aircraft on the island, and using them for flights to and from Accra in Ghana, but has since been told it has bid has failed.
A handful of flights have taken place since the Comair plans were shelved, but mostly for medical emergencies. A small RJ100 landed to refuel, while an Embraer 190 aircraft flew in and out for demonstration purposes.
The passenger flight flew from and to Cape Town, with a refuelling stop in Windhoek. It was chartered in response to emergency engineering work on RMS St Helena, the ship that has long provided the island's lifeline but which was due to be retired when the airport opened.
The SA Airline jet carried the island's Governor, Lisa Phillips. She posted on Facebook: "Ecstatic and privileged to be on the first passenger plane into St Helena today. A special moment for me was when I looked out of the window and was one of the first to see the island. Honoured to be part of St Helena's history. A day that I will never forget."
Also on board was a six-week old St Helenian baby who had born in Cape Town. The mother had been flown out on a medical evacuation flight. Governor Phillips said: "I guess she was the only St Helenian on the flight who only travelled one-way!
"The airport is priceless."
Councillor Derek Thomas said: "The arrival of the aircraft today is one step nearer to commercial use of our airport and has enabled those people who were delayed in Cape Town to return home safely."
Register for free to continue reading
Registration is a free and easy way to support our truly independent journalism
By registering, you will also enjoy limited access to Premium articles, exclusive newsletters, commenting, and virtual events with our leading journalists
Already have an account? sign in
Register for free to continue reading
Registration is a free and easy way to support our truly independent journalism
By registering, you will also enjoy limited access to Premium articles, exclusive newsletters, commenting, and virtual events with our leading journalists
Already have an account? sign in
Join our new commenting forum
Join thought-provoking conversations, follow other Independent readers and see their replies