St Maarten: Tourist killed by jet blast at notorious Caribbean airport
St Maarten airport is notorious for its runway beside a popular beach
St Maarten: The notorious Caribbean airport that lies next to a beach
A tourist has been killed after being knocked over by jet blasts at an airport notorious for its dangerous runway.
The woman was watching a plane take off at Princess Juliana Airport on the island of St Maarten in the Caribbean, when the blast from the plane – said to be a Boeing 737 operated by Caribbean Airlines – knocked her over.
The tourist – reported to be a 57-year-old New Zealander – had been standing by the fence at the end of the runway, watching the plane take off when she was knocked down, sustaining head injuries. She was taken to hospital, where she died.
The airport at St Maarten is often known as one of the most dangerous in the world - for spectators, if not for travellers - thanks to the location of its runway with a public beach at one end, and a mountain at the other.
Planes – including double-decker 747s – must approach by skimming over the beach, which is heavily populated. And the ability to get so close to the runway makes it a huge draw for tourists and "avgeeks" (plane enthusiasts), who flock to take photos.
Videos of "dangerous" landings regularly do the rounds on social media, as do selfies of swimwear-clad tourists sunbathing as a plane passes over them.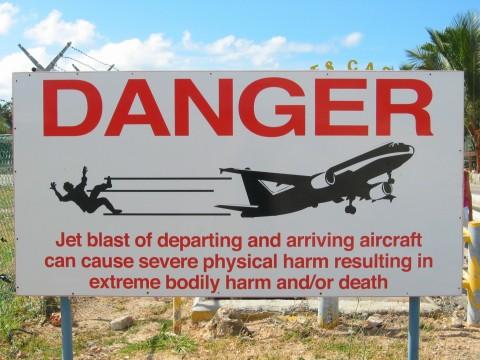 Between the beach and the airport is a public road. Despite warning signs and requests from the airport to stay away from the runway, the notices themselves have become popular selfie spots, and visitors regularly congregate by the fence to feel the blast from planes as they take off. When The Independent took off from the airport last year, there were dozens of people holding on to the fence.
Travel journalist and Independent contributor Cynthia Drescher has "done the jet blast" at St Maarten twice.
"Just being in the area you know what you're getting into," she told The Independent. "There are large signs all over the area where people stand for the jet blasts."
But she says she didn't feel in danger either time: "So many videos and photos exist of it, for years, and nothing fatal has occurred until now. It was an avgeek must for me."
She added: "I think those who come to the beach not knowing what they're in for, being peer-pressured into joining others, are most at risk.
"The airport's aviation operations aren't dangerous. Being a human so near the end of a runway with planes taking off is."
Join our commenting forum
Join thought-provoking conversations, follow other Independent readers and see their replies