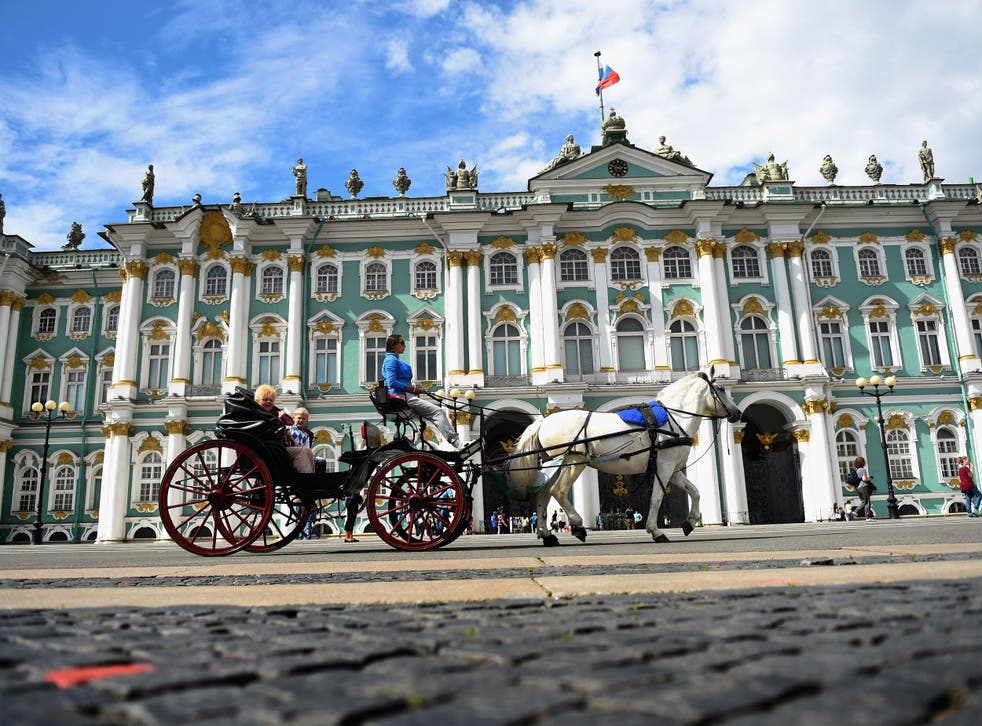 St Petersburg: Imperial city still draws tourists despite official travel warnings
City's Metro is second only to Moscow's in its scale and grandeur
Simon Calder
Travel Correspondent
Monday 03 April 2017 16:46 Comments
St Petersburg is easily the biggest draw for foreign tourists to Russia. Besides astonishing early 18th-century architecture, the magnificent art collection of the Hermitage Museum and a fascinating revolutionary history, the city is relatively accessible with visa-free status for cruise passengers.
Many of the 150,000 British visitors each year to Russia spend part or all of their stay in St Petersburg.
The Metro in St Petersburg is second only to Moscow among Russian underground railways in its scale and grandeur. It includes the deepest underground station in the world, Admiralteiskaya, which is 282 feet below the surface.
Under communism, the two largest Russian cities, Moscow and Leningrad (now St Petersburg), were regarded as low risk for Western tourists.
All activities were coordinated by Soviet institutions and violence against visitors was almost unknown. But since the collapse of communism a quarter-century ago, the level of violence has increased — with public transport a frequent target for terrorists.
In 2011, 37 people, including a British national, were killed in an attack on the arrivals area at Domodedovo airport in Moscow. Two years later, three suicide bombings targeted public transport in the southern city of Volgograd.
The Foreign Office updated its advice for travellers shortly after the St Petersburg blast. It says: "All metro stations in St Petersburg are currently closed. If you're in the area you should take extra care and follow the advice of the local authorities."
The official advice warns of "a high threat from terrorism" in Russia, and says "further attacks are likely". It says the main dangers are from Islamist and rebel groups in the North Caucasus.
It adds: "Although there's no indication that British nationals or interests have been specific targets, attacks could be indiscriminate, including in places visited by foreigners.
"You should be vigilant in all public places, including major transport hubs, tourist sites and crowded areas – particularly where access isn't controlled (eg open-air events and markets).
Explosion at St Petersburg metro station
The US State Department warns American citizens: "Persons visiting or living in Russia remain potentially vulnerable to attacks by transnational and local terrorist organisations.
"In the last decade, Moscow and St Petersburg have been the targets of terrorist attacks.
"Bombings have occurred at Russian government buildings, airports, hotels, tourist sites, markets, entertainment venues, schools, residential complexes, and on public transportation (subways, buses, trains, and scheduled commercial flights)."
Australia's Department of Foreign Affairs says: "Russian intervention in the conflict in Syria has heightened Russia's profile with terrorists linked to or inspired by the conflict."
In 2016, the Russian authorities conducted several high-profile raids against individuals allegedly linked to Isis in cities including St Petersburg, Ekaterinburg and Moscow.
Register for free to continue reading
Registration is a free and easy way to support our truly independent journalism
By registering, you will also enjoy limited access to Premium articles, exclusive newsletters, commenting, and virtual events with our leading journalists
Already have an account? sign in
Join our new commenting forum
Join thought-provoking conversations, follow other Independent readers and see their replies