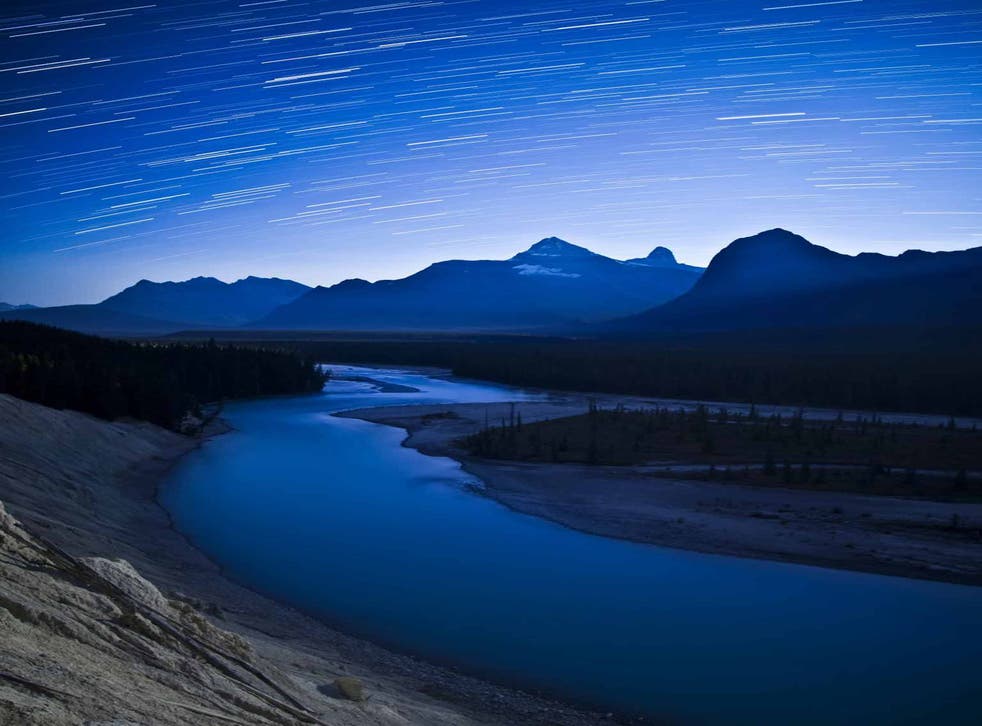 Stargazing holidays: Traveller's Guide
The night sky is fascinating and there are more opportunities than ever for marvelling at its dazzling displays, writes Sarah Baxter
Stargazing is on the up – and it's not all down to Professor Brian Cox and BBC2's Stargazing LIVE. Sophisticated telescopes are increasingly cheaper, opening the hobby up to a wider demographic. But, more than that, there's a growing recognition that astronomy might be good for you.
"It's a very palpable reconnection with nature for the stressed city-dweller," says Dr John Barentine of the International Dark-Sky Association (IDA; darksky.org), a non-profit organisation dedicated to protecting the night-time environment. "For thousands of years, before TV and the internet, we sat around the fire and told tales of the figures we saw in the stars; now, the experience of a dark sky brings us closer to that lost world.
"Disrupting the daily rhythm of light and dark with artificial light at night is now known to be associated with processes that may result in chronic disease," Barentine adds. "By lighting up the night, we've confronted our bodies with an insult they are ill-equipped to accommodate."
In which case, we should all head to the Canary Islands this September. Tenerife – better known for a more debauched sort of nightlife – is hosting the Starmus Festival (22-27 September; €300; starmus.com). Luminaries including Stephen Hawking, Richard Dawkins, cosmonaut Alexei Leonov, and astrophysicist-rockstar Brian May will gather on the island – part of which was declared a special Starlight Tourist Destination in late 2013 – for a celebration of science, art and music. You can enjoy the island's fine firmament year-round, though. Groups can arrange free visits to the Teide Observatory, one of the world's most advanced (April-December; iac.es). For extra sparkle, try Disfrutare's Teide By Night VIP tour (disfrutare.com; €55), which includes a four-course dinner and a visit to Teide National Park with an expert astronomer.
Stargazing holidays

Show all 6
There are other dates to jot in your astronomical diary. The National Trust (nationaltrust.org.uk) is holding a variety of starry events in the coming months. On 4 October Buckinghamshire's Waddesdon Manor hosts a Stargazing Night, including dinner, a moon lecture and stargazing on the parterre (01296 653226; £40). On 11 October, join a Night Walk, with telescopes, astronomers and refreshments, at Rievaulx Terrace on the edge of the North York Moors – one of the darkest places in Britain (01439 748283; £5). Across the Irish Sea, the free Burren Star Party (26-27 September; shannonsideastronomyclub.com) will take advantage of Ireland's darkest skies for group observations on the karst plateau of County Clare.
Further afield, the Jasper Dark Sky Festival (17-26 October; jasper.travel) offers galactic gazing amid the Canadian Rockies, with Colonel Chris Hadfield – everyone's favourite guitar-strumming astronaut – at the helm. A two-night package, including a Symphony Under the Stars concert, costs C$449 (£247).
Alternatively, combine culture and cosmology in Morocco. On The Go Tours (020 7371 1113; onthegotours.com) has a 15-day Geminids Meteor Shower trip departing on 6 December. The price is £829 excluding flights. As well as ticking off Moroccan classics – souk-searching in Fès and Marrakech, beach-lazing in Essaouira – you'll camel-trek into the supremely dark Sahara to watch the annual salvo of shooting stars.
This kind of culture-and-cosmology combination is increasingly popular, reckons David Phillips, of specialist operator Astronomy Tours (0845 609 1590; astronomytours.co.uk): "There's been a general increase in appreciation of stargazing. Even people who aren't hard-core astronomers like doing something a bit different in the evenings." This is borne out by the popularity of Astronomy Tours' eight-day Icelandic Northern Lights trip (£1,529 including flights), which mixes daytime adventures in Iceland's remote north-east with night-time gazing; departures coincide with the new moon to ensure the darkest of skies.
Officially dark
The International Dark-Sky Association (IDA; darksky.org) was founded in 1988 to draw attention to the dangers of light pollution. Since then, it's designated several Dark Sky Reserves and Parks that have "an exceptional quality of starry nights and nocturnal environment".
Namibia's NamibRand Reserve became Africa's first International Dark Sky Reserve in 2012. It is one of only three reserves with an IDA gold-tier rating (the others are in New Zealand and Ireland). Gane and Marshall's three-day NamibRand Desert Hike is a good way to gaze. You'll walk amid diverse landscapes and wildlife, drink sundowners on the dunes and camp under the stars (01822 600 600; ganeandmarshall.com; £535, excluding flights).
Our own islands offer some exemplary dark skies, too. Exmoor and the Brecon Beacons are IDA reserves, and in November 2013, Northumberland National Park and Kielder Water & Forest Park became England's first International Dark Sky Park (bit.ly/NorthDark).
Start at Kielder Observatory (07805 638469; kielderobservatory.org); astronomers host events here most evenings. Stay at the nearby Sky Den in Kielder Park, a treehouse with a retractable roof sleeping four (from £150). Book through Canopy and Stars (0117 204 7830; canopyandstars.co.uk.
Astronomy school
"No telescope is necessary – our eyes alone reveal a host of wonders," reckons the IDA's John Barentine. That said, you'll see far more with some hardware and tuition. Get started at the Observatory Science Centre in Herstmonceux, East Sussex (01323 832731; the-observatory.org; £8). The next four-week Star Search night class starts on 16 October (£55).
If you're heading to a prime star-spotting locale, look for taster experiences. A Stargazing Night Tour in Fuerteventura – another Canary Isle with fabulous skies – can combine tapas with telescope-gazing or an astro-photography workshop (01273 823700; responsibletravel.com; from £28).
Australia's Ayers Rock Resort has an astronomer-in-residence until 7 November 2014; free astronomy sessions are held nightly. Or combine a bush tucker dinner with a tour of the Outback sky on the Sounds of Silence experience (00 61 300 134 044; ayersrockresort.com.au; dinner experience A$195/£109).
To visit the finest observatories in the world, join Astronomy Tours' 14-day Chilean Observatories trip (0845 609 1590; astronomytours.co.uk; prices for 2015 will be around £4,000 including flights), which mixes colonial towns and wine-tasting with glimpses through super-sophisticated telescopes.
Observing by boat
You need not visit an observatory to watch the stars. "A cruise provides the ideal opportunity," says Adam Coulter of cruisecritic.co.uk. "Out at sea, you're further from light pollution – the further out, the better the visibility."
Cunard (0843 374 2224; cunard.co.uk) has a partnership with the Royal Astronomical Society; regular speakers sail aboard its Queen Mary 2, which also has the only permanent sea-going planetarium.
The QM2's next Westbound Transatlantic Crossing (Southampton-New York; 8 October, eight days from £699pp) will provide plenty of dark skies.
Seven of this winter's daily departures from Bergen along Norway's coast from Hurtigruten (020 3627 7199; hurtigruten.co.uk) are designated Astronomy Voyages; the first is 25 September, the last 14 March. The 12-day trip costs £1,630 excluding flights but including lectures, a visit to the Northern Lights Planetarium in Tromso.
Quark Expeditions' 14-day East Greenland voyage (001 802 490 7689; quarkexpeditions.com) sails from Akureyri in Iceland towards the Arctic on 22 September, though the cheapest cabin is now nearly £11,000; prices are lower on another departure next year on 5 September.
Active gazing
Stargazing needn't be sedentary. In 2011, Portugal's Alqueva region received the world's first Starlight Tourist Destination Award from an organisation called the Starlight Initiative; its clear skies mean you can identify constellations with the naked eye. Stay at the traditional Horta da Moura – which has its own powerful telescope – and arrange to go night canoeing for a truly tranquil look at the stars (020 8758 4722; sunvil.co.uk; seven nights from £472pp including flights).
Inntravel offers winter breaks at Hotel Bella Tola, St-Luc, in Switzerland's Valais (01653 617906; inntravel.co.uk; one week half-board from £1,270pp including flights). Visit the Francois Xavier Bagnoud Observatory, then hike the 6km Path of the Planets (kept clear all winter), an informative amble through the solar system – every step represents one million kilometres.
Staying there
This October work starts on the UAE's first space observatory in the mountains of Ras Al Khaimah, due for completion in 2017. Can't wait that long? Check in at nearby Banyan Tree Al Wadi instead (00 971 7 206 7777; banyantree.com). It has a state-of-the-art telescope, and its Moon Bar offers views over the Arabian Desert skies.
Iceland's Hotel Ranga is also well-placed for night-goggling; it has outdoor hot-tubs for heated viewing and, this summer, installed its own Astronomical Observatory. Regent Holidays offers four-night breaks (020 7666 1244; regent-holidays.co.uk; from £855 including flights).
Trout Point Lodge (001 902 761 2142; troutpoint.com; from £108pn) sits alongside Kejimkujik National Park, Nova Scotia's first Dark Sky Reserve. It's a pocket of log cabin-luxe in the wilderness, with a variety of telescopes, and a new Stargazing platform that offers 360-degree sky views.
More information
The only thing you need to start stargazing, says Dr John Barentine, is curiosity. That said, a simple star chart will improve the experience by giving a basic sense of the constellations. If you're keener still, rent a telescope from Dark Sky Telescope Hire (07884 001815; darkskytelescopehire.co.uk; seven nights from £30).
Comfort is important. "Consider the climate and dress appropriately; a warm summer night may be chilly before dawn," adds Barentine. "Also, a surface on which to recline is helpful – looking up can cause a strained neck."
For tips and inspiration, visit darkskydiscovery.org.uk. You don't need to travel far: the site has a map of Dark Sky Discovery Sites across the UK.
Click here to view the latest travel offers, with Independent Holidays.
Join our new commenting forum
Join thought-provoking conversations, follow other Independent readers and see their replies