Staycation surge sees UK holiday bookings jump by 300%
'Guests are obviously reassured and relieved as we have seen record levels of bookings and enquiries,' says accommodation provider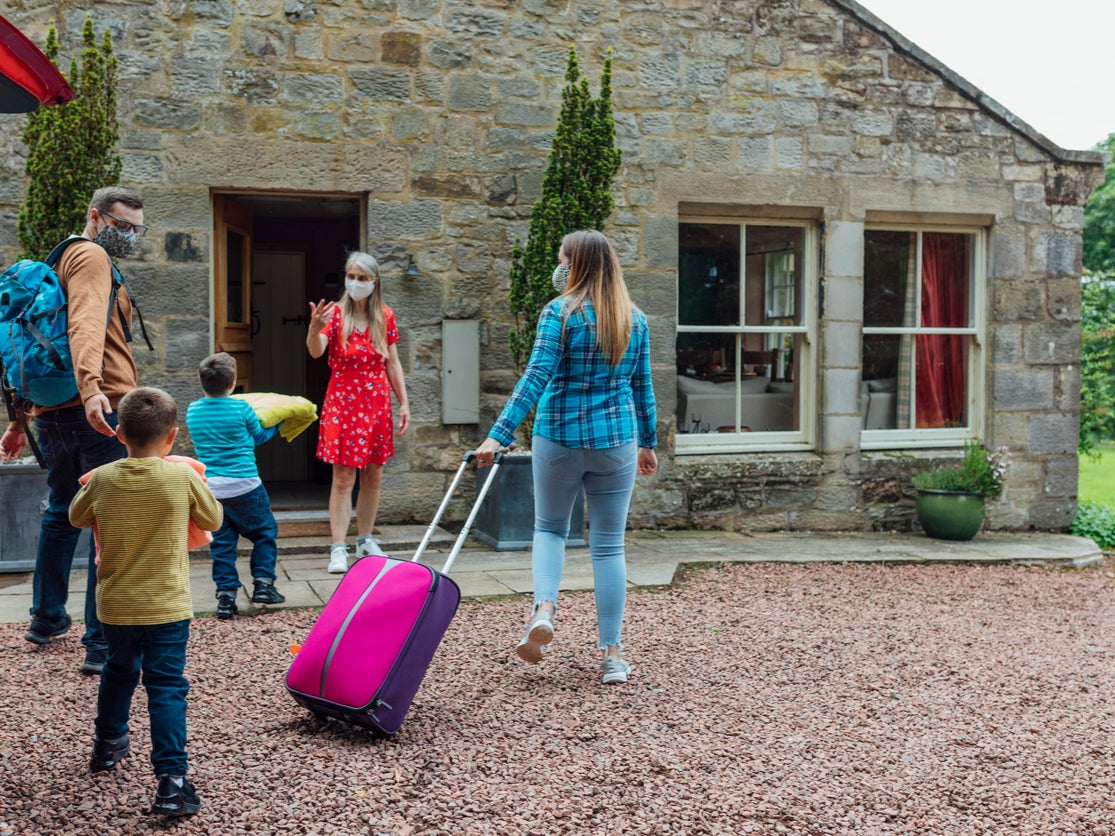 Following the announcement of a "roadmap" out of lockdown by the prime minister, UK travel companies have seen a huge surge in searches, enquiries and bookings for this spring and summer.
With the news that some domestic holidays may be permitted from 12 April – those in self-contained accommodation such as cottages, apartments and campsites and caravan parks without shared indoor facilities – thousands of holidaymakers are already planning their first trip once recreational travel is legal.
All other holiday accommodation is slated to reopen from 17 May, depending on coronavirus infection rates and the efficacy of the vaccine rollout.
Campervan and motorhome sharing platform, Camplify, said it had already witnessed a 209 per cent increase in demand since the announcement.
Campsites.co.uk, which works with more than 3,000 camping and glamping sites across the UK, also reported a big increase in bookings immediately after the roadmap was revealed, with website visits 250 per cent higher than normal for this time of year and bookings and enquiries up by more than 300 per cent.
Early season bookings – between 12 April and mid-May – were reportedly doing well, suggesting travellers are keen to escape as soon as possible. Meanwhile, summer availability is rapidly disappearing for holiday hotspots such as Cornwall.
"It's great for the industry to have a much clearer picture of the months ahead and there is clearly customer demand for holidays in the UK," said Campsites.co.uk founder Martin Smith.
Glamping and holiday cottage options have done particularly well in the wake of the announcement.
Canopy and Stars, which offers glamping and luxury camping accommodation, reported that 22 February 2021 was the biggest ever day for bookings in the company's 10-year history.
Mike Bevens, managing director of Sawday's and Canopy & Stars, says: "It's a huge relief that self-catering accommodation is set to open in April, and we're glad to now have clarity from the government about a date that we can work towards for our guests and accommodation owners. As the stats show, guests are obviously reassured and relieved too as we have seen record levels of bookings and enquiries."
Last Minute Cottages, meanwhile, said bookings for self-catering cottages shot up 187 per cent following Boris Johnson's address, with April bookings seeing the biggest increase in interest, rising by 284 per cent.
The Rest Easy Group, which includes Snaptrip, Big Cottages and Dog Friendly Cottages, saw demand on its sites grow within minutes of the roadmap being revealed.
Matt Fox, CEO and founder of the Rest Easy Group, said that searches for April breaks soared by 284 per cent compared with the previous week.
"Brits are wasting no time booking their trips, with the most popular check-in date being 12 April, closely followed by the 16 April," he said.
Cornwall, Devon and Cumbria are among the most popular destinations for early bookings.
And even UK hotels – which have previously struggled more than self-contained options to fill rooms after the lifting of the first lockdown – seem to be cashing in.
Profitroom, a hotel marketing services provider that has access to booking data from more than 3,500 leisure hotels and resorts around the world, was able to determine a huge spike in bookings.
Comparing stats from UK hotel bookings on 22 February 2020 to the same time this year, the brand reported a 307 per cent increase – a record high for hotel bookings.
Join our commenting forum
Join thought-provoking conversations, follow other Independent readers and see their replies