The Independent's journalism is supported by our readers. When you purchase through links on our site, we may earn commission.
The great divide: UK staycation boom brings hope and fear to Britain's coastal residents
As more countries are added to the UK's quarantine list, holidaymakers are flocking to their own fair shores but at what cost? Sarah Young speaks to coastal residents about how the increase in visitors has affected them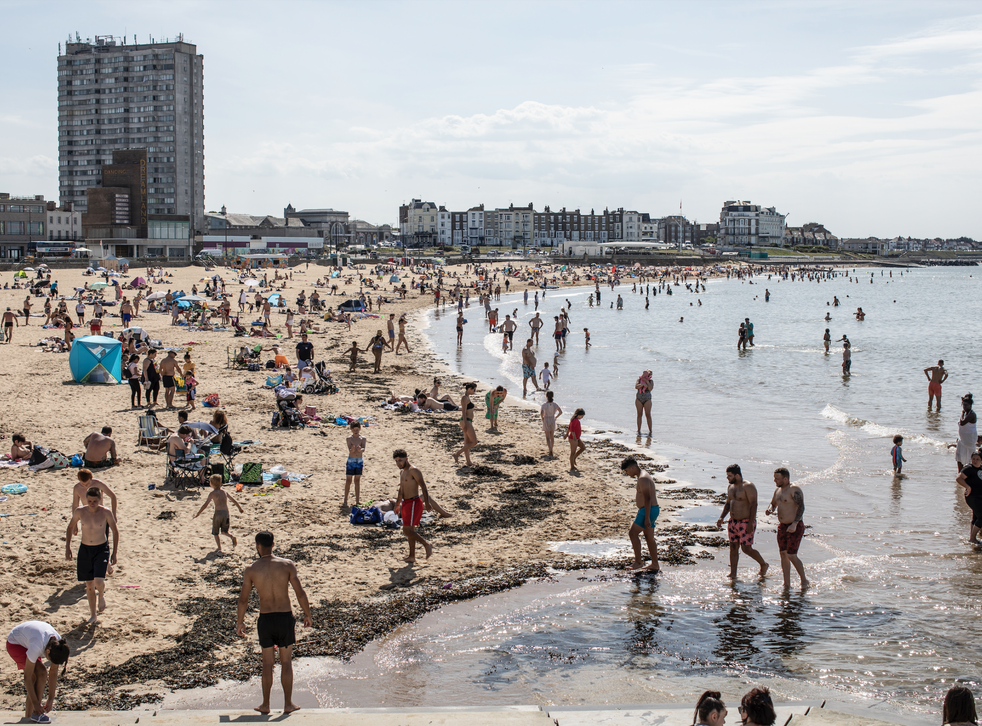 For the majority of Brits, the summer season signals an opportunity to swap the humdrum of everyday life for the sun-soaked shores of Spain or boozy excursions to Italian vineyards. But this year that hasn't quite been the case.
Due to the ongoing coronavirus pandemic, holidaymakers have been urged to ditch sun, sea and sangria for social distancing and hand sanitiser on their own fair shores. "I think this is a great, great year for people to have a staycation," prime minister Boris Johnson said in July, adding that "there are fantastic, fantastic places, peerless, wonderful, superlative places in the UK to go on holiday".
With the list of countries that Britons can travel to without having to quarantine on return dwindling week by week, thousands of people are flocking to destinations in the UK instead, with a recent YouGov poll suggesting that two-thirds of people have decided against travelling abroad this summer.
Since Super Saturday – the day that pubs in England were allowed to reopen for the first time since lockdown began – photos from across the country have shown beaches heaving with people as Britons packed picnics and travelled to beauty spots in their droves.
So much so, that the influx of people prompted many councils to issue public warnings, with the tourism body for Blackpool rebranding itself as Do Not Visit Blackpool in an attempt to discourage visitors. Brighton and Hove City Council also raised concerns about the number of people in the city, writing on Twitter: "If you're not already here, please don't travel to the city today. Large numbers make it impossible to maintain physical distancing".
Thanet Council in Kent said reports from coastal supervisors showed that the popular beaches at Joss Bay, Botany Bay and Viking Bay were "reaching capacity by around 11.30am". "Please reconsider these beaches if you are still planning on travelling to Thanet today," it added.
During any other summer, the sight of bustling streets filled with hundreds of people enjoying what is likely their first holiday at home in years would be a welcome sight. But in the midst of a global pandemic, many residents have been left feeling overwhelmed by the invasion of city-dwellers.
As towns that, for nine months of the year at least, live or die by the tourist trade, the arrival of crowds has provoked a mix of emotions, with those whose livelihoods depend on the industry quietly elated at the prospect of new business, while others in fear that visitors will bring a second wave of Covid-19 to their doorsteps.
During lockdown, Natalia Valentina from Newquay in Cornwall has vehemently adhered to the rules regarding social distancing due to lifelong health issues and, despite the easing of restrictions, she, like many others, feels as though her "freedom has been taken away by the behaviour of a large amount of tourists".
"Visitor numbers have hugely increased in Newquay this year. You only have to speak to local business owners, with one taxi driver telling me 'it feels like Boardmasters every week'," she tells The Independent.
"I know that I've done everything I can to protect my health but I also need some freedom like everyone else. Yes, this is a coastal town which relies upon tourism to survive but also, lives matter."
Claire Shiels from Amble in Northumberland agrees, adding that there is great concern among local residents that visitors who are flouting the rules could prompt a surge in coronavirus cases.
"When asked what has brought them to the area, the most common answer above all else has been: 'Because you don't have the virus here, so we're safe'," she explains. "There's significant irony in the fact that these holidaymakers have come from all parts of the country to descend on our town, potentially bringing the virus with them".
She adds that she has seen dozens of tourists wandering around the area without masks and ignoring social distancing guidelines "as if the virus can't touch any of us".
"Sadly, we know that to not be the case and we too have had our losses," she says. "Whether or not we'll pay the price come autumn remains to be seen."
While the threat of Covid-19 is at the forefront of everyone's minds, residents have also expressed their dismay at the disruption that holidaymakers are bringing to their everyday lives and the once-pristine beaches that surround them.
Julie Wassmer from Whitstable in Kent tells The Independent that she has been lobbying her local council about the influx of visitors to the seaside town for some time and even wrote to health secretary Matt Hancock to let him know about the "anti-social behaviour" that is taking place.
"Whitstable has now been described as 'lawless' – a place for people to visit at weekends and do what the hell they want," she explains, before sharing some of the "shocking effects" of the staycation boom, including "defecation in public places, unacceptable amounts of rubbish left on the beach, which has attracted vermin, drug and drink abuse and violence".
This type of conduct has been witnessed across the country, with videos of drunken beach brawls and photos of coastlines covered in disposable barbecues dominating social media. So much so, that several councils have taken to Twitter to urge holidaymakers to be considerate of those around them and take their litter home.
Earlier this month, Thanet Council posted several messages reminding people to respect the local environment, writing: "A small minority spoil our beautiful beaches, parks and open spaces by leaving their rubbish behind. Don't be THAT person. Do the right thing and find a bin that isn't full or take your litter home."
Similarly, Devon and Cornwall Police said that the area had experienced "a lot of devastation as a result of BBQs not being disposed of safely," before calling on visitors to "act responsibly".
The fears of local residents and councils encapsulate a dilemma being felt by many resorts across the UK. If they stay open, they could face an increase in Covid cases and a second lockdown, but if they close, it is likely that tens of thousands of jobs will be under threat.
According to VisitBritain, the national tourism promotions body, inbound tourism to the UK in 2020 is set for a decline of 73 per cent in visits to 11 million and a decline of 79 per cent in spending to £6 billion. This would represent a loss – compared to the organisation's pre-Covid forecast – of 30.7 million visits and £24 billion spending which, for seaside communities where tourism is one of the most lucrative industries, could prove particularly devastating.
Furthermore, the National Coastal Tourism Academy, an industry body that works to support Britain's seaside travel industry, estimates that British coastal towns will lose £10.3bn in revenues in 2020, a 40 per cent drop. It adds that approximately seven per cent of seaside tourism businesses have already been forced to permanently close.
For this reason, there are many other local residents that see the staycation boom as a lifeline for their area. Alana Spencer, the owner of cake company Ridiculously Rich by Alana in Aberystwyth, West Wales, says that while she acknowledges the potential for increased health risks, she believes that local businesses "deserve a fighting chance to get through this tough time".
Sunseekers head to beaches amid lockdown measures

Show all 7
"It's the busiest summer I have ever seen here. All the restaurants are booked up for the foreseeable future and the sea front is a hustle and bustle of people. It's great for the local businesses, some of which took a big hit over lockdown," she explains. "There is a chance we may have to go into a local lockdown, but I think until that happens businesses need to make hay while the sun is shining."
She continues: "As a business living through this crazy time, I can say from experience that you just don't know what's going to happen next. One minute it's good, the next it's terrible and you just have to capitalise and adapt where and when you can. The biggest achievement lots of businesses will make this year is just to survive."
Emma Estridge from Bournemouth agrees, sharing that while she has concerns regarding the sudden invasion of tourists to the area, she wants them to know that they are welcome – as long as they respect the environment, the local residents and the lockdown rules.
"As a seaside town, a percentage of our revenue comes from holidaymakers and so I welcomed the idea of holidaymakers coming here during lockdown and beyond. However, the beaches were left in a terrible state," she says, adding that much of the disruption caused by tourism could be improved if local councils took action.
"I just want to make sure that holidaymakers know that they are welcome in Bournemouth – without them, it would be a very different place."
While the government has published guidance for managing beaches and coastal areas, Emma's call for further support from councils is echoed by many others, who want authorities to provide adequate waste disposal and do more to enforce social distancing and tackle overcrowding.
But, with police resources already under strain, outside of putting up more signposts, it seems that for now we only have the British public's common sense to depend on.
The future of seaside resorts is hanging in the balance and with the possibility that the pandemic could tip them into terminal decline, the overwhelming stance among local residents and business owners is that the current summer season is vital.
They are well aware that the return of visitors to the UK's vibrant tourist areas plays an important role in supporting their local economies, but they do not want to pay the price for the senseless behaviour of others. And, while some may argue that it is a minority who act this way, in the age of coronavirus that is all it takes.
Register for free to continue reading
Registration is a free and easy way to support our truly independent journalism
By registering, you will also enjoy limited access to Premium articles, exclusive newsletters, commenting, and virtual events with our leading journalists
Already have an account? sign in
Register for free to continue reading
Registration is a free and easy way to support our truly independent journalism
By registering, you will also enjoy limited access to Premium articles, exclusive newsletters, commenting, and virtual events with our leading journalists
Already have an account? sign in
Join our new commenting forum
Join thought-provoking conversations, follow other Independent readers and see their replies