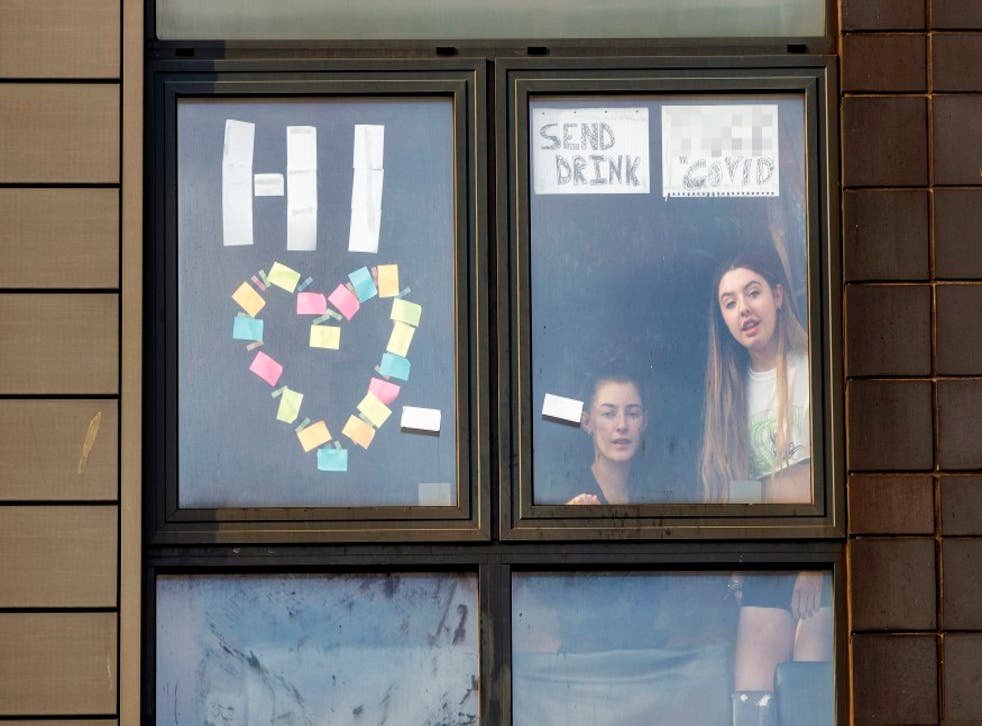 Student Christmas travel window: What is it and how will it work?
Mass testing offered to as many students as possible
Tomorrow marks the start of the government's "travel window", during which students in England can return home for Christmas.
Universities Minister Michelle Donelan tweeted on 11 November: "This has been a difficult term for students and we want them to be able to go back to their loved ones for Christmas. Today we have outlined the safest way they can do this."
She shared a link outlining the "travel window" process for students, alongside assurances that mass testing would be used to reduce community spread.
But how will the travel window work and who does it affect?
Here's everything you need to know.
When is the student travel window?
The government has said that everyone should follow the national restrictions in place from 5 November until 2 December 2020, "meaning that students must stay in their current accommodation and not leave their term time address, except for specific purposes, including leaving home for education, during this period."
The travel window will run from 3-9 December, and should be in line with specific arrangements put in place by students' Higher Education (HE) provider.
The date of 9 December has been chosen as the cut-off point for in-person learning to ensure that the last date students are required on campus allows them enough time to complete self-isolation before Christmas should they test positive for Covid-19.
How will it work?
Universities and HE establishments have been instructed to finish all face to face learning by 9 December in order to "support all students being able to travel home in the window". Lectures and other learning can then resume online if the provider wishes.
HE providers are being told to stagger the end of face to face provision between departments, plus coordinate with other local providers to ensure that not all students are attempting to return home on the same date. It's hoped this measure will alleviate pressure on public transport. While many establishments will stagger ending in-person provision between 3-9 December, the government also says they can end before this date if they so wish.
Students who don't return home on or by 9 December are advised to undertake a further period of "restricted contact" – with similar restrictions to the current lockdown in England – either before or after returning home to minimise the risk of transmission.
Can all students return home during the travel window?
Not if they have tested positive for coronavirus or been instructed to self-isolate by NHS Test and Trace.
Will students be tested before returning home?
Mass testing for students will be used to help stop transmission, Michelle Donelan said. Lateral flow devices (LFDs) – swab antigen tests that can give a result in under an hour – will be utilised for this.
The number of students who are tested per university will depend on several factors, including local Covid rates and the percentage of high-risk students at each institution. All testing will be completed by 9 December, allowing students who test positive to self-isolate at university for 10 days before returning home for Christmas.
Students who test negative will be encouraged to return home as soon as possible after receiving their result. If they test negative but are identified as a close contact of someone who has tested positive, they can return home but must self-isolate at home for 14 days. If they are identified as a close contact of a positive case but have no access to mass testing, they must self-isolate for 14 days before returning home.
Can they use public transport to get home?
Yes, but students who have been identified as a close contact of someone who has tested positive (but who have tested negative themselves) are being advised to use private transport if at all possible. Otherwise, HE providers have been told to liaise with their local transport providers (train, bus and coach operating companies) to collaborate on getting students home, and to stagger departures with other local educational establishments.
Students travelling on public transport have been advised to follow the safer travel guidance for passengers, which includes booking a seat in advance, wearing a mask, maintaining social distancing and avoiding the busiest routes.
Can students opt out or return home later than 9 December?
Returning home is not mandatory. The government guidance states: "The Government is committed to ensuring that students that have been living away from home are able to return home at the end of term, if they choose to do so."
It is also not obligatory for students to return home by the cut-off date, but the government warns: "Anyone who remains at university after 9 December will run the risk of having to undertake a period of isolation of up to 14 days at university, if they contracted coronavirus (Covid-19) or were identified as a contact of someone who had, and would therefore be at risk of not being able to travel home for the end of term break."
What if they live in England but study elsewhere?
Students studying in Wales, Scotland or Northern Ireland should follow the guidance from their institutions before returning home. Once they return to England, they should follow English guidance for their home area.
University students to be allowed to travel home in December in Christmas boost.mp4
The government is recommending that all students who have not completed the four-week period of national restrictions in England, including students studying in Wales, Scotland or Northern Ireland, undertake a period of at least 14 days of reduced contact either before or after returning home.
How will students keep studying at home?
In many cases, learning will move online. Students who are unable to access online learning or continue their studies at home "should be supported to do so by the university," reads the guidance.
The Government has also announced a one-off fund of up to £20m to help students "most in need of support in these exceptional circumstances", though it is currently unclear who will be eligible and how they would apply.
In line with face-to-face teaching provision moving online by 9 December, providers are also being told to reschedule and rearrange students' placements or simulation work due to take place between 9 December and the end of term, to ensure that students who wish to return home during the travel window are able to do so.
However, students who are defined as critical workers while on their placement - for example healthcare workers or teacher trainees - may be asked to continue their placements after the cut-off date.
When can students return to university?
Students will be asked to stagger their return to universities after Christmas. New guidance published by the Department for Education sets out how higher education providers should manage student returns over a five-week period.
From 4-18 January, medical students, those on placements or practical courses with a need for in-person teaching should return in line with their planned start dates; the remaining courses should be offered online from the beginning of term so students can continue their studies from home. From 25 January, all other students should start to return gradually over a two-week period, and by 7 February all students are expected to have returned to university.
All students should be offered Covid tests when they return to university to help identify and isolate those who are asymptomatic but could spread the virus. All universities will be offered testing facilities to give students two lateral flow tests, three days apart, with results turned around within an hour to help control the spread of the virus.
What about students who can't return home over Christmas?
Universities have an obligation to take special care when it comes to students who are staying on campus over Christmas.
Where students remain in their university accommodation over the winter break, HE providers have been told to continue to make sure they are well looked after, and to pay particular attention to the specific needs of certain groups, including care leavers, estranged students and international students, who will require access to welfare and mental health support and essential services during the holiday period.
"This has been a particularly difficult year especially for students and we ask that special plans are created for students who stay on campus or alone in university areas over Christmas," says the government guidance.
Support could include "keeping libraries, study and performance rooms open for students to use in a Covid-secure way."
Join our new commenting forum
Join thought-provoking conversations, follow other Independent readers and see their replies