Studies show that commuting impacts on our well-being, but creative types are using the mundane slog to work for self-improvement
For some, the journey to and from the office can be a productive one - a time to write their novel, take some exercise or make art, says Samuel Muston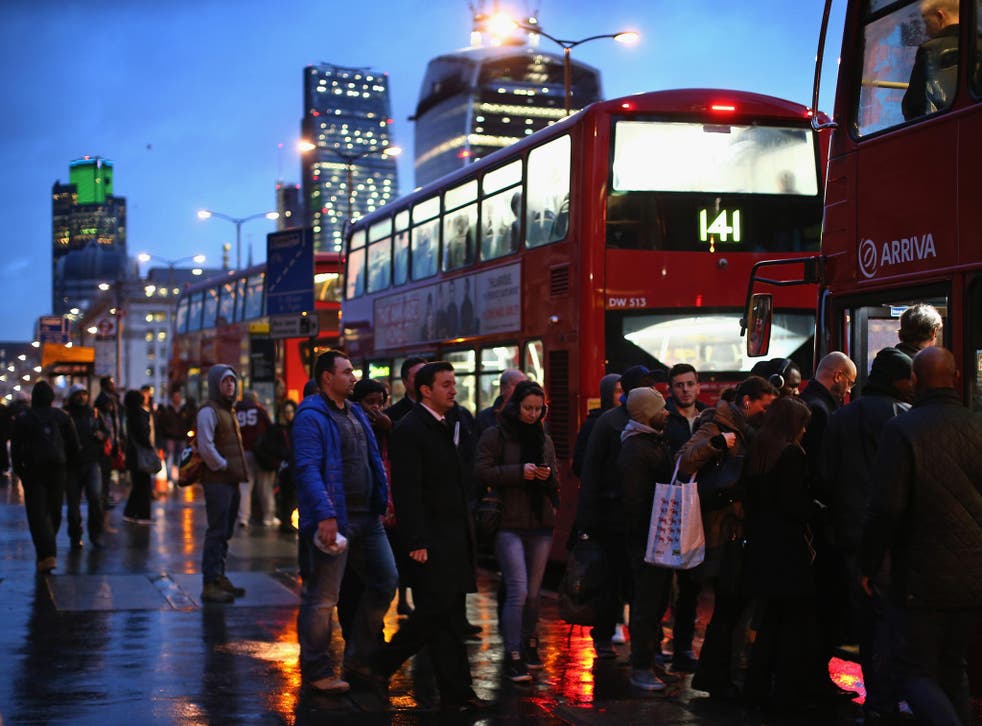 Here it comes now, huffing and puffing its way into the platform, like some metal-clad anaconda that's swallowed the population of a small village. We soft-shoe shuffle along the platform, vying for first entry through the doors of the already full 8.08 train to Liverpool Street.
In we pile, more and more, until we're all either intimately acquainted with our neighbour's dandruffed shoulder or the sliding doors of the Class 153 Super Sprinter train. The journey lasts about 40 minutes. It feels like four days.
Anyone on that, or the many other morning journeys like it, won't find it difficult to believe the results of an Office of National Statistics study which found that commuting to work makes you "unhappy and anxious". The study of 60,000 people, part of the Annual Population Survey, found that commuters travelling between 60 and 90 minutes a day "have lower life satisfaction, a lower sense that their daily activities are worthwhile, lower levels of happiness and higher anxiety on average than non-commuters". Apparently, each additional minute spent travelling on bus or train makes us feel slightly worse – up until the three-hour mark, when the negative effects, peculiarly, drop off.
It makes for disquieting, if unsurprising, morning reading. Still, resist the urge to get off the bus at the next stop and make yourself late for work because, for some, the journey to and from the office can be a productive one – a time to catch up, take some exercise or even make art.
Douglas Jackson, the assistant editor of The Scotsman until 2009, credits his hour-long commute from Bridge of Allan in Sterling to the newspaper's offices in Edinburgh with the creation of his first two historical novels, Caligula and Claudius. He tried writing at home but never managed more than 30 minutes on his laptop – always falling prey to distraction, he says. "The pressure of only an hour, and experience of working in a noisy atmosphere, meant I forced myself to do 600-800 words a day, even if the carriage was full."
Jackson was perhaps lucky, though. As he says, he always had a seat. As did John le Carré, who initially wrote on his commute in to MI5 from Great Missenden. Most commuters at rush hour in London today seldom know such luxuries. In the capital, it's harder to be productive when you have only two square feet of space on a Central line carriage.
One might follow the advice of Virgin Active, of course. In a report in January, it suggested that Tube travellers might do bum clenches while standing, to burn extra calories (apparently you'd clear 50Kcals a day). Or one might just as well follow the lead of Laurence Rundell, who turned his daily commute across London into an art project and tumblr gallery (lightboxforlondon.tumblr.com).
Rundell takes photographic negatives of paintings by old masters, which have been thrown out by photo-collection libraries, and sellotapes them on to lights on Underground carriages and buses, thus illuminating the images for all to see. He does it, he says, because he likes the juxtaposition of high art with the everyday. "There is no big statement. I just like doing it. The aesthetics give me pleasure," he says.
Some, wiser, heads use their time travelling for self-improvement. The model Ben Waters, who fronts the new Jil Sander campaign with Edie Campbell and walked in 12 fashion shows in January alone, uses apps on his frequent trips across the Channel to castings to improve his language skills. "I'm quite obsessed with Duolingo, where you get points as you learn. The competitiveness appeals to me. Plus, each time I'm in Paris, my French is a little better," says Waters, who also studies at Central Saint Martins.
Novel-writing, art projects, and improving French fluency – all these seem fine ways to keep the anxiety that the ONS warns of at bay. But, still, it is hard not to long for those far-off days between 1910 and 1939. Back then, hungry commuters could take breakfast or dinner in the mahogany dining rooms of the Pullmans of the Metropolitan, Britain's first underground train line. Now that, it seems to me, is a truly wise way to spend one's commute.
Register for free to continue reading
Registration is a free and easy way to support our truly independent journalism
By registering, you will also enjoy limited access to Premium articles, exclusive newsletters, commenting, and virtual events with our leading journalists
Already have an account? sign in
Register for free to continue reading
Registration is a free and easy way to support our truly independent journalism
By registering, you will also enjoy limited access to Premium articles, exclusive newsletters, commenting, and virtual events with our leading journalists
Already have an account? sign in
Join our new commenting forum
Join thought-provoking conversations, follow other Independent readers and see their replies