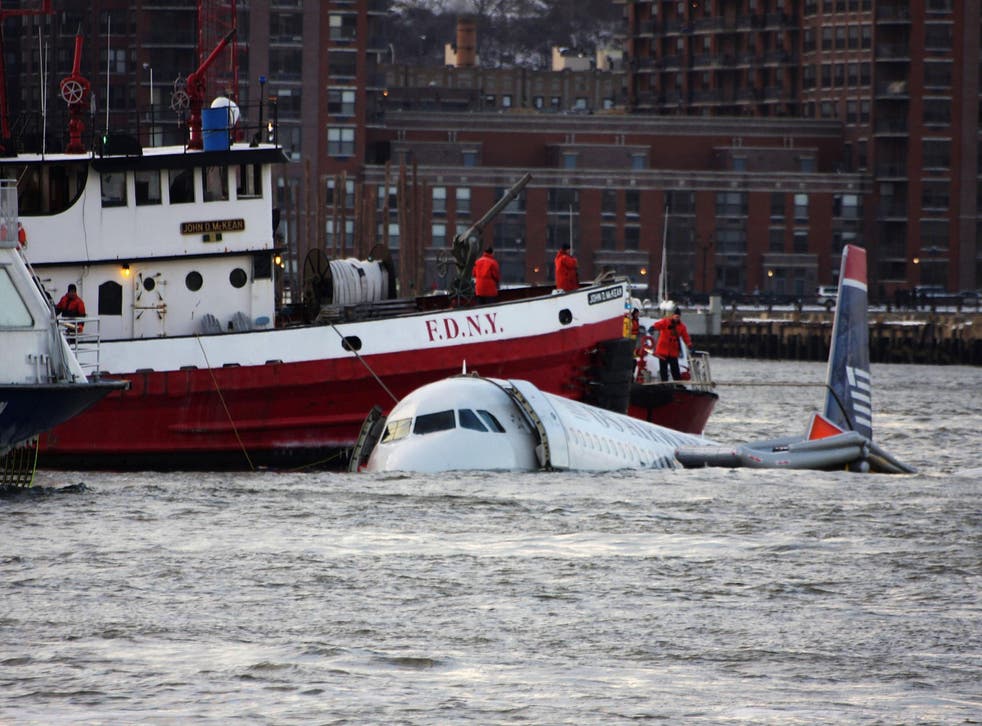 Should Sully, the film about 'The Miracle on the Hudson', be shown on flights?
The film 'Sully' is a gripping testament to the professionalism of pilots, so why are so few airlines showing it, asks Simon Calder
If a pitot tube, which measures airspeed, freezes while the aircraft is cruising at 38,000ft, time is the pilot's friend. He or she can, for example, maintain power and ask to descend to a lower altitude, knowing that there is plenty of room to manoeuvre.
But on the flight deck of US Airways flight 1549 on 15 January 2009, time was the enemy. Shortly after take-off from New York's LaGuardia airport, destination Charlotte, North Carolina, the aircraft flew into a flock of birds. Both engines shut down, which is inconvenient when flying at barely 200mph and 3,000 feet over one of the world's biggest cities.
Captain Chesley "Sully" Sullenberger and First Officer Jeffrey Skiles were in a bit of a pickle. They considered attempting to return to LaGuardia, or diverting to Teterboro airport in New Jersey, but concluded they had insufficient energy — height and speed — to reach either runway.
As you doubtless know, "Sully" chose the least of the available evils and ditched the Airbus A320 in the Hudson River, between Manhattan and the shore of New Jersey. All 155 souls on board, including a nine-month-old baby, survived the evacuation on a bitterly cold day.
The episode quickly became known as "The Miracle on the Hudson". And now the story of those 208 fateful seconds between engine failure and impact has become a film: Sully.
The director, Clint Eastwood, faced a big problem. The event at the heart of the movie lasts less than three-and-a-half minutes, and everyone knows that they all lived happily ever after. So how to generate the conflict that is at the heart of any drama? The solution: to dwell on an issue raised in the subsequent investigation about whether, in fact, the plane could have reached a runway.
The National Transportation Safety Board report could not have been more plain: the fact that everyone survived was down to the exemplary performance of the pilots and cabin crew, as well as the rapid response of rescuers and "the fortuitous use of an airplane that was equipped for an extended overwater flight, including the availability of the forward slide/rafts".
But regardless of the veracity of the dramatic element, the depiction of these magnificent men in their flying machine is gripping. It's as though a film crew with multiple cameras inside and outside the aircraft filmed the entire emergency. From the perspective of a passenger, Sully provides an education about the professionalism of pilots, how seriously safety is taken, and why you should watch the safety demo and follow crew instructions. In fact, so good is the film that it should be screened on every plane with facilities for inflight entertainment.
So I asked the leading long-haul airlines across the Atlantic if they were planning to do so. US Airways has been subsumed into American Airlines, which said no: "We are proud of the crew and how everything turned out, but we are fully aware that it could be upsetting to someone on the plane."
A British Airways spokesperson said Sully would not be among the 130 movies available on BA flights: "We don't feel that showing a film on our flights with a storyline that could alarm or make our customers feel uneasy would be appropriate."
Thomas Cook Airlines and Delta both said there were "currently no plans" to screen Sully onboard. Yet Virgin Atlantic, which is half-owned by Delta, will show the film from the New Year. The airline told me: "Safety and security is always our number one priority, and so it's fitting that we're able to celebrate the fantastic skills, training and dedication of airline pilots, by showing the film Sully onboard our flights from January 2017."
On Virgin Atlantic's maiden flight from Gatwick to New York, the inflight movie was the comedy disaster film, Airplane. What do the airline's present-day passengers think? At Gatwick, I talked to three ladies from Weymouth who had just arrived on a Virgin overnight flight from Barbados. When I told them about their airline's plan to show the film, Gwen Burns said: "Ooh, it might panic some people a little that they're showing it." I explained the film had a happy ending, but she countered: "You still don't want to be put in that position, do you?" Sandra Thompson told me: "I personally wouldn't want to see it. Not on a flight. I'd like to see it at home on TV, but not on an eight-hour flight."
Their friend, Anita Charlton, is made of sterner stuff: "I'd probably watch it. It wouldn't bother me. If it's going to happen, it's going to happen, and that's it," she said, before dissolving into peals of laughter. I imagine she's the sort of cruise passenger who's happy to watch an onboard showing of Titanic.
'Sully' opens in UK cinemas on 2 December
Click here for the latest travel offers from Independent Holidays
Join our new commenting forum
Join thought-provoking conversations, follow other Independent readers and see their replies